SOUTH Royal Knights football return to practice for first time since 1A title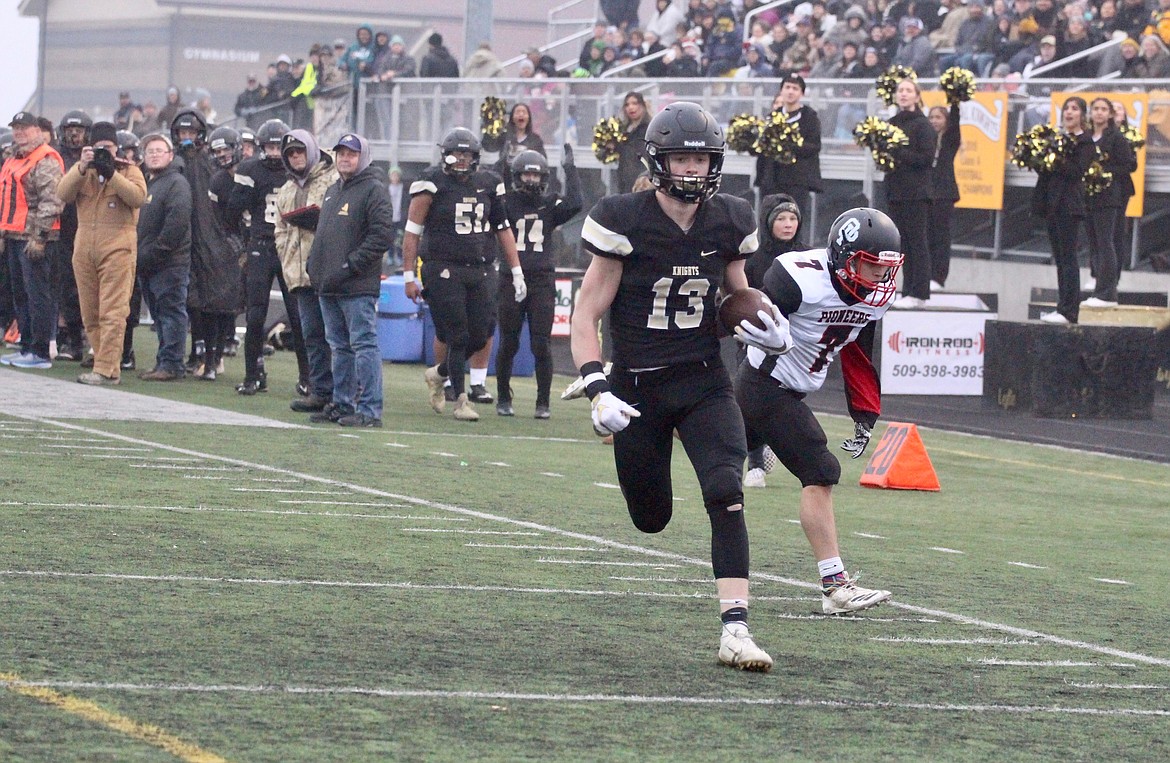 Royal High School's Cooper Christensen runs in for the score during last season's playoff run. The Knights will hit the field for the first time since last season as practice kicks off today.
Casey McCarthy/Columbia Basin Herald
by
CASEY MCCARTHY
Staff Writer
|
November 11, 2020 1:00 AM
ROYAL CITY — The Royal High School football team, which has been waiting eagerly for a chance to hit the field again after celebrating with the 1A State Championship trophy in the rain last year, got its chance Monday.
The Knights will have limited, player-run practices this week, as they return before the delayed season this spring. Athletes split up the same way the school is dividing the student population in the classroom, by last name, with the larger group of players on the field Monday and the rest kicking off practice Tuesday afternoon.
Royal head coach Wiley Allred said it feels good having a chance for his team to get back into the swing of things, even if it's not the typical playoff battles they've grown accustomed to this time of year.
Allred said he's excited about the group coming back from last year's unbeaten run and to have those players lead things at practices.
"There's good leadership in both groups, so I'm hopeful it will work out well," Allred said. "It's not a normal football practice, but it will be something, and we'll get as much as we can out of it."
Allred said a lot of the seniors and returning leaders have been working by themselves in the offseason.
The leadership from last season's team will help accustom the younger kids a little to what's expected from them early on, he said.
"We're going to rely on the older kids, the kids that were already playing and seeing a lot of varsity time," Allred said. "We do that every year, but I think we have a chance to get back in and make up a lot of the time that we may not be able to otherwise."
With guidelines and regulations from the Washington Interscholastic Activities Association subject to change any time, Allred said the message he's tried to send his players is just to be ready if that moment comes.
"If you don't prepare yourself, you're going to be doomed for failure," he said.
He said he has relayed information and changes in guidelines from the WIAA with his players as much as possible. That information has become increasingly more positive as the WIAA continues to express a desire to find an avenue to play, he said.
Encouragement for the return to play is seen in studies such as one he pointed to involving 30,000 student-athletes in Wisconsin that showed strong evidence of no difference in COVID-19 exposure between students involved in extracurriculars and those who were not. As more studies come out, he said he is hoping that will help move things forward.
"A lot of kids are working hard and we've got great leadership, some really good seniors," Allred said. "I'm very confident we'll be right in the middle of it."
---