Movie fans glad theater reopens, though with limited capacity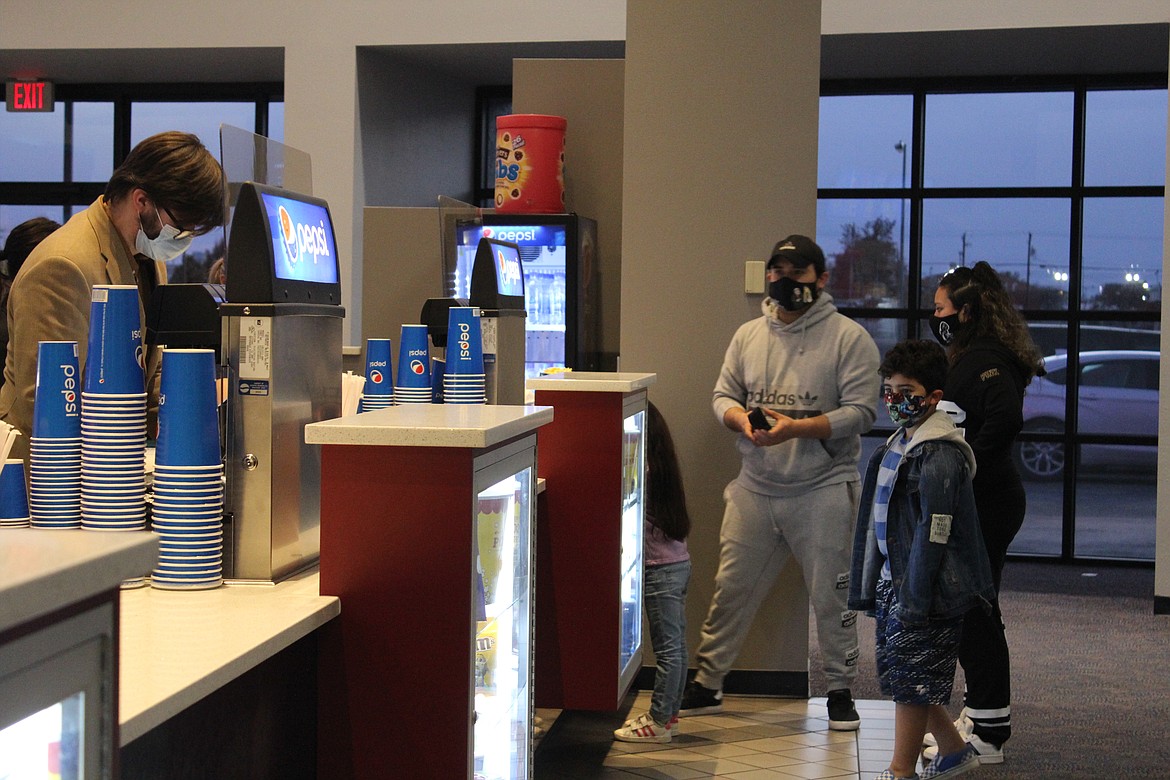 Emily Thornton/Columbia Basin Herald Fairchild Cinemas manager Andrew Jenson takes a snack order from Dino Gonzales and Vanessa Mayor on Sunday evening with their children Liliana Gonzales (left) and De'Andre Murray in tow.
by
Emily Thornton
|
November 9, 2020 1:00 AM
MOSES LAKE — "I'm so glad to see you guys are open," Dino Gonzales exclaimed Sunday evening as he walked through the door of Fairchild Cinemas in Moses Lake.
It was the first time the self-proclaimed "regular" and cinemaholic said he would be able to see a movie in a long time, as he and his family usually visited the theater about twice a month.
Other people, like Kassandra Garza, of Othello, just wanted to go somewhere besides work.
"It's nice to not be trapped at home," she said.
She added her family had dined out a couple of times since late March, when many businesses, including the theater, were forced to close their doors due to the pandemic. Since then, many counties, including Grant, have been limited on Gov. Jay Inslee's "Safe Start" phased reopening plan, which outlines guidance for counties.
Under Phase 2, Grant County can open theaters and other businesses, provided certain guidelines are met. Guidance for theaters was given Oct. 6, after the county was allowed to move into Phase 2 on May 23. Adams County, too, entered the phase around the same time.
The theater on North Block Street reopened its doors Saturday after months of what felt like a permanent closure, according to Andrew Jenson, manager. Seating was at 25 percent, and will be for the foreseeable future, Jenson said. Movie-goers also were encouraged to buy tickets ahead of time due to the limited capacity, but could purchase tickets at the door if they chose.
"I'm good with it," Owen Uptain said. "I'd rather be out than stuck at home."
Uptain, of Othello, said he and his wife Linda had been wanting to see "Honest Thief."
Jenson said the theater closed its doors around March 23, but the time allowed for remodeling work in the approximately 20-year-old building, such as new countertops at the concession stand.
He also was glad to be able to employ at least half of his 10 or so workers again.
"We have good people," he said. "It's good to be able to give them work."
One of those was Melanie Cortez.
"It's so nice to be out," she said. "We need this."
---