Thomas Raymond 'Ray' Grove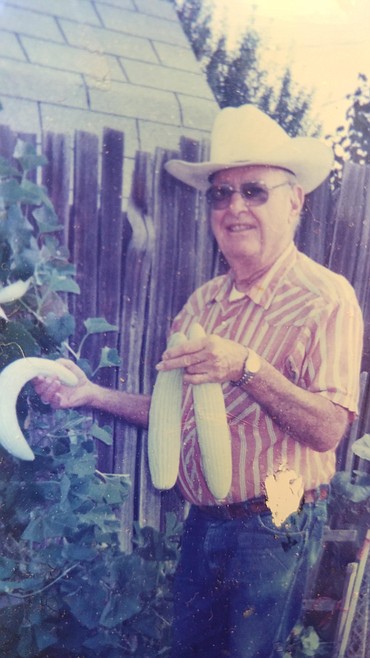 |
November 6, 2020 1:00 AM
Thomas Raymond "Ray" Grove Jr., 94, passed away peacefully Oct. 20 at his home in Moses Lake.
Raymond was born in Beverly, Washington, to Marion and Thomas R. Grove Sr. One of seven children, Raymond was known to keep his sisters entertained with his mischievous antics. Growing up during lean times, he knew the value of hard work and learned to make do with what he had. From the age of 8 he was working summers picking and selling fruit in the Wahluke area. An able horseman, Raymond worked as a ranch hand for Armand and Helene Olson for many years. At that time, they were the only people with permission to run cattle in the Hanford area. Raymond was the epitome of an old-school cowhand, building wooden cow pens from logs hauled out of the Columbia River, and tending herds of cattle with no one else around for miles. At 18, Raymond was drafted and served his country during World War II. His ship sailed out of San Francisco Bay across the Pacific to the Philippines and Japan.
Upon returning home, Raymond married his sweetheart Doris and they made Moses Lake their home. They owned and ran the Gem Motel while raising a family. Raymond was a local truck driver as well as helping run the motel with his wife. Raymond also served his community as a volunteer firefighter for Grant County Fire District No. 5 for many years. At that time, the firehouse was across the street from the motel. When the tones came out, Ray was often one of the first to arrive at the station, sometimes with Doris alongside to work the radio.
Upon retiring from the motel business, Raymond and Doris went into business with close friends, running a local furniture store for several years. When they decided to make retirement official, they became 'snowbirds' and split their time between Moses Lake and Yuma, Arizona.
Raymond was a family man, and his life centered around those close to him. One of his favorite activities was to play cards with friends and family. His competitive streak would come out during loud and raucous family games, though it usually involved everyone else being loud after he would quietly flop down his winning hand with a smile. Raymond also found enjoyment in his vegetable garden, something he made sure to have every summer. His tomatoes, cucumbers and homemade salsa were well known and enjoyed by many.
Raymond was generous with his time and was happy to help if someone needed a hand or something needed to be fixed. With his knowledge of the area, he was a resource for others researching its history. He enjoyed sharing his own experiences and stories from his humble roots.
A genuine good-hearted spirit, Raymond was forever kind and considerate to those around him. He will be greatly missed.
Raymond is preceded in death by his wife Doris, sisters Helen Duncan and Elsie Franklin, brother Robert Grove and grandson Gary Raymond Grove Jr. He is survived by sisters Betty Brown, Barbara Tennyhill and Judy Bise; his children Gary Grove, Gail Rand and Jodi Grove; his grandchildren Michelle, Lacey and Jennifer and three great-grandchildren.
A private graveside service was held for friends and family.
---