Rev. Klockers: Chicken soup for the soul likely doesn't come from a can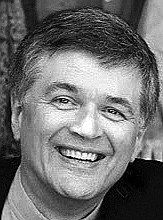 |
November 4, 2020 1:00 AM
If I am home for lunch and need something quick and easy to eat, I may open a can of my favorite soup, Progresso Savory Chicken & Wild Rice (with reduced sodium).
The listed ingredients on this product are as follows: Chicken broth, carrots, cooked white chicken meat, tomatoes, wild rice, celery, brown rice, and another ingredient (contains less of 2 percent of them). Overall, this soup sounds quite wholesome and healthy.
The label also says – "made with white meat chicken with no antibiotics ever." This is an added bonus.
I just open the can, place the entire contents into a large bowl, and pop it into the microwave for two minutes and thirty seconds. When that is finished, I take the bowl out, and enjoy the whole thing using a serving spoon.
There are a lot of things I love and appreciate about my wife. One of her attributes is that she is a very good cook. She often makes soup for the family using fresh healthy ingredients. There is simply no comparison, when it comes to her cooking, to a product that comes in a can.
Please don't get me wrong: canned food does have its place, but something made well from scratch will always hold higher value in my book.
The word "canned" does have some negative connotations. One definition of the word, from Merriam-Webster.com, is "lacking originality or individuality as if mass-produced."
As a minister, I consider this type of canned something to be avoided. For example, I should never deliver a canned sermon (written by someone else) without at least giving full credit to that person – doing otherwise would be unethical.
Another form of this can be how a person may consider and talk about their faith walk. Yes, one can deliver a canned testimony about a life in Christ that falls short.
Such a description might sound quite generic, as if anyone could have said it. Could it be better by using a completely honest and original script?
Why not use fresh ingredients? A person doesn't have to "plagiarize" the "correct" words of that of their friends to somehow please them.
Isaiah 43:19 (New Revised Standard Version): "I am about to do a new thing; now it springs forth, do you not perceive it?"
God has done new things and will continue to do new things.
God has created you as an original, and you have a unique story. You don't have to compare it to others – to any of your perceived pillars of faith.
Start fresh. There is no need to take that from a can.
Walter is pastor of Immanuel Lutheran Church in Moses Lake and has served as parish pastor for more than 30 years.
---