Moses Lake softball back in action after missing out on last season
by
CASEY MCCARTHY
Staff Writer
|
November 4, 2020 1:00 AM
By CASEY MCCARTHY
Staff Writer
MOSES LAKE — Moses Lake High School softball players spent Tuesday afternoon practicing inside the gym due to the rain after getting back in action last week for the first time since having their season cut short in March.
Head coach Michael Hofheins said up until today they have been blessed with good weather since returning to practice last week.
"The girls are chomping at the bit to be out here, they've been giddy just practicing," Hofheins said. "We've had between 35 and 40 girls, it's a great turnout."
The Chiefs have a large group of seniors returning this season that Hofheins said he hopes can help springboard this early activity into success when the season comes this spring. Both fastpitch and slowpitch players are practicing right now, with many of the girls playing both seasons already.
Hofheins said it has been a challenge working with players separated into pods of six at times, unable to share equipment between the pods. "Something's better than nothing at this point," he added as he looks to solidify the team's foundation before the season arrives.
Some players may not have equipment to work on things by themselves at home, meaning some players have a little more rust to knock off than others.
"It's also a time to evaluate some of our new players. We have a huge group of freshman, and a lot of them are unknown entities, so they're showing their work ethic and what they can do," Hofheins said. "It's a chance for seniors to take that leadership role and kind of gel together as a whole program."
The practice time has been valuable, he said. If he could have more than the three weeks they have, he'd take it. Attendance has been great so far though with practices still optional for players, he said.
"Our seasons are going to be condensed in the spring, they're going to fly by," Hofheins said. "In a normal season, you might have time to find yourself and make adjustments, but I don't think that's there this year."
Just as Major League Baseball teams saw the season move quickly, he said it will be late in the season for his squad earlier than they will expect. Being blessed with a senior-dominant team will hopefully help with that, he said.
"They're mature, nothing phases them, and they just want to compete," Hofheins said of his seniors this year.
After missing out on the season in the spring and most of the summer, he said, his players are hungry to get going.
Casey McCarthy can be reached via email at cmccarthy@columbiabasinherald.com.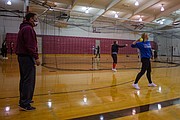 ---