Columbia Basin Allied Arts' airing of 'Nosferatu' a feat of creativity amid challenges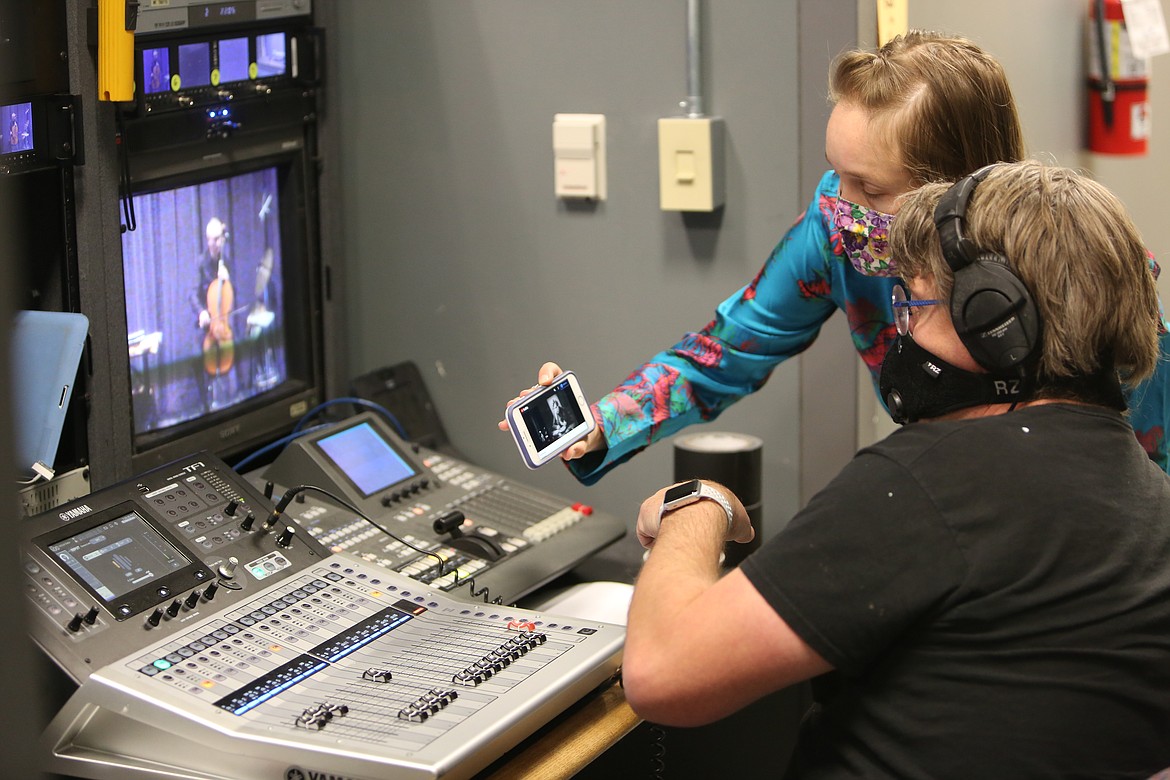 ATEC Media Technician Richard Miller, front, and CBAA Executive Director Shawn Cardwell watch Friday's livestream of "Nosferatu" and cellist Gideon Freudmann's performance side by side, as the raw footage shows up on a monitor in front of them.
Emry Dinman/Columbia Basin Herald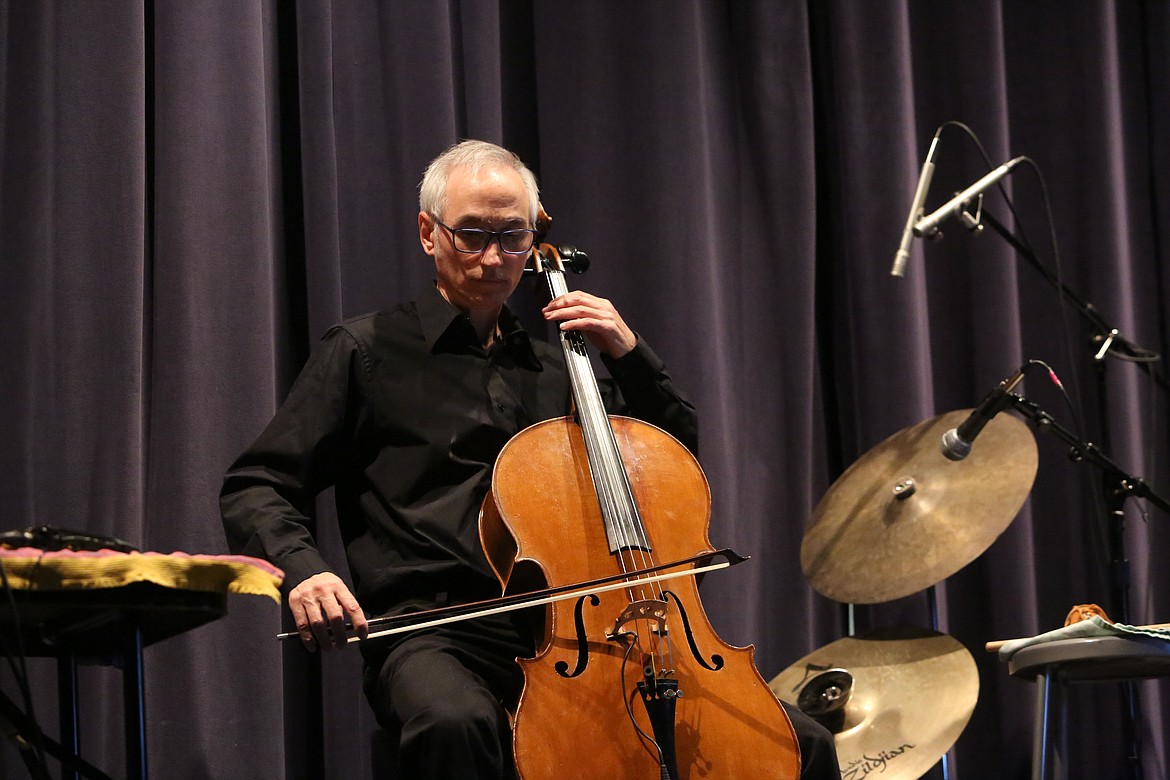 Gideon Freudmann, trained cellist, composer, songwriter and founding member of the Portland Cello Project, performed the score to Friday's showing of the 1922 silent film Nosferatu, making use of loop pedals, cymbals and a plastic rattle to provide soundtrack and sound effects throughout the show.
Previous
Next
by
EMRY DINMAN
Staff Writer
|
November 4, 2020 1:00 AM
MOSES LAKE — For every solution, for every creative decision, Columbia Basin Allied Arts faced another challenge with its Friday stream of F.W. Murnau's 1922 production of "Nosferatu," complete with a live performance by cellist Gideon Freudmann providing a modern soundtrack for the old-school monster movie.
Still, despite a windstorm Friday that scuppered the drive-in movie portion of the showing, the creative blend of a classic silent film live soundtrack and modern music technique, crafted in reaction to the many pitfalls of 2020, resulted in a moody, elegant final performance.
The show had originally been envisioned in 2019 as a live show, said CBAA Executive Director Shawn Cardwell, with an audience watching the movie in an indoor theater and Freudmann, seated in front of them just to the side of the screen, performing in real-time.
But when the pandemic hit, scheduled events began to fall by the wayside. Regardless of what would be technically allowed in Grant County at any given stage of the pandemic, no one at the organization wanted to risk the health of its membership, Cardwell said. Still, the organization's board of directors wanted CBAA to find some way, any way, to continue providing cultural enrichment to the region while doing its part to keep the community safe, she added.
A light bulb went on after one of the board members attended a showing at the Grant County Fairgrounds' drive-in theater, which had itself been set up to provide community events while the pandemic wreaked havoc with the fairgrounds' scheduled events and activities.
"I gave them a call to see if they wanted to collaborate, and Darci was pretty much a go right from the beginning," Cardwell said.
Darci Armstrong, event coordinator for the fairgrounds, jumped at the idea, she said in an interview. Throughout the drive-in theater's run, which ended with Halloween's double-feature of "Friday the 13th" and "Hocus Pocus," Armstrong had gone out of the way to partner with other community organizations, and when Cardwell called asking about partnering on a showing of "Nosferatu" the night before Halloween, it seemed like a natural match.
As CBAA was sponsoring the showing and covering the fairgrounds costs – after Midway Beverage eagerly provided a generous donation that covered much of CBAA's own costs, Cardwell noted – the fairgrounds had intended to donate Friday's proceeds to the arts organization.
But on Friday morning, the event, which had come about as a creative response to the pandemic, was partially canceled by high wind, which threatened to rip the fabric movie screen from its mooring and send it sailing over the Columbia Basin.
In the end – in large part thanks to the technical wizardry of ATEC Media Technician Richard Miller, Cardwell hastened to add – CBAA pivoted to a livestream of the show instead.
Despite the many challenges, Freudmann's performance was unperturbed. The use of string instruments to bring eerie realism to monster movies is nothing new: In the 1954 production of "Godzilla," the 50-meter-tall dinosaur's roar was coaxed out of a double bass by running a resin-coated leather glove along its strings. But rather than standalone sound effects, Freudmann's performance drifted in and out from standard soundtrack to unnerving noises unexpected from a string instrument.
The music grew rumbling and creaky as Nosferatu wandered the deck of a ship, or shrieked and crackled when the vampire trapped the protagonist in his graying castle, Freudmann all the while making use of loop pedals and echo effects to create a haunting, spacious one-man symphony, returning throughout the story to a melancholic theme.
While there were certain beloved elements of a live performance that were lost – there are special psychological and social effects to being part of a crowd that's taking in the same show, Cardwell said – many lessons were learned that Cardwell expects to be long-lasting. For instance, future shows may be livestreamed so that those with limited mobility can still take part, she said.
"I think providing this opportunity to see the show on livestream adds a whole other dimension of accessibility to our shows," Cardwell said. "It was disappointing we couldn't be together in a theater, then it was disappointing we couldn't be together in a drive-in, but I consider it a success, and we learned a lot."
"I think anything is something these days," Cardwell added.
Emry Dinman can be reached via email at edinman@columbiabasinherald.com.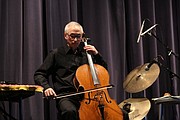 ---