Moses Lake track athletes lament loss of season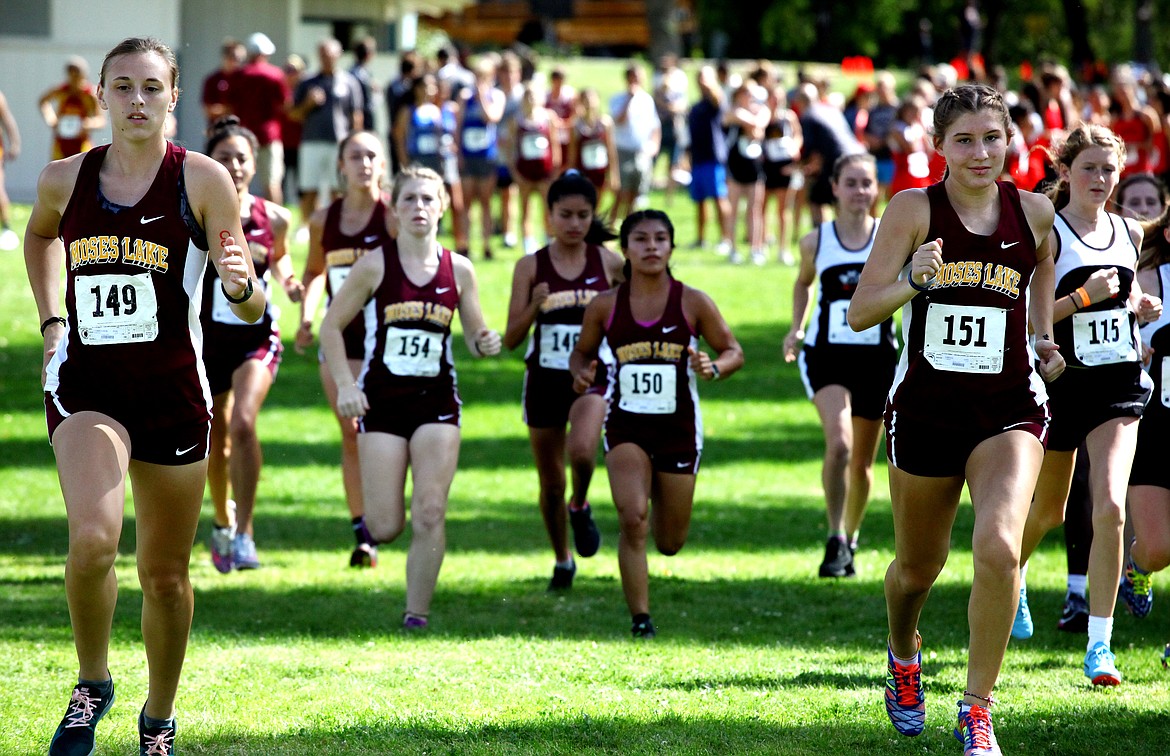 Columbia Basin Herald file photo Camille Carpenter (149) during a previous cross country race. Carpenter's goal since she was in seventh grade was to letter 12 times in high school. The Moses Lake senior competed in cross country, basketball and track throughout high school.
by
CONNOR VANDERWEYST
Staff Writer
|
May 28, 2020 2:42 PM
MOSES LAKE — A few Moses Lake High School track records could have fallen if spring prep sports had not been canceled due to the COVID-19 outbreak.
Senior sprinter Camille Carpenter had her eye on the 400-meter record held by her mother, Jennifer. Carpenter said she was about 2.5 seconds off the pace, but felt she was much stronger mentally and physically as a senior.
"I thought I could just get through the wall and have a better chance," she said.
Distance runner Mikayla Cooper had three school records in her crosshairs — the steeplechase, 1,600 meters and 3,200 meters. Cooper completed a steeplechase — a 3,000-meter obstacle race — on her own in 8 minutes, 7 seconds, which was about 5 seconds off the record.
"I was hoping really hard that there was a track season, even if it was pushed out to the summer," Cooper said.
Carpenter was also hoping for a season, but felt there was a chance of cancellation after someone tested positive for the coronavirus at the 3A/4A Hardwood Classic in Tacoma — a tournament Carpenter competed at as a member of the Moses Lake High School girls basketball team.
The team had two weeks of practice before the season was postponed, and then ultimately canceled.
This week serves as a stark reminder of the chasm left by the lack of sports as it is "state week."
"It's a season that no one will forget ever because there was no season," said head girls track and field coach Nicki Weiland.
The first day of state track and field meets would have been today. Adding to the disappointment, Carpenter saw some pictures from previous meets while using the Facebook memories function.
"I just had to do something else to get my mind off it," she said. "It definitely felt weird not competing."
Carpenter is fortunate in that her athletic career won't be over after high school. She committed to play basketball for Southern Utah University after a standout varsity career with the Chiefs.
"I would be a mess if I wasn't continuing sports in college," she said.
Carpenter's goal since she was in seventh grade was to letter 12 times in high school and she was able to technically complete that goal as coaches still distributed letters for the lost season.
"Camille was always a leader, whether she was a freshman or senior; she just had that leadership quality when she was on the field," Weiland said.
Along with her senior track season, Cooper had to deal with the disappointment of the cancellation of the Junior Olympics. As a senior, Cooper bloomed as a runner since cross country in the fall and finished fourth in the 17- to 18-year-old age group at the USA Track and Field (USATF) National Junior Olympic cross country meet last year in Wisconsin. Cooper will be able to continue competing after graduation with USATF in the open adult division.
Weiland described Cooper as having a "great character" and "encouraging" when she competes.
---