As pandemic wanes, health officials prepare to protect health of migrant farmworkers
by
EMRY DINMAN
Staff Writer
|
May 25, 2020 10:43 PM
GRANT COUNTY — As Grant County readies itself to begin reopening its economy, health officials continue to work with businesses and industries to ensure that workers can return to their jobs without risking a resurgence of COVID-19.
Few areas of the economy will be as difficult to properly regulate during a pandemic as migrant farmworkers, Grant County Health Officer Alexander Brzezny wrote to county Commissioner Tom Taylor in a May 4 email.
"About 8,000 H-2A workers are expected in the Grant Co. in about 30-40 different housing sites (I am estimating here) by summer," Brzezny wrote. "This increase is about 8.4% population increase in Grant County without any additional funding or staffing to (the Grant County Health District) for that work."
"The numbers are so staggering that a superhuman effort will be needed to control any future outbreaks we expect to occur in those sites," Brzezny added.
Many farmers have signaled that they are going to hire fewer farm laborers, said health district administrator Theresa Adkinson, possibly in response to shrinking contracts with processors because of the shutdown of restaurants. Still, many migrant workers will travel to the region to work in local fields.
To prepare for that influx of potentially vulnerable people, many of whom stay in tight quarters and drive to and from work sites in crowded buses or vans, the health district began working with housing managers at the beginning of the pandemic, Adkinson said.
The health district has prepared educational materials in both English and Spanish to help migrant workers understand the signs and symptoms of the disease, as well as the risks posed by the virus, Adkinson said.
In day-to-day transportation, the health district has advised that fewer people be on buses going to and from the fields, Adkinson said, and in some cases operations have said they're eliminating buses altogether and moving to smaller vans in order to transport occupants of no more than one housing unit at a time.
But it's not just the mode of transportation that could require workers to come into close proximity with one another. In recent rules that took effect May 18, the state issued guidance to manage the risk to workers as they stay in often-crowded housing units, making many of the guidelines recommended by the health district mandatory, said Todd Phillips, director of the office of environmental health and safety at the state Department of Health.
Housing must be managed in one of two ways, Phillips said. In one option, occupants in units are required to maintain physical distancing, with beds spaced six feet apart and regular, rigorous cleaning. Otherwise, housing units are to be treated as a group shelter with somewhat more lax social distancing requirements, in which up to 15 people will live together, travel together and work together with minimal contact with individuals outside of their housing unit, Phillips said.
The health district has also issued guidance that workers be regularly checked for COVID-19 symptoms, Adkinson added, which the state has since made a requirement. Additional testing kits have been secured to allow for quick testing of other workers who may have been exposed to an infected person, Brzezny wrote in his May 4 letter.
In other occupations, some workers have previously expressed concern about submitting themselves to coronavirus tests for fear of being quarantined for two weeks and being unable to work and keep food on the table. Those concerns may be amplified in a farmworker setting, where a person sick with COVID-19 symptoms might think that getting tested could mean every other laborer in the house would be unable to work.
To mitigate those concerns among farmworkers, Adkinson said the health district has also helped prepare contingency plans to allow workers infected with COVID-19 but who are asymptomatic to continue to work certain fields near to their housing, cutting down on outside contact and transportation.
Though local health officials and farmworkers themselves have a huge challenge ahead, Adkinson said that district staff is preparing to meet that challenge.
"Obviously we're very concerned about any situation where they have congregate working conditions," Adkinson said. "But I feel like it's going fairly well."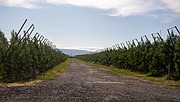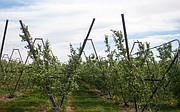 Recent Headlines
---