ACH senior Kendel Correia comes to terms with missing out on final season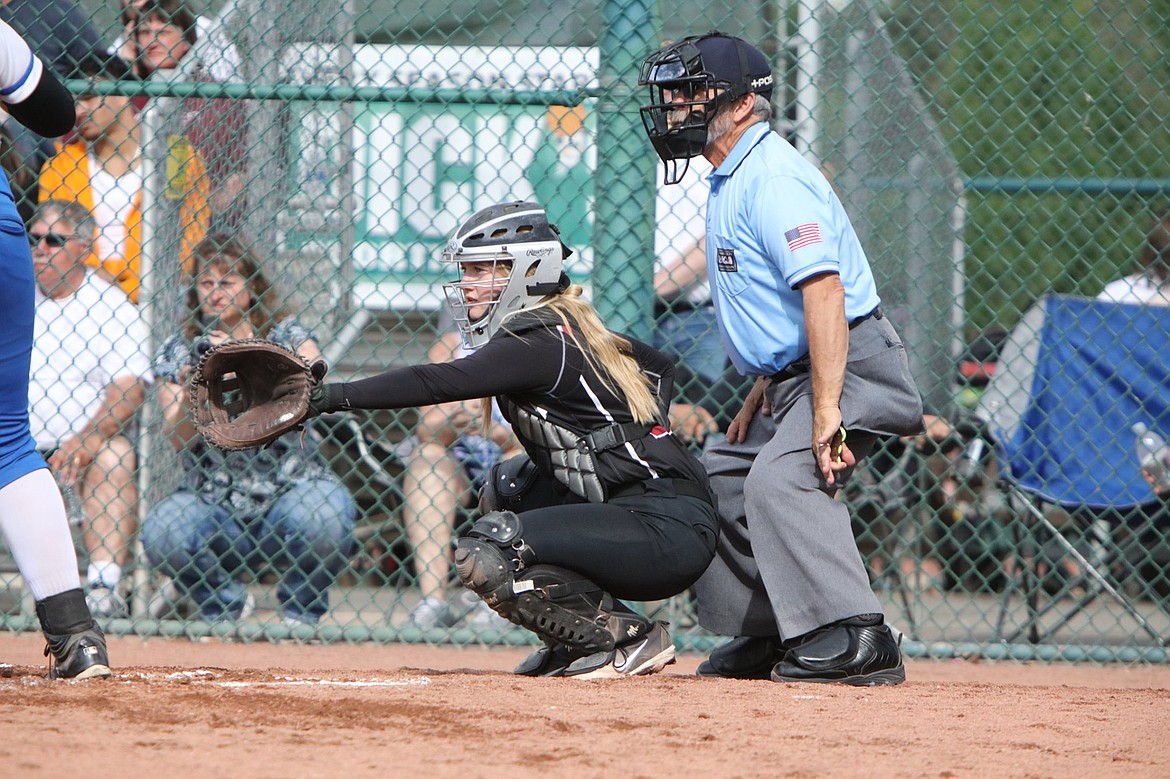 Courtesy photo Almira/Coulee-Hartline senior Kendel Correia waits for the pitch behind the plate last season for the Warriors on the way to her second straight 1B state championship.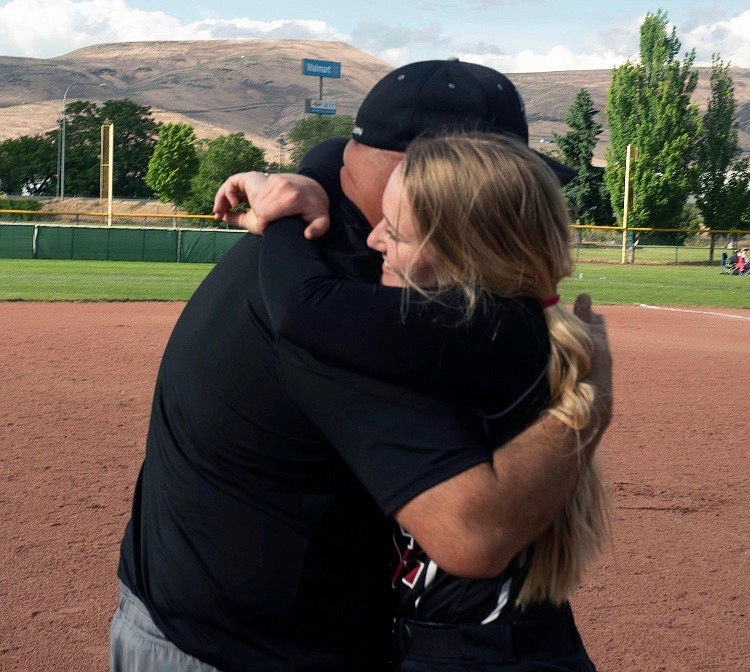 Courtesy photo ACH senior Kendel Correia shares a hug with her dad, ACH head baseball coach Mike Correia.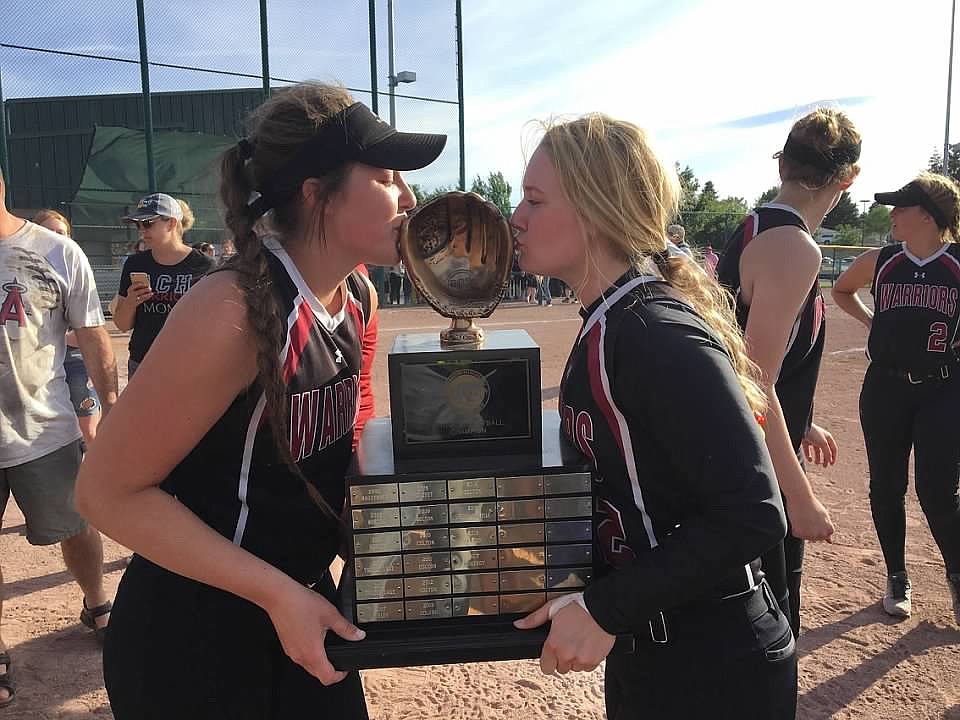 Mikayla Rushton, left, and Kendel Correia, right, kiss their new trophy after the 1B state championship game.
Courtesy photo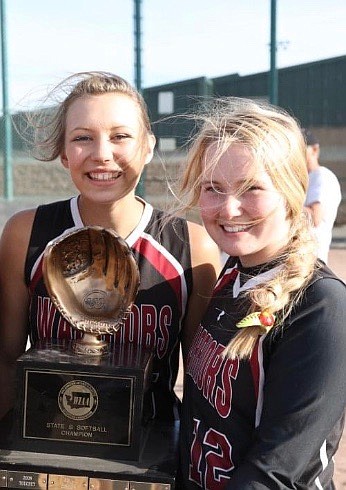 Courtesy photo ACH seniors Makenna Oliver, left, and Kendel Correia won't get a shot to defend their 1B state championship after winning the previous two as sophomores and juniors.
Previous
Next
by
CASEY MCCARTHY
Staff Writer
|
May 17, 2020 10:37 PM
COULEE CITY — Almira/Coulee-Hartline High School senior Kendel Correia said she never would have thought the coronavirus would affect her little town of Coulee City when she first heard of it, let alone school or sports.
Correia said she remembers joking about how crazy people were acting over toilet paper at their first practice. Correia said it was after her fourth period class when she connected with fellow senior Makenna Oliver in the hall after they'd heard their final season would first be put on hold.
It wasn't until the announcement came down that school was canceled for the rest of the year that the fact hit her that her senior year, and a shot at a 1B state championship three-peat, were gone, Correia said.
"It really hurt," Correia said. "That whole day I was pretty emotional about, who knows if there's even gonna be a graduation, there's no more softball. Softball's one of my favorite sports. That's the sport that keeps me going through all the other sports, that's my motivation, so it was really rough."
Dealing with the complete change in her daily routine since school shifted online and softball was canceled have been tough, Correia said.
"I'm such a planner," Correia said. "I'm the type of person that plans my weeks out on every Monday, so the fact that everything was up in the air, that killed me."
Correia hasn't been a stranger to change on the field for the Warriors since she came in as a freshman. A left fielder as a freshman, second baseman as a sophomore, Correia started every game at catcher as a junior on her way to her second-straight 1B title.
Correia racked up a .354 batting average in her time with ACH as well, with 82 career hits and a .450 on-base percentage. Entering their senior season, Correia and Oliver were poised to lead the Warriors back to the 1B title game.
Correia said she and Oliver were staying at least an hour after practice each day coming into the season, trying to cement that connection with Oliver on the mound.
Correia and Oliver entered the season as the lone seniors and captains, with expectations high coming off back-to-back state championships. Correia said they'd draw up scenarios to give one another to work on.
Correia said she truly believed they'd be right back where they ended their last two seasons.
"I was really excited about the season because we had something to prove after last year, and it's just fun knowing that everyone wants to absolutely annihilate your team, and you still go out there and beat them," Correia said.
Leaving ACH as a two-time state champion, Correia said she really couldn't ask for a better final note.
"Technically, we're still state champions, so that's how it's playing in my book," Correia said. "We still have the trophy in our school, so we're still winning in the third year, that's what I'm saying."
Correia said she wanted to thank all the coaches and staff who've put in time and work with her. To the community in Coulee City, Correia said she wouldn't have been able to get anywhere without them.
A silver lining for Correia and her family has been the time it's given them together during a period of the year typically dominated by athletics. Correia's younger brothers both play baseball, for the school and travel teams, while her dad, Mike Correia, is the head baseball coach for ACH.
With athletics canceled this spring, Correia said their "outdoorsy" family have been taking full advantage with camping trips, fishing trips and even some "house projects."
"Baseball and softball, that's our spring," Correia said. "So it's really nice being able to connect with them again. I've definitely drawn closer to my brothers and my parents. It's just really nice and fun having that family time again."
For a family always on the go, Correia said, it's been nice to have a small break. She's headed to Central Washington University next year to study marketing and business, she said.
As for her senior season being canceled, Correia said, in the end, "it is what it is."
"You kind of just have to get over it and accept the fact that what happened, happened, and you can't really go back and fix it," Correia said. "But you can always go forward."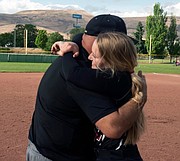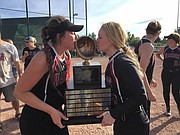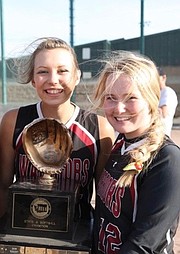 ---