A look at the history of Steamboat Rock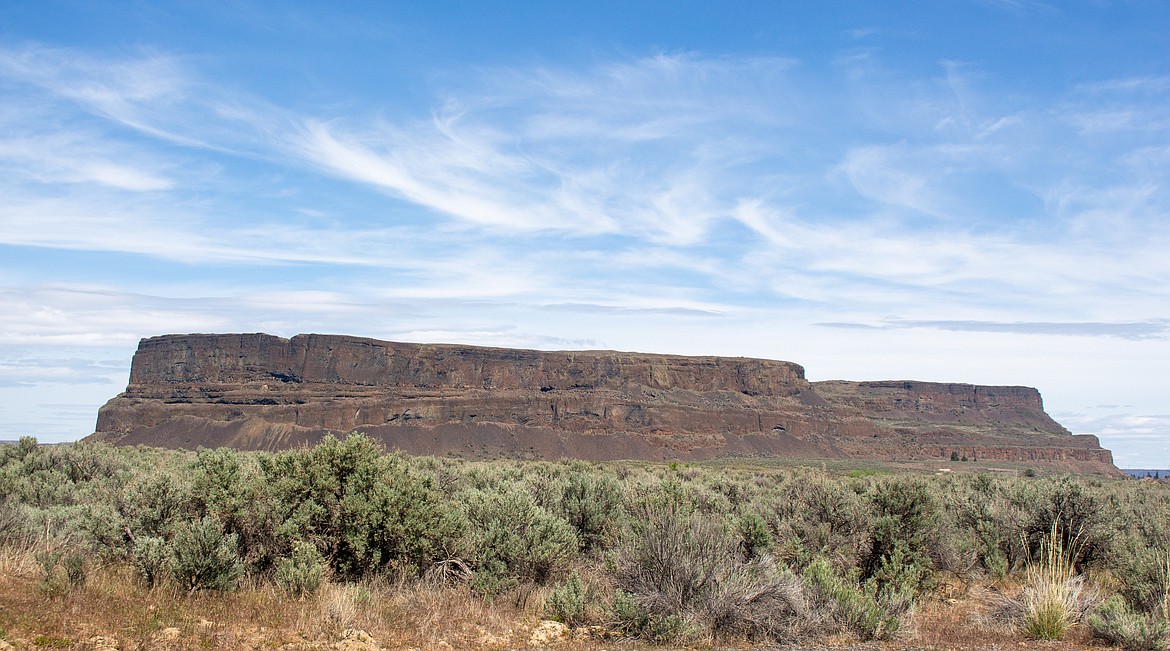 Author John M. Kemble discusses the history of this giant rock formation in his book "Steamboat Rock."
Casey McCarthy/Columbia Basin Herald
The trees on the shoreline of Devil's Punch Bowl shrink looking down from near the top of Steamboat Rock inside the state park.
Casey McCarthy/Columbia Basin Herald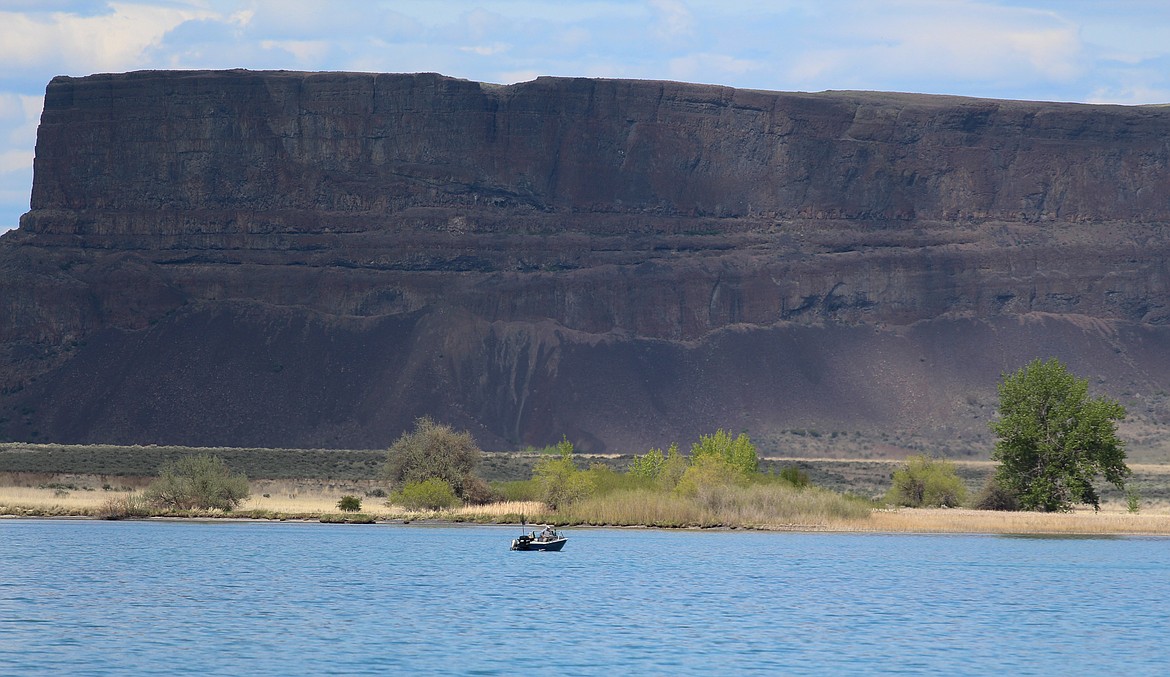 Clouds cast looming shadows on the side of Steamboat Rock in the distance as a lone angler sits in his boat on the waters of the Devil's Punch Bowl on Monday, May 4.
Casey McCarthy/Columbia Basin Herald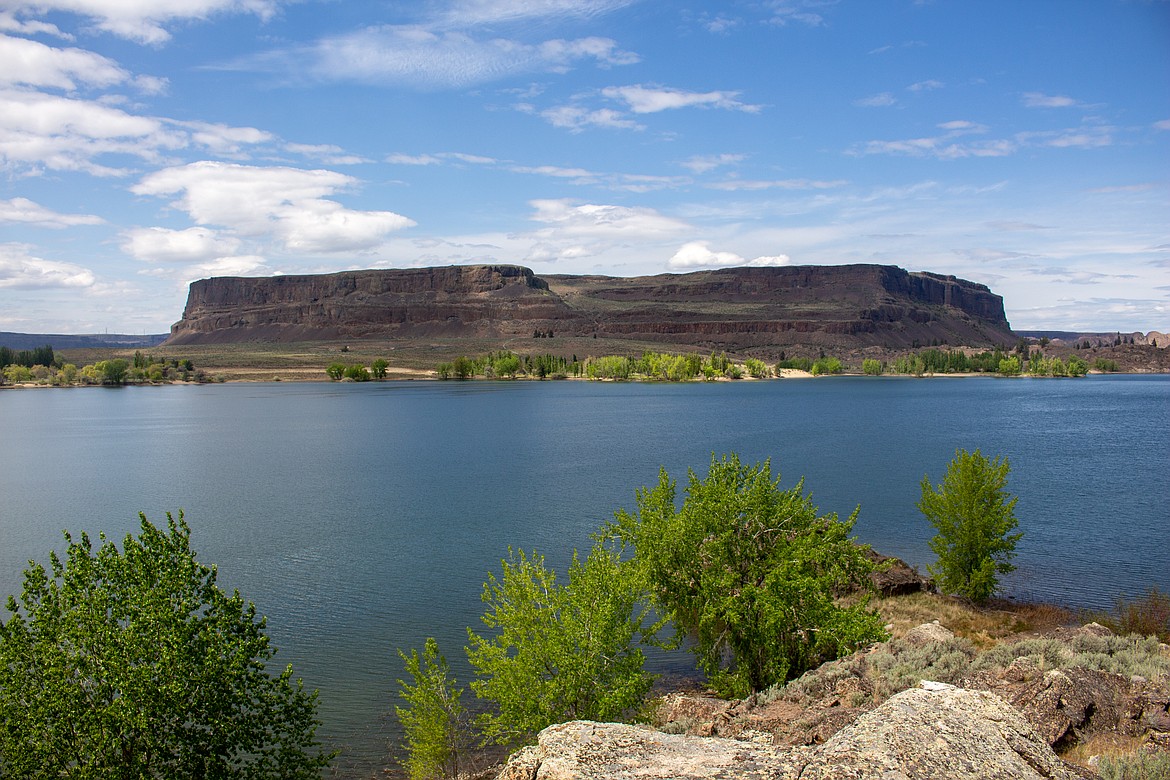 Standing alone in the distance, Steamboat Rock towers above the water and scrublands beneath it inside the state park named for the geological formation.
Casey McCarthy/Columbia Basin Herald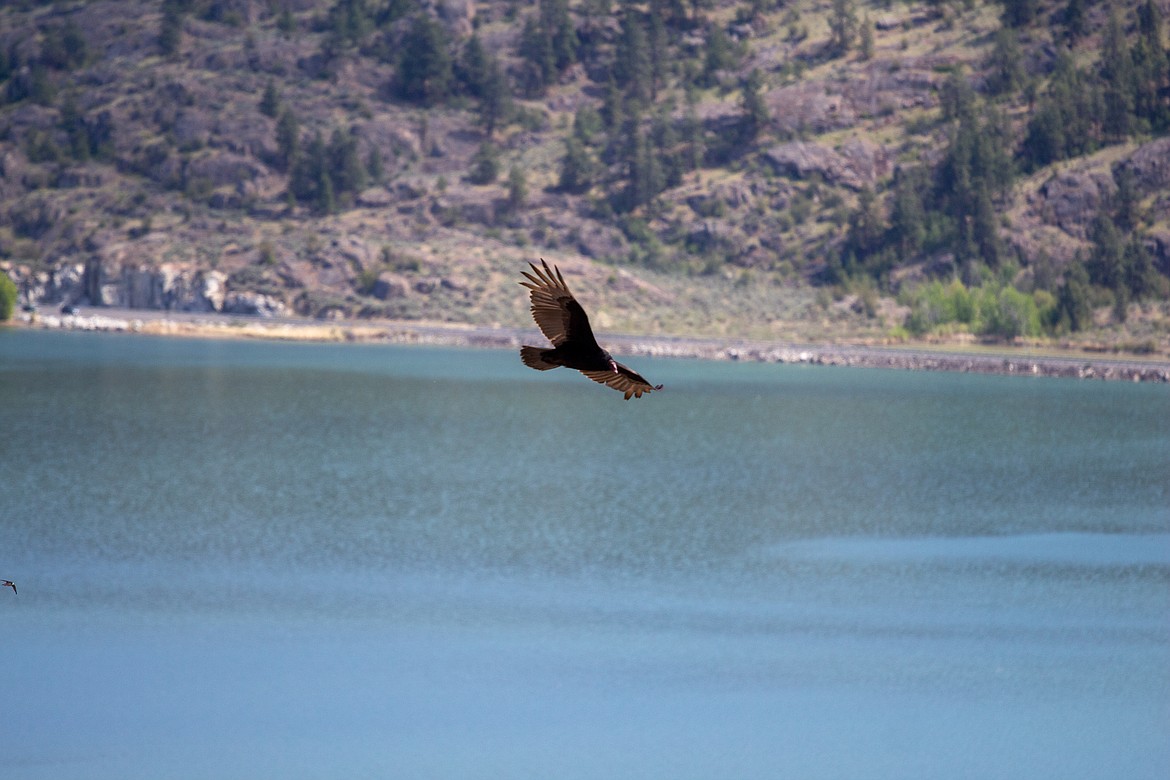 Soaring birds, and other wildlife, are a common sight for visitors looking out from the heights of Steamboat Rock.
Casey McCarthy/Columbia Basin Herald
Previous
Next
by
RACHAL PINKERTON
Staff Writer
|
May 15, 2020 12:06 AM
GRAND COULEE — About 15 miles south of Grand Coulee Dam stands a feature that has graced the landscape since the time of the Missoula Floods. Steamboat Rock is a landmark and recreational area in the north of Grant County. The surrounding area is full of history, captured in a new book, "Steamboat Rock," by John M. Kemble, published by Arcadia Publishing.
Kemble, known locally as Jay, grew up in Coulee City and now lives in Grand Coulee. He heads up and writes for a project known as Them Dam Writers, a group of local history writers that publish their work on Facebook and in The Star, Grand Coulee's local newspaper. He also has a website, known as the Little Virtual Museum in the Coulee, that features his historical articles.
"Most of my local notoriety comes from my historical explorations and findings," Kemble said. "As a volunteer, I search out obscure and forgotten local history and track it down in the field, aka bush, to find evidence or clues. I document these old forgotten landmarks in the Grand Coulee by photographing and writing about them, combining all the different reference sources, including old photos, maps and out-of-print or rare writings and books. I try to bring the artifact back to cultural significance without revealing the location."
Telling the story
Kemble has worked seasonally at Steamboat Rock State Park for the past few years.
"I love Steamboat Rock and have explored about every inch of it, but it still holds mysteries," Kemble said. "Besides being super impressive just to look at, to me Steamboat Rock is like a book marker in time. You can look at it and imagine the Ice Age, when boulders and ice were flowing over its top, then skip ahead a couple thousand years and witness the earliest trappers in the area, and a little later the first settlers, fields of cows, then later a few small cities in its shadow. A railroad and highway were constructed to run past it, and then it was all flooded again. What a story! What's not to love? This is how I would like everyone to look at it. To see what I see."
Kemble wrote "Steamboat Rock" after having done research for some of his historical stories.
"I knew a lot of history that most people didn't know and my goal is to preserve history and bring the Grand Coulee back to life," Kemble said.
"Steamboat Rock" was released in April and is available on Amazon. Kemble is looking to author another book on Dry Falls and Sun Lakes, to be released next year.
Coyote gets mad
According to local Native American folklore, Steamboat Rock was created when Eagle's daughter refused to marry Coyote. One of the attendees, Rabbit, laughed the loudest. In his anger, Coyote threw him across the coulee. Rabbit stuck to the rock wall near Salishan Mesa, where he was changed to stone. There is a formation to this day called Rabbit Rock, next to the track of the Old Coulee Road.
Turning next to the wedding feast, Coyote threw it against the coulee walls. Legend says that it is the reason that lichen and serviceberry are in the coulee.
But Coyote's anger burned most against Eagle.
"Using his great power, Coyote then pushed Eagle's home far out into the coulee, cutting it off from the rest of the land and creating the mesa now called Steamboat Rock," Kemble wrote.
Early settlers
The trails around Steamboat Rock first started seeing use by whites in the early 1800s when Hudson Bay Company scouts and gold miners traveled them to get to the Okanogan Trail, located on the west side of the rock. In those early days, horse thieves used to use the rock to hide the stolen animals until they could be moved out of the area. They continued to use this hideout until there came to be too many people living in the area to hide the animals without being discovered.
One of the first people to settle around Steamboat Rock was Albert Barker. No one is exactly sure when he moved there, but Kemble writes that "he was there when the earliest pioneers to the area started to arrive."
Another early settler was William Fleet, a 19-year-old who arrived in the mid-1880s. He raised cattle around Steamboat Rock until 1889, when he sold his ranch to Edward Schrock and moved home to New York. Other early settlers included Hans and Matilda Lange, Charley Osborne and brothers William and Richard Andrews. These early settlers raised cattle, as well as sheep, horses and crops.
In 1909, Schrock sold his ranch to George Baldwin and his partner, who later quit the partnership. Baldwin began pumping water out of Devils Lake for the irrigation of crops and orchards.
Devils Lake, now combined with the waters of Banks Lake, used to lie northwest of Steamboat Rock. Kemble reports that it "was, on average, a mile long and a hot spot for wildlife." It was also a source for ice and pioneers used it to fill their ice houses during the winter.
Tough times, good times
In 1919, a drought hit the Steamboat Rock area that lasted for 10 years. Many of the settlers left, leaving abandoned farm houses throughout the coulee.
"Then, in 1929, just when it looked like things were starting to turn around and the water table was picking up, the Great Depression struck, and the coulee began an economic downward spiral," Kemble wrote. "The Coulee City bank collapsed during the Great Depression, and many more farmers followed it into ruin, with even more leaving the region."
In 1934, the economics of the area began to look up. With the upcoming construction of Grand Coulee Dam, a new road was built from Coulee City to the building site, replacing the Old Coulee Road. The new road, nicknamed the Speedball Highway, "was created in record time, opening the same year." A railroad track for hauling supplies to the dam site was installed parallel to the new highway.
The area surrounding Steamboat Rock saw an increase of people, businesses and towns.
"The infusion of stores, stations, trains, roads and people had brought the Steamboat Rock community to life again," Kemble wrote. "Now, old farmers and ranchers had a place to gather and talk, and the community started to come together more as a second generation raised in the coulee began to get involved and come of age."
But the resurgence was short lived. World War II took men away to war, causing some of the new towns to disappear. Then in 1948, the clearing of the coulee began in preparation for filling the area with the water that would become Banks Lake. The railroad lines were taken up. Old farmhouses were burned. Ranches were destroyed. And a new road was built along the edge of the coulee, out of the flood zone.
"In the spring of 1951, work on the canals was finished, and the upper coulee was flooded with water diverted from the Columbia River," Kemble wrote. "The equalizing reservoir was named after Grand Coulee Dam's chief engineer, Frank A. Banks."
Kemble wrote that as Banks Lake filled, all of the animals in the coulee were able to leave, except the snakes.
"Unable to truly escape into the walls or holes, they moved down the coulee just ahead of the wave, building in number, and were not really noticed until they started to encroach on Coulee City," Kemble wrote. "There was even a watch put up to keep an eye out for the varmints just outside of town, and children were told to stay inside the school during recess."
A park for all to enjoy
By 1956, the area surrounding Steamboat Rock had been designated as a state park. The area now named Northrup Point was the original Steamboat Rock State Park. Since then, the park has expanded to include all of Steamboat Rock.
The recreation that occurs in the park helps support the local economy. One local business, KJ Watersports Boat Rentals, provides rentals such as paddle boards, pontoon boats, ski boats and waverunners to visitors.
"Banks Lake has provided our main watercraft rental service area in Washington for 16 years now," said Kerry Prather, owner of KJ Watersports Boat Rentals. "Being located inside of the Sunbanks Resort, we are able to offer watercraft rentals from our dock right on Banks Lake. Steamboat Rock has provided our customers with an excellent place to go on Banks Lake, especially for a day-use area. Many of our customers are campers at Steamboat Rock State Park."
According to information from the Washington State Parks, 442,972 people took advantage of Steamboat Rock State Park in 2019. In 2018, 455,130 people visited the park. Recreational information about Steamboat Rock State Park can be found on the Washington State Parks website, https://www.parks.wa.gov.
Rachal Pinkerton may be reached via email at rpinkerton@columbiabasinherald.com.
---