Local band Dimestore Prophets dealing with loss of shows
Dimestore Prophets, a staple of the Moses Lake music scene, formed in 2010 and have played upward of 1,000 shows together.
However, there have been no additions to that tally since the middle of March when the group — aware of dangers surrounding the novel coronavirus — elected to cancel a show in Leavenworth days before Gov. Jay Inslee issued a statewide stay-at-home order.
"That's when it got real for us," said guitarist and vocalist Ray Glover.
Over a month later, the group has been adjusting to the positive and negative aspects of "by far" their longest layoff from gigging.
"It's been nice taking a break from the grinding, from having to leave home and leave the families," Glover said. "Some weekends you'd rather stay home and not go travel the road. So it's been nice to be home, be comfortable and pick up your guitar when you feel inspired — kind of musical freedom."
With that freedom comes a void.
Dimestore Prophets — Glover on guitar, Eric Groff on bass and John Wilson on drums — average about 75 shows in a year, with the bulk of their schedule falling between early April and mid-September. The band typically plays at the Moses Lake Sand Dunes over Memorial Day Weekend, a well-attended event that likely won't happen this year.
"When you go and you watch from the stage you see kids that are barely old enough to walk and people that are barely old enough to get up and get off the chair and both of them are dancing to your music," Groff said. "It's very rewarding."
Some years, Dimestore Prophets is able to play into December; their last concerts before the shutdown were at Lake Chelan Winterfest in January.
"Taking that away as artists is difficult," said Groff, who handles the band's booking. "It's an expression, it's interacting with people that enjoy our music as much as we enjoy playing it and they enjoy hearing it."
Dimestore Prophets' sound can be described as groove, rock and reggae — perfect for when the temperature begins to climb. They have albums entitled "Feel Good Music" and "Live at the Porterhouse," as well as shorter projects "Kamikaze" and "Be Yourself."
The time off has allowed the band to formulate more of a plan when it comes to performing in addition to revisiting old song ideas, said Groff and Glover. At Christmas, Glover was given an early 1900s piano as a gift from his girlfriend, and it has been a source of creative inspiration.
"I've been working on some old ideas and riffs I've had for the last two or three years since I've got the time now to sit down and kind of structure them," he said. "I've been able to write a few new tunes, a few new melodies that have been on back order, so to speak, which has been good, so when we do come together there will be some new material to work through."
Despite the extended time at home with family and the freedom to grab their instruments when the mood strikes, there has been no real substitute for playing together as a trio. The group hasn't been practicing — 10 years together has helped in that respect — but some online options could be feasible if restrictions on large gatherings and social distancing requirements continue.
"I think a lot of us are taking time for our families, taking time for ourselves, but I know that all three of us are getting real itchy at not getting to play and jam and create together," Glover said.
Glover said he has purchased new stereo-recording cameras that could help to stream any performances or work to facilitate a remote band practice.
"If things continue this way then come summertime we'll be doing some online stuff," Glover said.
The down time from the band has fostered a different creative outlet for Groff. The colorblind bassist has picked up a new hobby during quarantine — watercolor painting. Groff said he numbers the colors so he knows what he's doing. Glover has taken to making his own sausage. Both hope a return to performing live happens before a shift to art galleries or butcher shops.
The trio misses the music, of course, but, like so many people around the country, they miss each other more.
"I think it's just one of things where absence makes the heart grow fonder, and so as we get closer and closer to maybe this being lifted we all get a little anxious and want to go do it," Groff said. "I don't think the gift that we have as the three of us together playing music is just about music. It's very much about the bond of being friends, camaraderie, trial by fire on the road a little bit, and that's something that I miss a lot because we have a really good time together. I think that's why we're able to gig the way we do."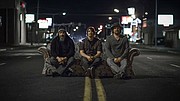 ---