Hundreds come out to Moses Lake parks each day last week for gnome scavenger hunt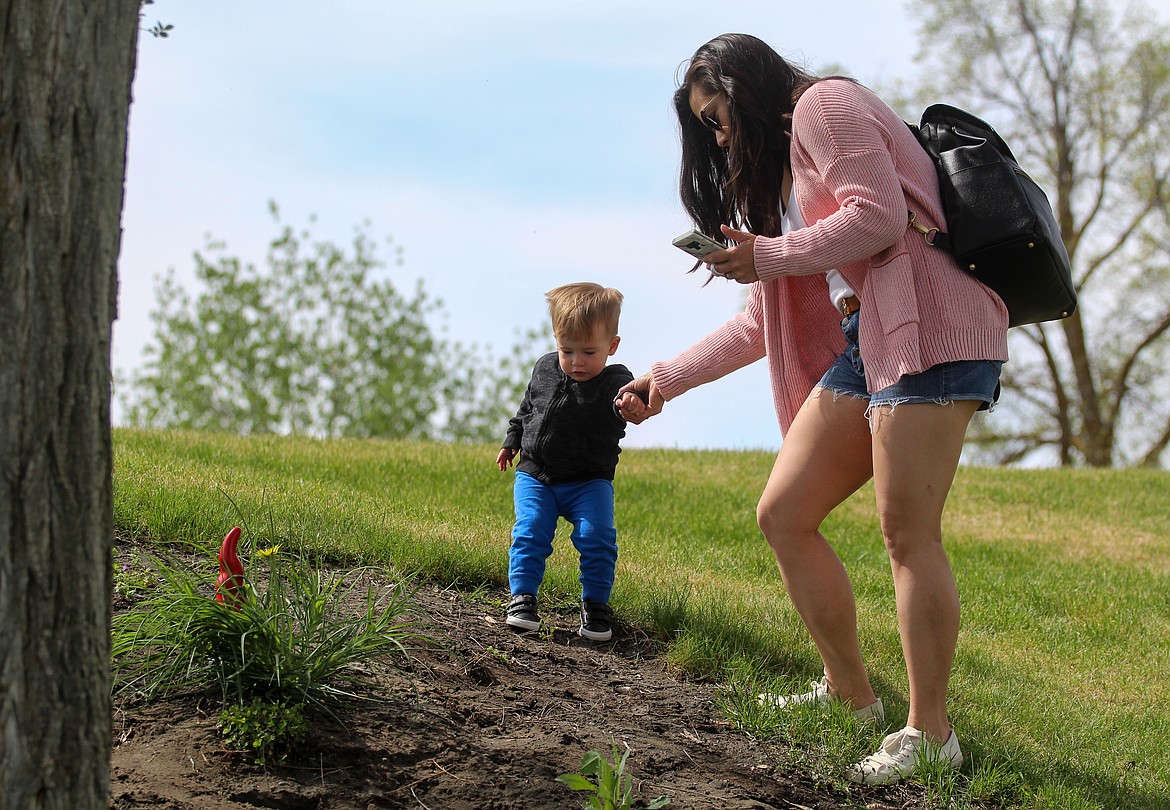 Catherina Monnone holds her son Vincent's hand as he makes his way over to check out the gnome statue at Blue Heron Park in Moses Lake late Thursday morning.
Casey McCarthy/Columbia Basin Herald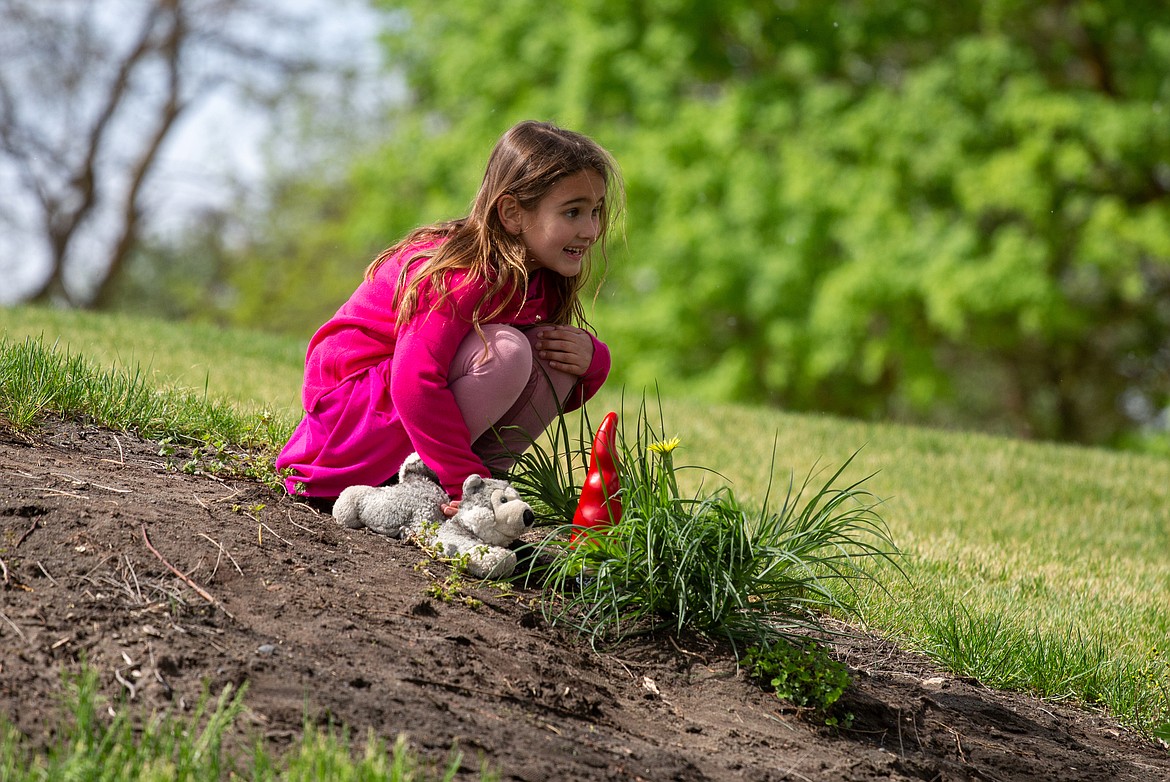 Autumn Anderson smiles with the gnome statue at Blue Heron Park after finding it for the Gnome Scavenger Hunt with her mom, Gwen Anderson, on Thursday morning.
Casey McCarthy/Columbia Basin Herald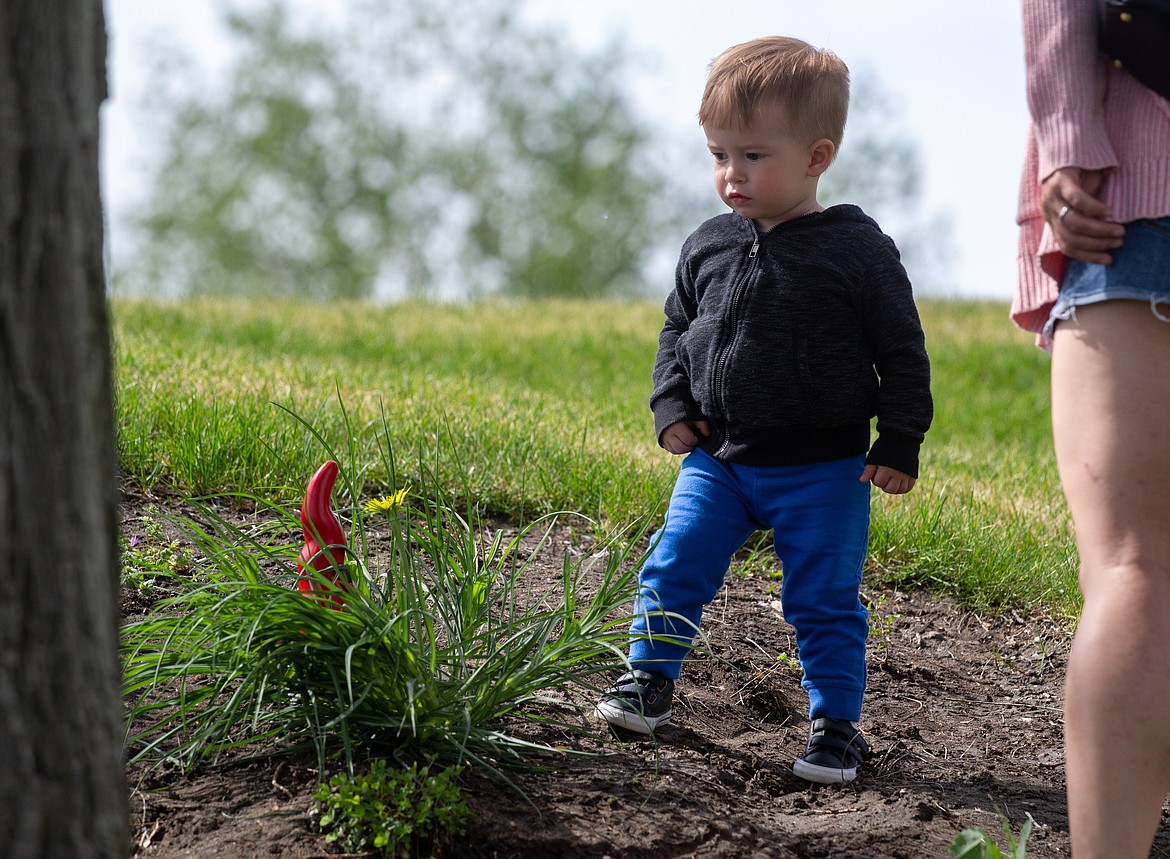 Vincent Monnone, 1, takes a moment to assess the gnome statue at Blue Heron Park after finding it with his mom, Catherina Monnone, on Thursday morning.
Casey McCarthy/Columbia Basin Herald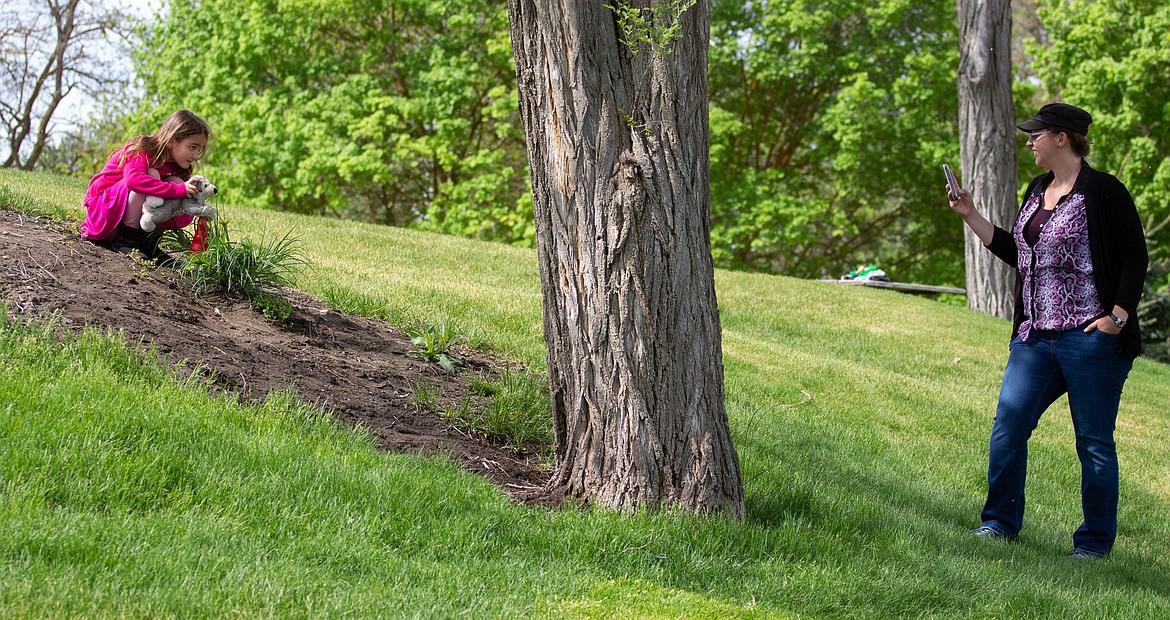 Autumn Anderson, left, and her stuffed friend Biscuit pose with the gnome statue at Blue Heron Park while her mom, Gwen Anderson, right, snaps a photo for the Gnome Scavenger Hunt contest.
Casey McCarthy/Columbia Basin Herald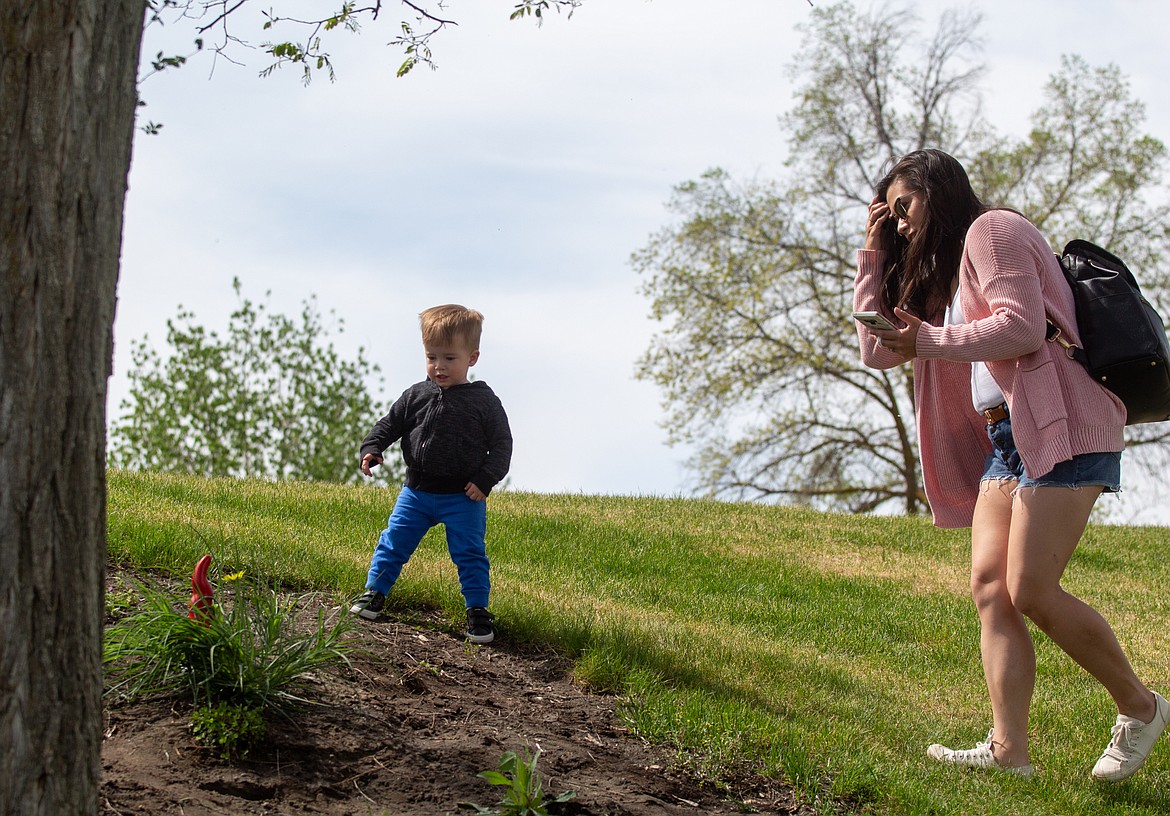 Vincent Monnone, 1, points with excitement to the gnome statue as his mom, Catherina Monnone, makes her way over to take a selfie for the Gnome Scavenger Hunt on Thursday at Blue Heron Park.
Casey McCarthy/Columbia Basin Herald
Previous
Next
by
CASEY MCCARTHY
Staff Writer
|
May 3, 2020 8:39 PM
MOSES LAKE — Hundreds of people came out to Moses Lake parks as part of the Gnome Scavenger Hunt coordinated by the city's Parks and Recreation department.
The scavenger hunt, which began last Monday, April 27, featured a different clue each evening to where the gnome would be the next day. Participants were asked to find the gnome for a selfie and submit their photo with the gnome for a chance to win a prize.
Parks and Recreation communications and marketing specialist Lynne Lynch was at the park all five days of the activity, taking photos and chatting with some of the families that participated.
Lynch said she spoke to one father, recently laid off from his job, enjoying time with his family. Providing that chance for community members to come out and have something fun to do with their family, with everything going on, is great to see, Lynch said.
"Families were very engaged, they liked being out in the fresh air and the sunshine," Lynch said. "Kids were getting good exercise. They would run around and play well after they found the gnome, so that was fun to see."
While they didn't have an exact figure, Lynch said she's certain they had more than 1,000 participants come out to the parks from Monday through Friday. Lynch said the free event didn't cost anything for community members or families, only needing a phone or camera to take the selfie.
"The community needed this," Lynch said. "I'm so pleased we were able to offer it to them. It was an honor, truly."
Moses Lake resident Gwen Anderson and her daughter, Autumn, were two of many to come out to search for the gnome at Blue Heron Park on Thursday morning. Anderson said it was their third day in a row hunting down the gnome.
Recreation supervisor Tom Los said they had between 200 and 300 people a day coming out to hunt for the gnome.
"By no means is everyone out there at the same time, I think the most we've seen be at the park at once was 25," Los said. "But they're all scattered out trying to find the gnome."
Los said participants were good about practicing social distancing when heading out to the parks, keeping in their own group or family. Los said it wasn't uncommon to see one person in a larger group find the gnome, with families simply waiting their turn to grab their selfie.
"From all the participants, talking to people, it's been nothing but praise, and thank yous, saying how much they needed it, and this is what they needed to get out," Los said. "We've had people riding bikes, making a bike ride out of it. They've gone on jogs, they're out with their dogs for a walk in the park. And they're just finding gnomes."
Los said he's received a lot of messages from community members online, thanking the department for the event and asking if they could keep it going. While he doesn't want to rule out having another gnome hunt in the future, Los said they wouldn't extend the hunt beyond Friday.
Timing for the event, Los said, was almost perfect to produce the turnout they had. With people cooped up inside for the past month, Los said he felt like people were "starving" for something like this.
Prizes for the gnome hunt will be free passes to the roller rink in Moses Lake. While he isn't sure how many passes will be given out yet, Los said he's hoping to reward as many people that came out as he can.
Depending on what business restrictions look like in the near future, Los said they feel like the rink is a place where people will be able to come out to without worrying about having too large of a gathering.
Recreational supervisor Carrie Hoiness was at Blue Heron Park on Thursday afternoon for the gnome hunt, watching from afar so as to not give away the gnome's location.
"It was probably my best day at the office since the stay-at-home order began," she said.
---