Moses Lake dentist uses time, materials to help other medical professonals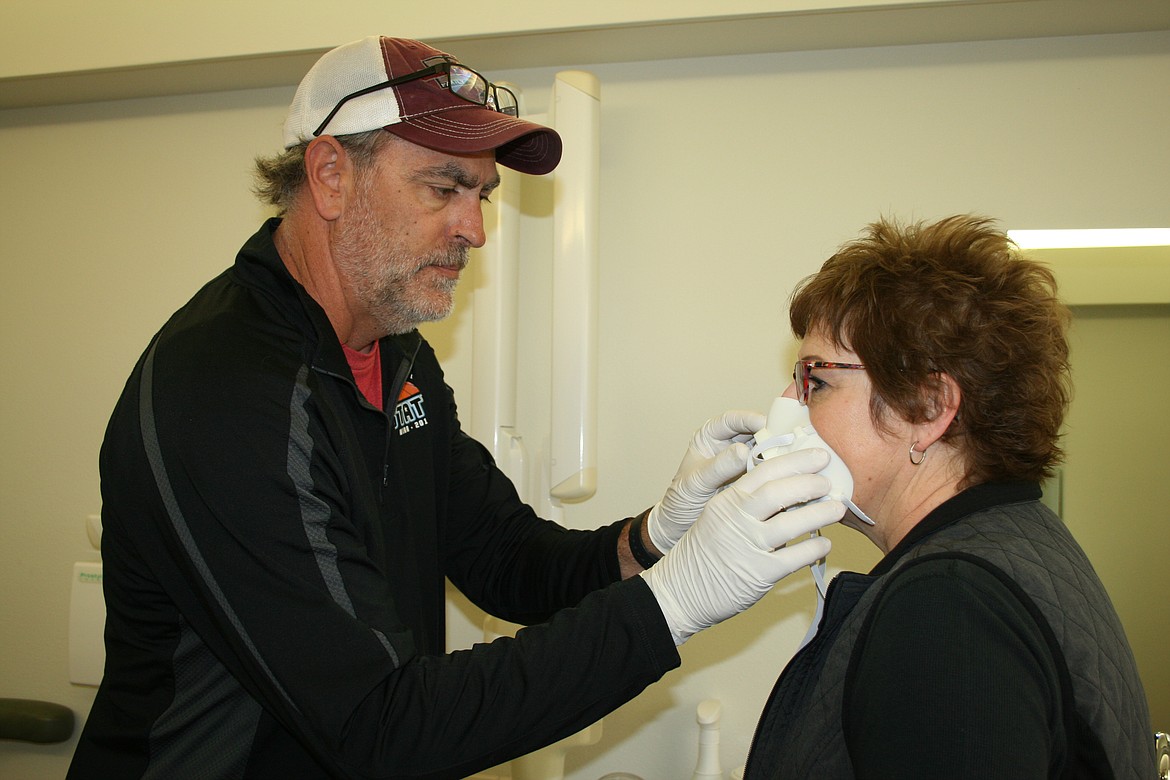 Cheryl Schweizer/Columbia Basin Herald Dentist Craig Harder (left) adjusts the fit of a N95 mask he made using a 3D printer. Harder's office is closed due to the COVID-19 outbreak, so he is using his printer and his time to make reusable masks for health care workers such as nurse Penny Mayo.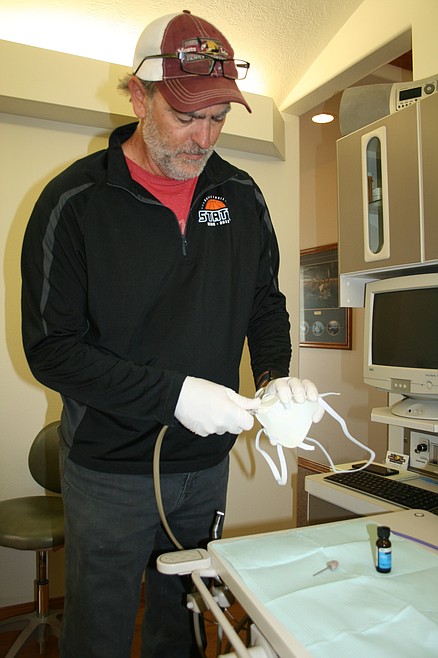 Cheryl Schweizer/Columbia Basin Herald Craig Harder adjusts the fit on a reusable N95 mask. While his dental office is closed, Harder is making masks for medical professionals using his 3D printer.
Previous
Next
by
CHERYL SCHWEIZER
Staff Writer
|
March 31, 2020 11:16 PM
MOSES LAKE — Craig Harder has the equipment, and right now he has the time on his hands. So he's using his equipment and time for a project to help other medical professionals.
Harder is a dentist and owner of Moses Lake Family Dentistry. Dental offices are among the businesses affected by the shutdown orders issued by Gov. Jay Inslee to combat the outbreak of COVID-19.
"Right now, we are shut down to May 18. We are allowed to see a patient that would otherwise end up in the ER if we didn't take care of them, but that's it," Harder said.
"We figured we'd better try and find something else to do," he said, "and for my own sanity I picked up this project."
The project utilizes a 3-D printer, one Harder normally uses in his practice, to make N95-style masks for health care workers.
Penny Mayo, a nurse for Samaritan Healthcare, came by Monday morning for a fitting of her mask.
Normally the printer is used to make dental models.
"Each week we're making molds of teeth for making retainers, or bleach trays. We copy a patient's denture so that we can replicate it to make a new one," Harder said. A bleach tray resembles a mouth guard and is used to help whiten teeth.
Harder is working with orthodontist Dino Cacchiotti and Juan Rocha, who uses 3-D printers to make orthodontic models at Cacchiotti's office. They use a pattern for the masks designed by a physician and two dentists in Billings, Montana, Harder said.
"Our printer will print out in three different pieces for us," Harder said, the mask and a two-piece filter system that snaps together. He's using filters normally used in heating-cooling systems. "It's a little bit of work, but we go through and cut these up into inch-and-a-half pieces," Harder said. Some of the filters were donated by Jeff Foster.
The filters actually are finer than those used in a regular N95 mask. The coronavirus is 0.3 microns in size, Harder said, and the filters (called HEPA filters) remove particulates to 0.1 micron in size.
Printing the pieces for one mask takes about four to five hours, Harder said, and he and Rocha can produce about 20 masks per week.
"It blows me away, the concept that you can print that on a printer," Mayo said.
To ensure the mask fits tightly to the face, Harder fills in any gaps with material normally used in his dental practice. The material can be sculpted to fine-tune the fit.
Harder said he's making masks for health care professionals. He can be contacted through the Moses Lake Family Dentistry Facebook page or by text to 509-760-2819.
Cheryl Schweizer can be reached at education@columbiabasinherald.com.
Recent Headlines
---