People urged to pay more attention to hygiene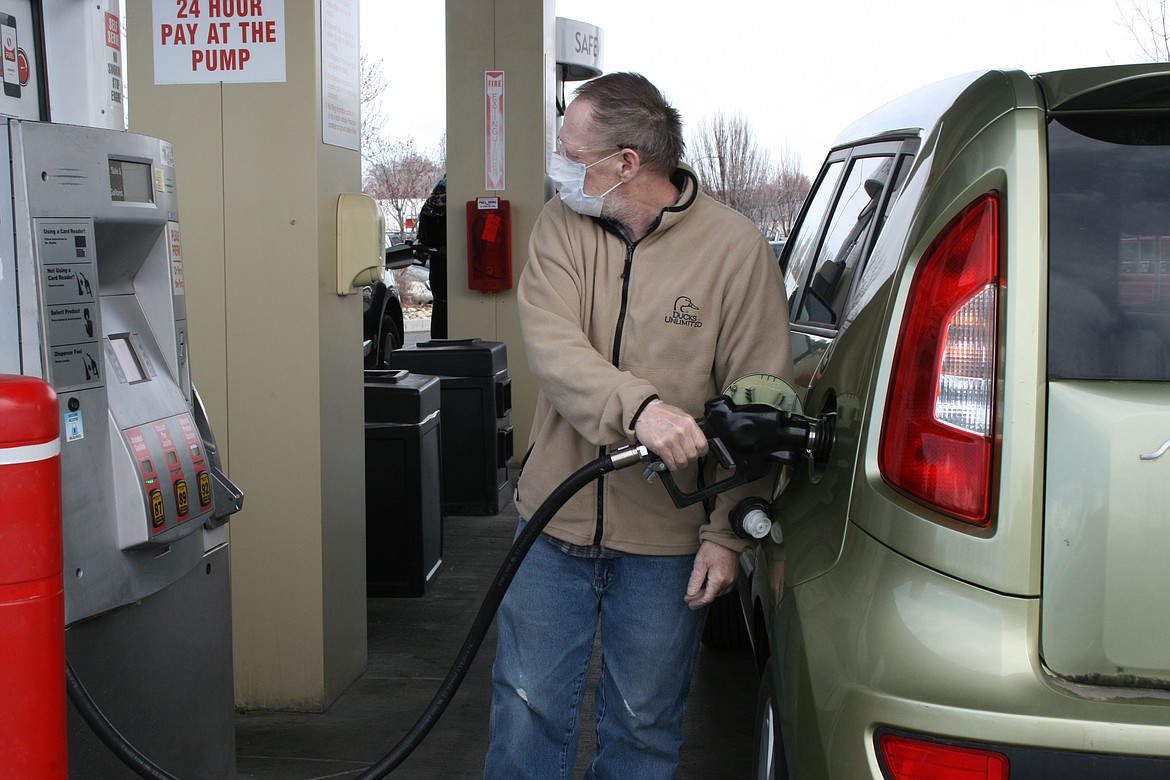 Cheryl Schweizer/Columbia Basin Herald Ray Stine wears full protective gear — glasses, gloves and mask — while pumping gas at Safeway Monday. Social distancing, masks and handwashing are among the measures recommended by the Centers for Disease Control to combat the COVID-19 outbreak.
by
CHERYL SCHWEIZER
Staff Writer
|
March 24, 2020 11:51 PM
MOSES LAKE — The outbreak of COVID-19 is requiring people to pay more attention to hygiene and the possible spread of airborne disease.
The U.S. Centers for Disease Control and Prevention and Grant County Health District have recommended precautions and actions to help arrest the spread of COVID-19. Their recommended precautions are slightly different. Older adults are included in the higher-risk groups identified by all agencies, but local health district officials include people 60 to 65 years of age in the higher-risk groups, while the CDC identifies that group beginning at 65.
People with underlying medical conditions, or who have compromised immune systems, also seem to be at higher risk for COVID-19, according to the CDC website.
First and foremost, people are being instructed to wash their hands often. People should wash at least 20 seconds with soap and water, especially if they have been in a public place. If soap and water aren't available, people should use a hand sanitizer with at least 60 percent alcohol.
People also are urged to avoid close contact, staying six feet away from each other. Surfaces, especially if they are touched frequently, should be cleaned and disinfected every day.
Precautions are in place at businesses that are allowed to stay open under the orders of Gov. Jay Inslee.
The Moses Lake Safeway had installed plastic shields at all checkout counters by Monday morning, to reduce the possibility of airborne droplets spreading. The self-checkout registers were being cleaned regularly. Checkers were cleaning each checkstand frequently, after one or two customers.
A few customers were wearing masks, and some were wearing gloves on Monday.
Consumer Reports suggested using gloves when pumping gas or using a keypad at a business. Another option, at least at a gas station, is to use a paper towel or other barrier, like a piece of newspaper.
Not everybody in Moses Lake was following that advice.
Ashwani Sharma, owner of the Shell Foodmart on West Broadway Avenue, said he hadn't seen much more use of masks, bandanas or gloves than before the virus outbreak.
"Only one person I saw," Sharma said Monday.
Brett Boehm, who works at the mini-mart, said he hadn't either. Before the outbreak he would see about one of 100 customers with a mask, and now it's about two of 100 customers, Boehm said.
Roy Stine was pumping gas at Safeway, wearing a mask and gloves. He had purchased protective equipment when he heard early reports about the coronavirus. It was prompted by his experience working many years in a clean room.
"I pretty much knew what I had to do to protect myself," he said Monday.
Any cough or sneeze should be covered with a hand or tissue, according to the CDC guidelines. Tissues should be thrown away, and people should wash hands immediately with soap and water or hand sanitizer.
People who are sick, whatever their sickness is, should stay home, the CDC said. The GCHD has recommended that anyone who has come in close contact with people with suspected or confirmed cases of COVID-19 should quarantine at home for two weeks.
Cheryl Schweizer can be reached via email at education@coiumbiabasinherald.com.
---