Moses Lake Scorpions Cheer Team captures gold in debut season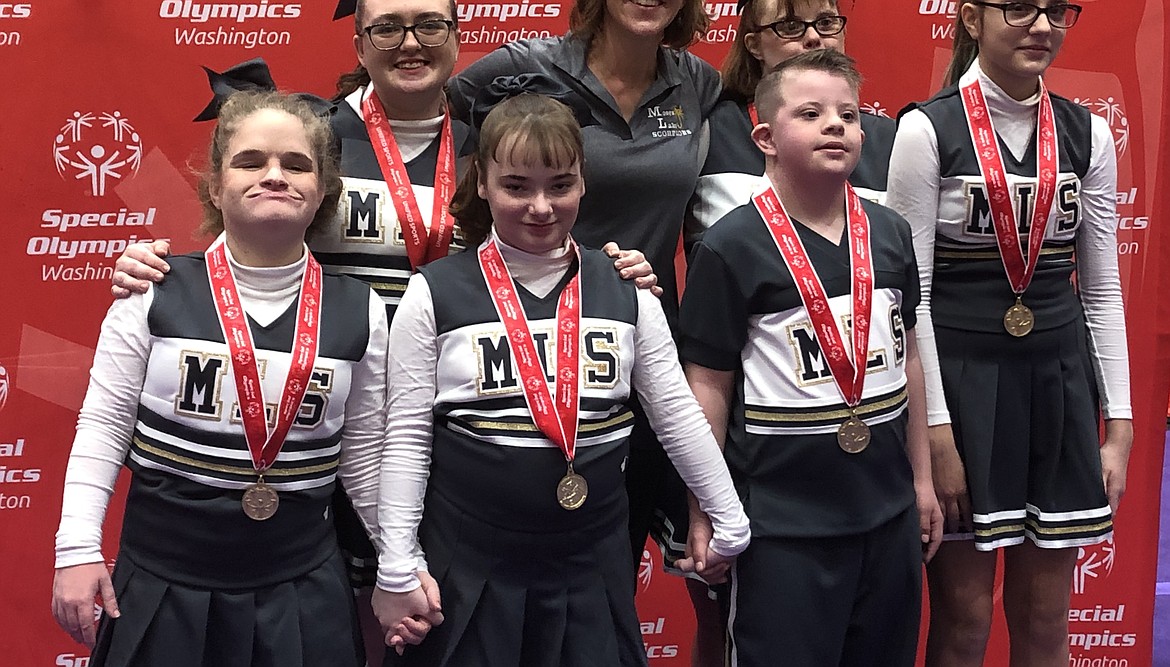 The Moses Lake Scorpions Cheer Team captured gold at the Special Olympics Winter Games in Wenatchee. Pictured top row, left to right: Evelyn Schulz, Coach Kerri Aronsohn, Joanna Flagan, Charity Hilton. Front row left to right: Stefannie Bagwell, Karissa Reed, Gevin Aronsohn.
Courtesy photo
by
CASEY MCCARTHY
Staff Writer
|
March 24, 2020 11:48 PM
MOSES LAKE — In their very first season, the Moses Lake Scorpions Cheer Team captured gold at the Special Olympics Winter Games in Wenatchee last month.
"This was our first team, our very first season, our first competition," head coach Kerri Aronsohn said.
Aronsohn holds a degree in dance and has been teaching all genres of it for more than 30 years. The new cheer coach said she started with the Scorpions as an assistant with the gymnastics team in the fall.
Aronsohn said she was asked if she'd be interested in coaching the new cheer team, and with her background in dance, was happy to take over. Aronsohn said her background is mainly in dance, not cheer, making the season a new experience for everyone.
"It was kind of a fun adventure to learn something new as well as incorporate all the things I know and teach them all the dance things that I know," Aronsohn said. "It was very, very fun. I loved it."
The Scorpions coach said you couldn't ask for better students, showing up every day eager to soak up all they could. Aronsohn said every person on the team gave their best, always.
The cheer team began practicing in early December, but due to weather cancellations, didn't really get going until early January, Aronsohn said. The new coach said they started things from scratch.
Athletes learned to cheer, dance moves, dance routines, and even had members of the Moses Lake High School cheerleading squad come and share some pointers.
An exciting experience for the team was being able to cheer at a Scorpions basketball team practice game during their season.
"That was really fun, because they got to be really cheerleaders on the sideline of a basketball game," Aronsohn said. "That was really fun for them. And then at halftime, we performed our dance routine."
Aronsohn said the season, winning the gold medals, being with her team in general, was one of the most rewarding experiences she's had.
"They absolutely put their heart and souls into it," she said. "When they won the title, they were so, so excited. They were jumping up and down, screaming."
One of the highlights of the season, Aronsohn said, was seeing the unity that was built between the athletes. Athletes on the cheer team ranged in age from 7 years old to 40. The Scorpions head coach said age never mattered with the team and called their bond "like glue."
"It was really fun for me to see their friendships develop, and the camaraderie they had," Aronsohn said. "And then at the competition, the sportsmanship they had. They had great sportsmanship with other. And they were very gracious when they won, and just blown away, because they didn't expect it at all."
The Scorpions head coach said all of her athletes were excited to come back for next season, and said they have every intention of continuing the program in the future. Aronsohn said many athletes on the team have invited their friends to come join the Scorpions next year.
---