Moses Lake cafe has food supplies stolen over the weekend
by
EMRY DINMAN
Staff Writer
|
March 24, 2020 11:46 PM
MOSES LAKE — On Sunday, her day off, Tellina Wild had returned to The Coffee Clubhouse, her shop on East Wheeler Road, to make sandwiches and smoothies for homeless people she had seen near a grocery store.
That's when she saw the locks on her freezers had been pried off. One freezer had been completely emptied out; in the other, only sandwich bread had been left behind. All of the food she had stocked for the week ahead, about $1,200 worth of pork, hamburger meat, chicken, biscuits and other foods, had been stolen overnight.
"This is my shop, I don't have any other income," Wild said, holding back tears. "After bills and everything else, that's like two weeks' worth of inventory. Anyone who owns a coffee shop or works in food service knows, we've got low margins, and I try to make everything affordable for everyone else, and this is a hit, this is a kidney shot."
Wild's business, a drive-thru coffee stand, has not been as severely impacted by the current novel coronavirus outbreak as some other businesses, particularly those that have had to roll back their dine-in options. But the burglary is a significant blow to Wild's business, and it's unclear what, if anything, insurance will be able to cover, she said.
"It's very disheartening to see things come to this," Wild said. "When we have chaos going on in our lives right now, taking it out on businesses thinking that they've got everything. We don't. The people who decided to take from here, if they were in that much need, come ask — I would make you food, I would take you food."
Wild isn't just supporting herself right now, she said, having taken in three displaced students from Job Corps, which closed all of its centers in response to the current outbreak, because they had nowhere else to go. Expecting that a stay-at-home order was looming — it arrived just hours after her interview with the Herald — she's nervous about what comes next for herself and others in the community.
"This was going to be the food for my house, for these kids that I've got sheltered in my house, if it came down to it," Wild said.
But when asked whether she's considered setting up a GoFundMe page or something of the sort, she doesn't hesitate.
"No. We'll make it," Wild said. "I still have some food, don't get me wrong. There are a lot of people who need it more than I do. If anybody wanted to do something, help the homeless people downtown."
For now, she says she'll be able to stay open, and is thankful for the outpouring of support from the community Monday, including some who have offered to buy her lunch supplies.
"The community has been very helpful today," Wild said. "I've been in this location for three years, and I saw customers today that I've never seen before, and I so appreciate them all showing up to try to support and keep this going."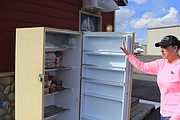 ---