Columbia Basin Allied Arts reschedules performances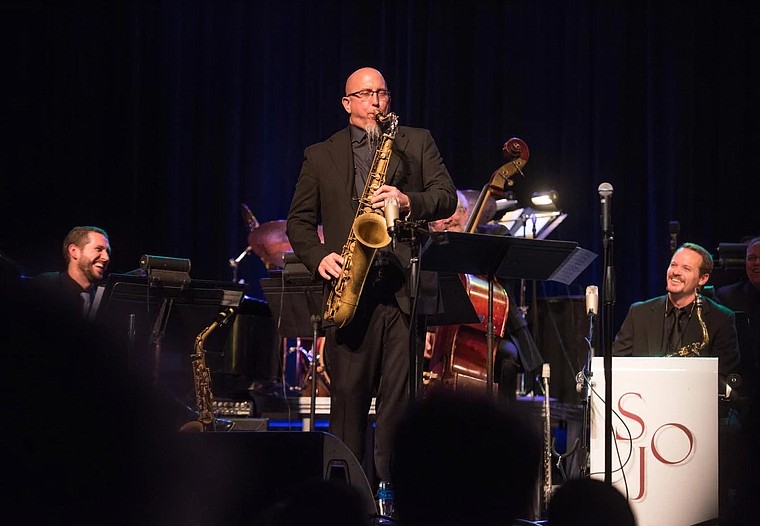 The Spokane Jazz Orchestra is now scheduled to perform in late May or July.
Courtesy photo
by
CHERYL SCHWEIZER
Staff Writer
|
March 20, 2020 12:42 AM
Spokane Jazz Orchestra still coming to town
MOSES LAKE — The last concert of the 2019-20 season for Columbia Basin Allied Arts and the first concert of the 2020-21 season are being rescheduled due to the COVID-19 outbreak. Allied Arts Director Shawn Cardwell said the children's drama camp originally set for the week of March 30 also is being rescheduled.
The opening concert for 2020-21 will be the Seattle Rock Orchestra. They're scheduled to perform in October, and still will, but on a new date, Cardwell said. The SRO is a symphony orchestra that combines the classical and rock repertoires in its performances.
The final 2019-20 concert will be the Spokane Jazz Orchestra. Originally scheduled for March, the concert will be moved to late May or July, depending on the availability of the soloists, Cardwell said. The concert will feature the works of George Gershwin, legendary contributor to the Great American Songbook. Gershwin and his brother Ira wrote many of the classic popular songs of the mid-20th Century, from "Someone to Watch Over Me" to "Summertime." Jody Graves is the guest soloist.
"I do believe it will be cultural events, sports events, that will start pulling people out of their homes again," Cardwell said.
The date for the drama camp, "The Hit or Miss Adventures of Watson and Holmes," hasn't been announced, but Cardwell said CBAA is considering mid- to late June. The week-long camp is produced by local actor and playwright Jeff Ames, who has had original works produced by Masquers Theater.
Schools across the state closed this week by state order, along with many businesses and entertainment venues.
The CBAA production of "Hamlet," by the Seattle Shakespeare Company, came off as scheduled on March 6. The company received a grant that allowed it to provide free tickets to high school students, and about 50 high schoolers took advantage of them, Cardwell said.
Allied Arts also sponsored the visit of Bright Star Theater, which pushed its performance dates forward and toured the Columbia Basin the week of March 9. Bright Star Theater's "Upcycled Cinderella" used everyday materials like a mop to tell the classic fairy tale. The theater group performed in Ephrata, Moses Lake, Warden and Odessa.
Columbia Basin Allied Arts is also conducting its annual membership drive in March.
"We have such a cool season coming up next year," Cardwell said. The annual CBAA fundraising drive also is underway in March.
Cheryl Schweizer can be reached via email at education@columbiabasinherald.com.
Recent Headlines
---