Local business people keep going as others are forced to close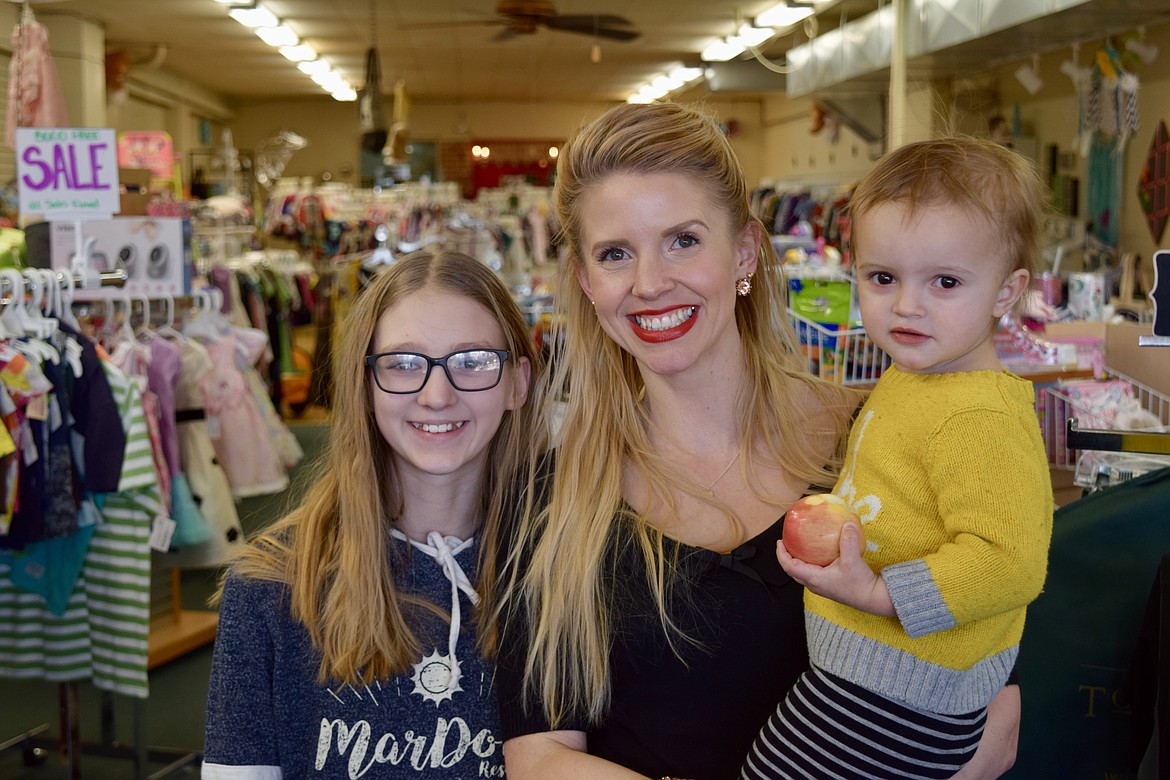 Charles H. Featherstone/Columbia Basin Herald Tykes 2 Kids owner Acashia Crowell (center) with family friend Julie Green (left) and daughter Samantha in Crowell's boutique on Third Avenue in Moses Lake. Crowell has vowed to keep Tykes 2 Kids open.
by
CHARLES H. FEATHERSTONE
Staff Writer
|
March 17, 2020 12:14 AM
MOSES LAKE — If there was one thing that united retailers the length of downtown Moses Lake Monday afternoon, it was the determination to keep the doors open.
"Our plan is to stay open, but I don't know what is going to happen tomorrow," said Acashia Crowell, the owner of Tykes 2 Kids, a resale boutique specializing in children's clothing.
A sign on the front door of Tykes 2 Kids declared the store "A coronavirus free zone! The coronavirus is NOT welcome here!" — sentiments echoed on the doors of several other retail establishments downtown.
Crowell said that business has been "terrible" recently, but she's determined to keep going.
"This is how I feed my kids, so we gotta stay open," she said.
On Monday, Gov. Jay Inslee ordered the partial closure of all restaurants across the state, leaving them open only for take-out and delivery orders. Salons, barbershops and tattoo shops were also closed for two weeks.
"If they say to close, then I'll close," said Sue Torrence, the owner of Sue's Boutique. "But other than that, I plan on being here."
Grocery stores, pharmacies and other retailers were still allowed to open their doors to the public Monday, though with social distancing restrictions. Business may be down, but many owners are determined to stay open as long as they can.
"We are open until further notice and as long as we stay well enough so there are enough people to run the store," said Alicia West, the manager of Settler's Country Market in downtown Moses Lake.
West said Settler's has started delivering grocery orders. Customers can place orders by calling the market at 509-766-9981 or emailing their orders to settlerscountrymarket@hotmail.com.
Demand is up, but West said some of the company's suppliers have been affected. Like most retailers, West said Settler's is having difficulties getting Vitamin C, immune supplements and — of course — hand sanitizer.
Danny Duong, owner and operator of the Vietnamese cafe Pho Saigon, was still open Monday afternoon packing take-out orders and offering free meals to kids as a way to show some support as the school district shuts down classes for six weeks.
Duong said he would stay open as long as he could, however, he was worried about the possibility of a long shutdown.
"We try to keep moving," Duong said.
Charles H. Featherstone can be reached at cfeatherstone@columbiabasinherald.com.
---