Businesses prepare to close or limit services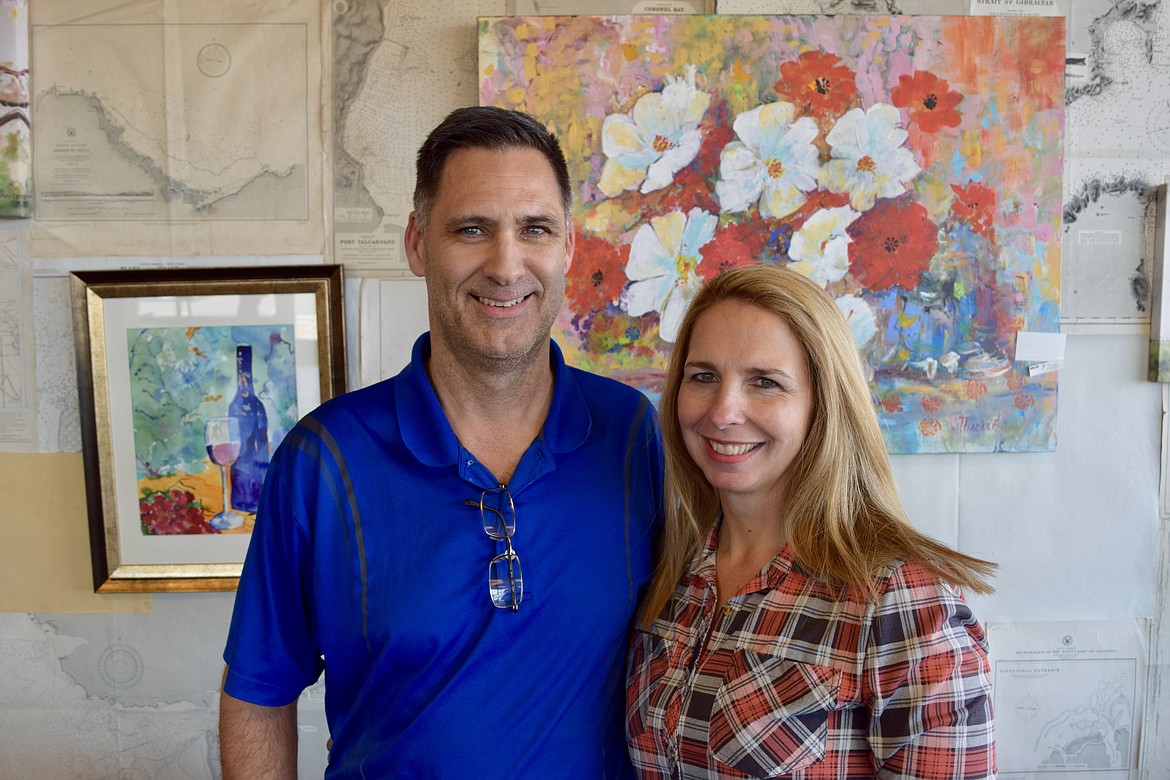 Charles H. Featherstone/Columbia Basin Herald Red Door Cafe co-owners Rick and Lisa Boorman.
by
CHARLES H. FEATHERSTONE & CHERYL SCHWEIZER
Staff Writer
|
March 17, 2020 12:17 AM
MOSES LAKE — Businesses across the county woke up to the news that they would be forced to shutter their doors or limit their business in the coming weeks in the face of the coronavirus outbreak and a Sunday announcement from Gov. Jay Inslee.
In that announcement, which preceded a formalized proclamation Monday, Inslee ordered that all restaurants, bars, entertainment and recreational facilities were to be shut down until at least March 31. Though not explicitly mentioned in the announcement, the order included beauty salons, barbers and nail salons, tattoo parlors, gyms and fitness centers, nontribal card rooms and more.
Restaurants will still be able to provide take-out and delivery services, but no in-person dining will be permitted.
By Monday afternoon, Rick and Lisa Boorman, who co-own the Red Door Cafe with Troy and Jan Thacker, had removed all the chairs in the downtown eatery and were busy preparing take-out orders, despite being sidelined by the unexpected announcement.
"We just found out about it, and we're telling our employees," Lisa Boorman said. "Every day is a new day."
The Red Door has three locations in Moses Lake — downtown, Samaritan Hospital, and the old drive-in on 22nd Avenue Northeast in the Larson Community. Both Lisa and Rick said the company was committed to its employees and the community, and the company has even seen some sales increase as the world has slowly begun to grind down in response to the COVID-19 outbreak.
"Doughnut sales are up," Lisa said. "Everyone is eating their stress."
"We're doing everything we can to keep our employees," Rick said. "It's just a tough world."
Jeannie Huck, owner of Eden Salon in downtown Moses Lake, said they were busy canceling appointments for the rest of March following the governor's mandatory two-week closure of salons and barbershops.
"Absolutely it's very tough," she said. "We're rescheduling the next weeks for the first two weeks in April."
Huck said she and her employees were staying both calm and focused in a very scary time, but she was hopeful things would improve soon.
"We'll be coming back with a bang," she said.
For Charlotte Ballinger, owner of the Bloom Salon Collective, the closures come just weeks after she launched her business.
"We've been open two weeks today," she said Monday afternoon, and "we just finished our last appointment for two weeks."
The salon is rescheduling appointments in the hope that the closure only lasts two weeks, Ballinger said. But she's reluctant to issue gift certificates — which is one way people have been supporting small businesses — because it's not certain businesses will be reopening in two weeks. She said she would prefer that people "support the businesses that are open, and they can support me when I reopen."
Customers who want to make an appointment to pick up hair products and people who have questions about the business can contact Ballinger at bloomsaloncollective@gmail.com.
"I think we'll be OK," she said.
Bloom Collective is "one of many businesses that are taking this," she said. She's optimistic about the future. "It's only going to be temporary. We'll be back."
At what may be the last class for weeks, a smattering of students filed into Jazzercise on Monday evening, standing six feet apart but still prepared to get in an in-person workout.
The company will be providing on-demand online classes for its students during the shutdowns, said owner Mary Graham. That will help people get by in the interim, but it can't be a replacement for the benefits of gathering together in the classroom, Graham said.
"I am devastated, seriously," Graham said. "I have cried about this."
"We're a family, and I think that may sound trite, but we have changed the lives of so many women, and I know so many stories who have struggled through breast cancer, or strokes, or the loss of a husband, or the birth of a child," Graham said. "This is a great heartache for me."
As she leads her group in one last core exercise before the temporary shutdown, Jazzercise instructor Edie Cole chats with her students mid-chasse, asking if they remembered Mount St. Helens erupting in 1980 and jokes about not being able to visit a salon for the weeks ahead.
Like Graham, Cole is sad to see the business close temporarily but calls the new restrictions the right move.
"I'm sad that we cannot offer the in-person experience that we provide for our customers, because we are a big family," Cole said. "But I feel like we're doing the right thing and the responsible thing."
---