Mark Poth adds NWAC's highest honor to athletic career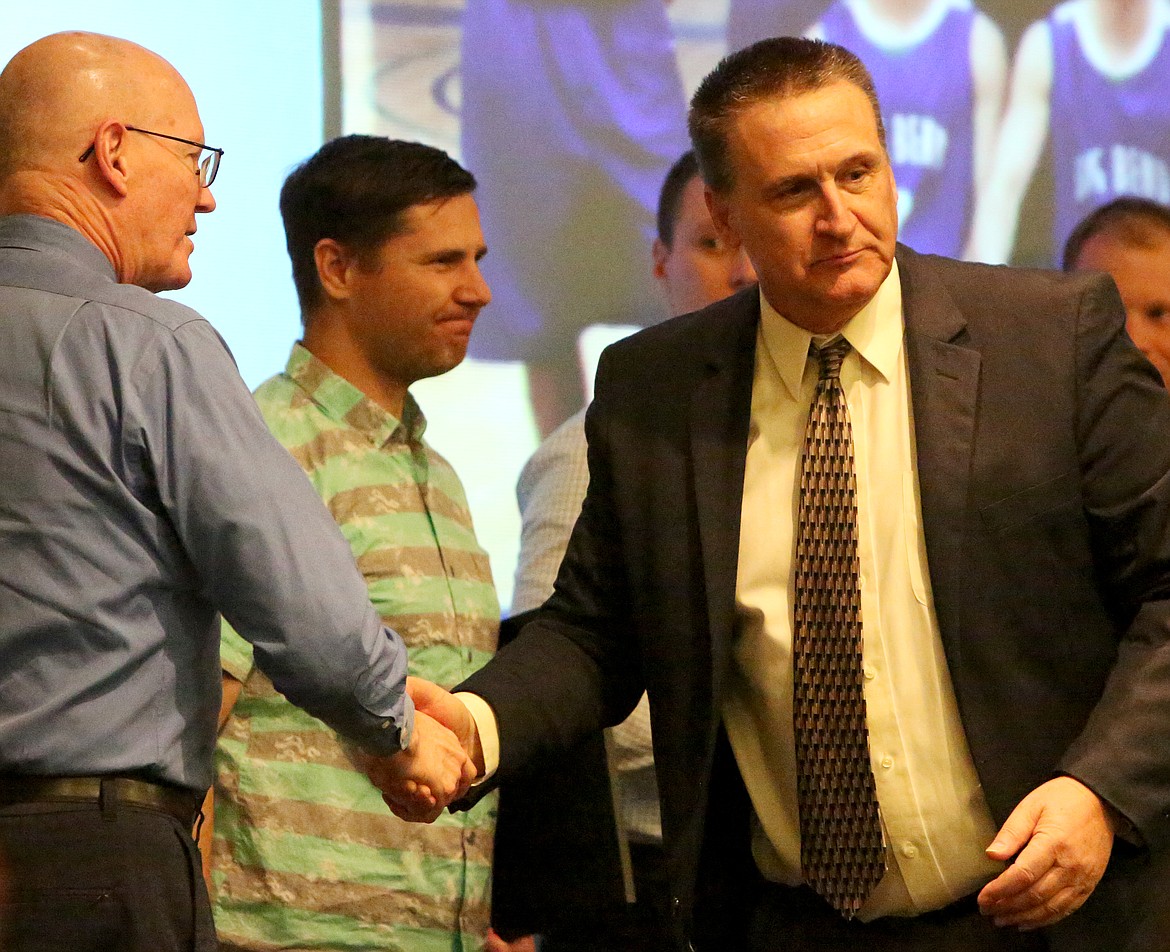 Big Bend athletic director Mark Poth (right) shakes hands with college president Terry Leas during the Hall of Fame banquet.
Connor Vanderweyst/Columbia Basin Herald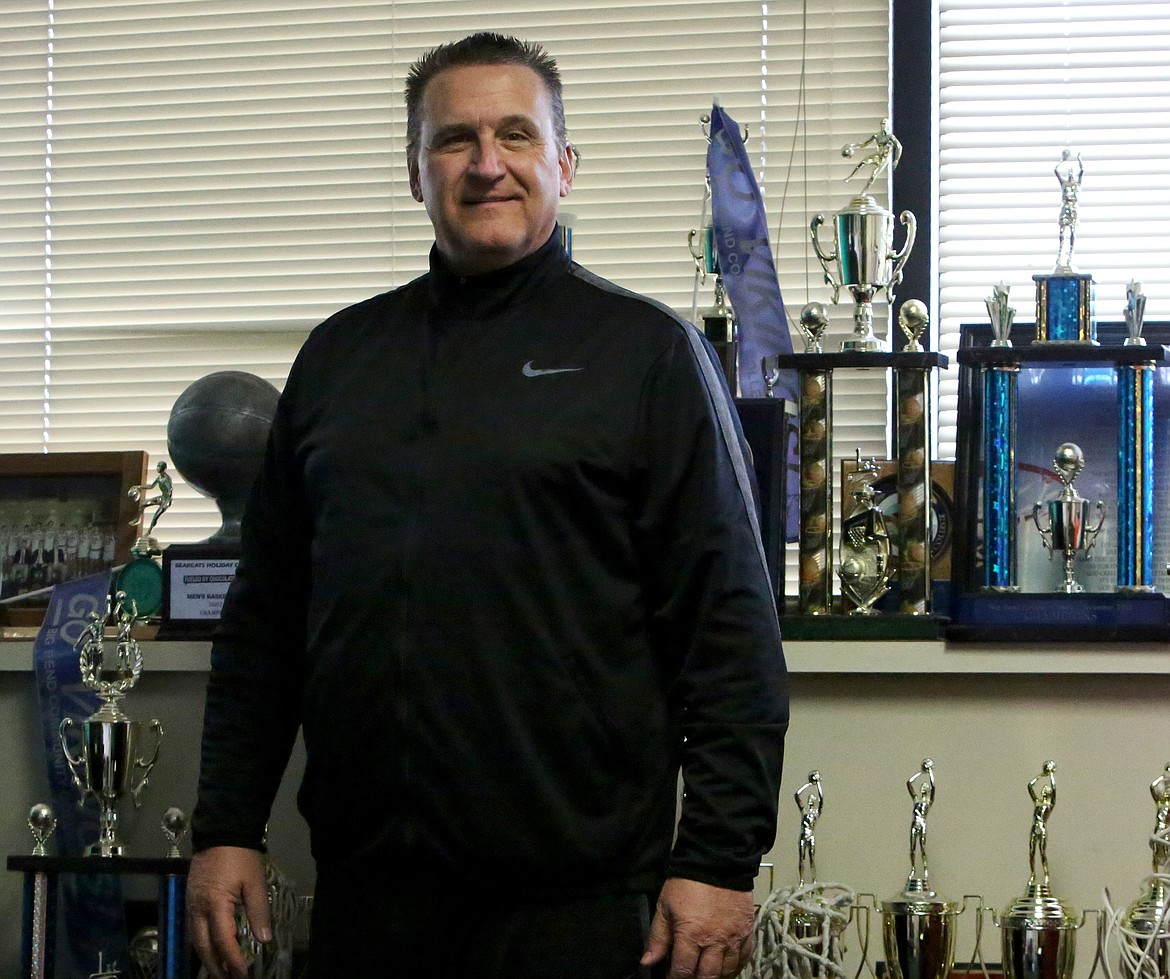 Big Bend athletic director Mark Poth stands in front of his numerous trophies won as the head men's basketball coach for the college.
Connor Vanderweyst/Columbia Basin Herald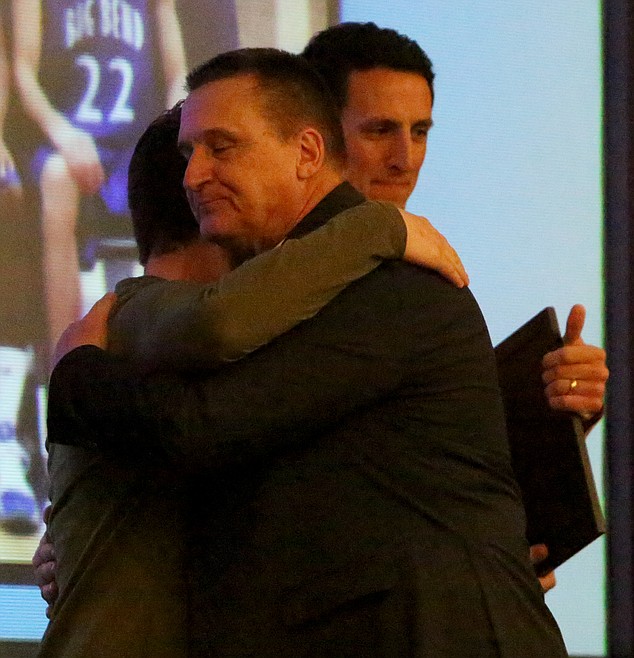 Mark Poth embraces former player and assistant coach Spencer Pingel at the Big Bend Hall of Fame banquet.
Connor Vanderweyst/Columbia Basin Herald
Mark Poth speaks on behalf of his 2010-11 men's basketball team at the Big Bend Hall of Fame banquet.
Connor Vanderweyst/Columbia Basin Herald
Previous
Next
by
CONNOR VANDERWEYST
Staff Writer
|
March 8, 2020 11:15 PM
MOSES LAKE — Mark Poth has always been one to defer credit, whether it was to his student-athletes or assistant coaches.
Current Big Bend head men's basketball coach Mingo Scott refused to let Poth gloss over an important announcement made at the college's hall of fame banquet two weeks ago — that the legendary coach would be inducted into the NWAC Hall of Fame in late May.
"Now enough of that," Poth said after he regained control of the lectern.
Even though it was an absolute no-brainer for Poth to enter the NWAC Hall of Fame, his induction came as a little bit of a surprise. The nomination process rotates from region to region, so naturally Poth would have his best chance when it was the East's turn — the region he dominated as a head coach for three decades. However, this year it was the North.
"I was kind of taken by surprise when my president Terry Leas said that I'm going to be inducted into the Hall of Fame because it wasn't the East's time to do it," Poth said. "So, I kind of talked to (NWAC Executive Director) Marco (Azurdia) and I said, 'Marco, that's kind of unusual, isn't it?' ... He said you're kind of a North guy, meaning I grew up in the north and I went to Bellevue Community College."
Despite the unusual circumstances, there is nothing unusual about Poth's credentials. Inside his office, trophies and cut nylon nets overcrowd the shelves. When asked how many Eastern Region championships he had won, Poth needed to get up from his desk chair and count one by one, eventually landing on 11. And besides those 11, he said there were about 15 years where his team finished in second place. Poth coached the Runnin' Vikes for 30 seasons, averaging over 20 wins per year. His 617 wins is the most all-time.
"When I was young, I was very driven and I measured my success by wins and losses and championships, but as I matured I see a lot greater impact in the real importance of coaching and the opportunity you have to work with student-athletes and have an impact on their life that's just not what happens on the court and I think I've come to appreciate that aspect of it," Poth said.
Out of his four decades of coaching, Poth was in the head chair for 37. He spent time as a high school coach in St. George, Utah, and as an assistant coach for Frank Arnold at the University of Hawaii. Arnold, who served as an assistant coach under icon John Wooden at UCLA, gave Poth some advice he has carried for the duration of his coaching career.
"Don't get caught up in thinking you have to coach at this (Division I) level to make a difference and have an impact," Poth recalled.
Poth has made an impact across the sport — regardless of level — and Scott, as well as head women's coach Preston Wilks and former player Spencer Pingel, think the floor inside the DeVries Activity Center should be named after him.
"Put his name on the court, name a building after him, do something, because he helped build that place," Pingel wrote in a direct message.
Wilks worked on Poth's staff for seven seasons and could not think of a more deserving candidate to receive the NWAC's highest honor.
"Not only should he be in the NWAC Hall of Fame, but if there was a national hall of fame for junior colleges he should be in that," Wilks said. "I was just one of his players. He's had a big impact on my life, but multiply that by 30 years. There's so many guys that can attribute success in their lives to what he taught them while they worked with him."
Mogga Lado was just one of the multitude of players to come learn from Poth. Lado arrived in Moses Lake from Nampa, Idaho, and earned NWAC Defensive Player of the Year honors during his time with the Runnin' Vikes. Lado was able to transfer to Campbell University in North Carolina before playing professionally overseas.
"Just want to say congrats to Coach Poth, nobody more deserving of this honor," Lado wrote in a direct message. "Not only did I admire him because of his knowledge of the game, but also he really reached me by the type of man he was outside of basketball. He always treated everyone he came across with the most kindness. I'll never forget when I first met him and he made me eat a pound burger before my high school basketball game."
Pingel spoke on behalf of the 2010-11 Big Bend men's basketball team that was inducted into the college's hall of fame. Pingel almost didn't get an opportunity to play college basketball, let alone be part of a hall of fame team. Pingel said he had about 10 college coaches pass on him before Poth worked him out. Pingel would start for the two seasons he played at Big Bend.
"I have never met a coach who cared so much for his players," he wrote. "I also coached with him and was blown away by how much he cared for me and my family. He treated us like we were his own. I'll never forget that. Seeing him interact with people around campus — he always made people feel good. This may sound crazy, but Big Bend would not be even close to what it is today if it wasn't for Coach Poth."
Family is something Poth holds dear. The coach's life can be difficult. Long nights working with players, long hours of film study and long road trips. Poth thanked his wife and children for their support throughout his many years holding the clipboard.
Those lessons of family-first were imparted to his players as well.
"Mentioning Poth wouldn't be complete without mentioning his wife Anette," Pingel wrote. "She's a saint and was such a big help for my family when we came back to coach. She once made me cookies to take home, and I ate all of them on the 10-minute drive home. When she figured out what happened she instantly made some more. She loved the guys that came to play for Mark, looked at them again as her own."
Clearly, a match made in basketball heaven.
With his athletic director duties still in full swing, Poth said he hadn't been able to reflect back on his career much before the induction ceremony. The wins and losses have stopped accumulating, but Poth's impact was already cemented long before he received his hall of fame news.
"He taught me to enjoy life and love those around me," Pingel wrote. "I'm a better husband and dad because of him."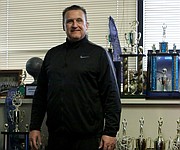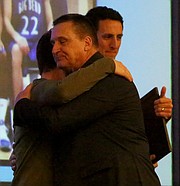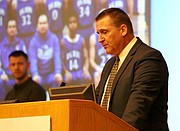 Recent Headlines
---