Dave Graybill: The Fishin' Magician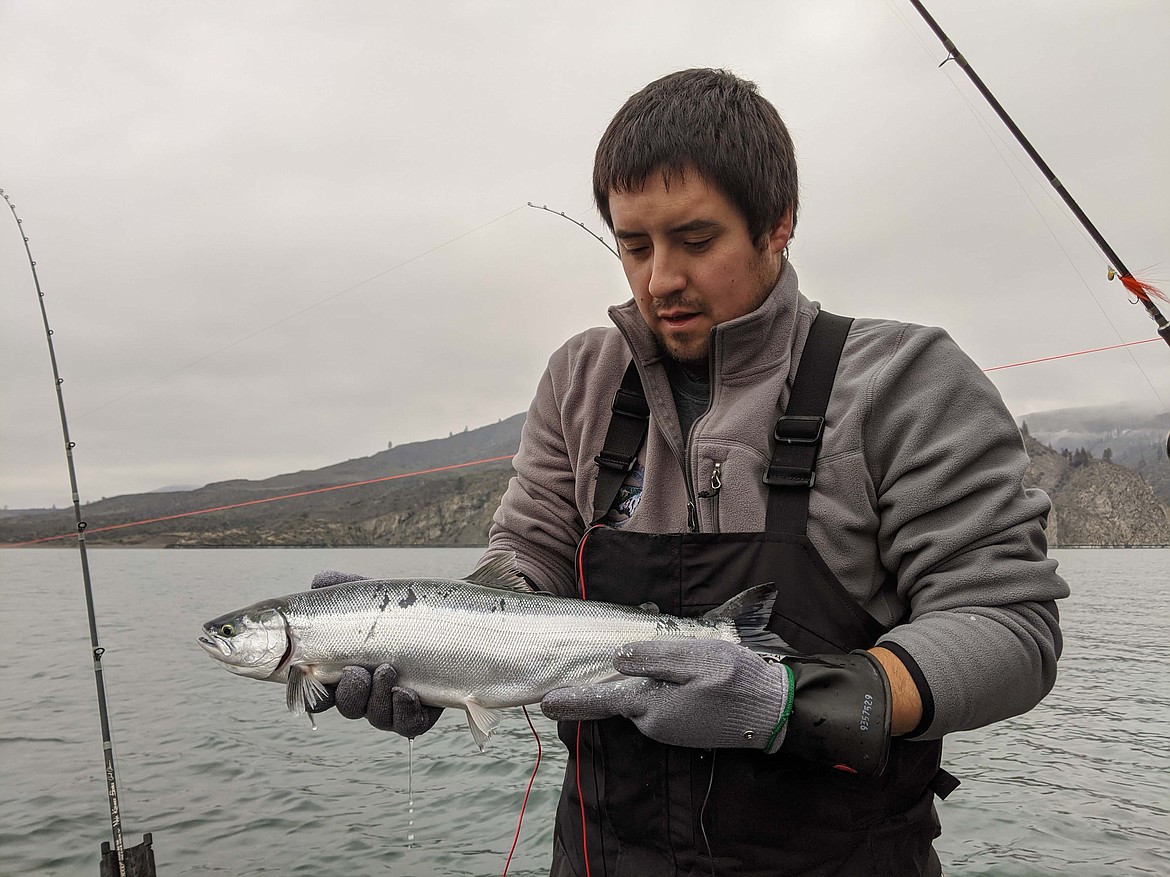 Courtesy photo Colville Tribal fish tech Daniel Monaghan with a Lake Roosevelt kokanee to be fitted with an acoustic tag.
Friday, February 6
Don't forget. This Saturday is the annual Quincy Chamber of Commerce Trout Derby, which will be held at Quincy Lake this year.
I checked on several of the lakes that opened on March 1, and the fishing was better at Quincy than most of the lakes I visited. The organizers decided not to give a boat away this year and put the money into more prizes for the raffles. That means that derby participants have an even better chance to win at this year's event.
There will be cash awards for winners in the adult and youth categories, too.
Derby headquarters will be set up at Quincy Lake this year, and if you haven't already registered online for the derby, you can do so at headquarters on Saturday morning. I would suggest that you get to the lake pretty early to get a fishing spot on the shore. Most of the fish I saw being caught at Quincy Lake were averaging 12 inches, but there should be a fair number of holdovers in the lake.
If you want to register online, just click on the "Something Fishy" logo on the home page of my website and follow instructions.
Wednesday, March 4
There is a lot of attention being given to Lake Roosevelt kokanee fishing this season. It seems that the really big kokanee are showing up most often in a four-year cycle.
Good news is that the Colville Tribe has launched a project for the next two years to catch and tag kokanee in Lake Roosevelt to track their movements. The goal of the project is to protect and enhance the wild populations above Grand Coulee and Chief Joseph dams in an effort to support tribal subsistence and recreational sport fisheries. Hopefully, researchers will be able to get more kokanee to spawning areas and provide for more consistent kokanee fisheries in the future.
Anglers should be aware that kokanee are being caught and released with acoustic transmitters that will send signals to the 100 plus receivers out on Lake Roosevelt. The tags are black and cylindrical in shape. If you find one in a fish you catch, call the Colville Tribe with instructions on what to do with it.
On other news about the kokanee fishing on Lake Roosevelt, the fishing is good but will get better when the water level stabilizes.
Monday, March 2
On Sunday, my wife Eileen and I surveyed some of the lakes that opened on March 1.
We first stopped at Quincy Lake and were awed at the number of boats and water, the cars, trucks, trailers, RVs and campers crowded around or near the lake. People always turn out for this "unofficial opener of trout season" in North Central Washington. Success varied, as usual, and I talked to anglers that had nothing to show for their efforts while others had limits or close to it.
The trout I measured were all close to 12 inches long. One angler, who had hiked into Spring Lake had one trout that was very close to 18 inches. Although Burke Lake had received a plant of 3,500 catchable trout the Friday prior to the opener, few people fished here.
Fishing was slow at Martha Lake when we stopped by, but people were having better luck at Caliche Lake. I saw people with three to five rainbow here, and the trout were 10 to 12 inches.
Fishing should be good for those who fish the Quincy Chamber of Commerce Trout Derby at Quincy Lake on Saturday, March 7. You don't want to miss the fun of this one.
---