Inductees honored at BBCC Hall of Fame banquet

Connor Vanderweyst/Columbia Basin Herald Former Big Bend coach Carey Carlson (front) speaks to the crowd while athletic director Mark Poth (second from right), her husband Chris Carlson and members of the 1998-99 Big Bend women's basketball team listens.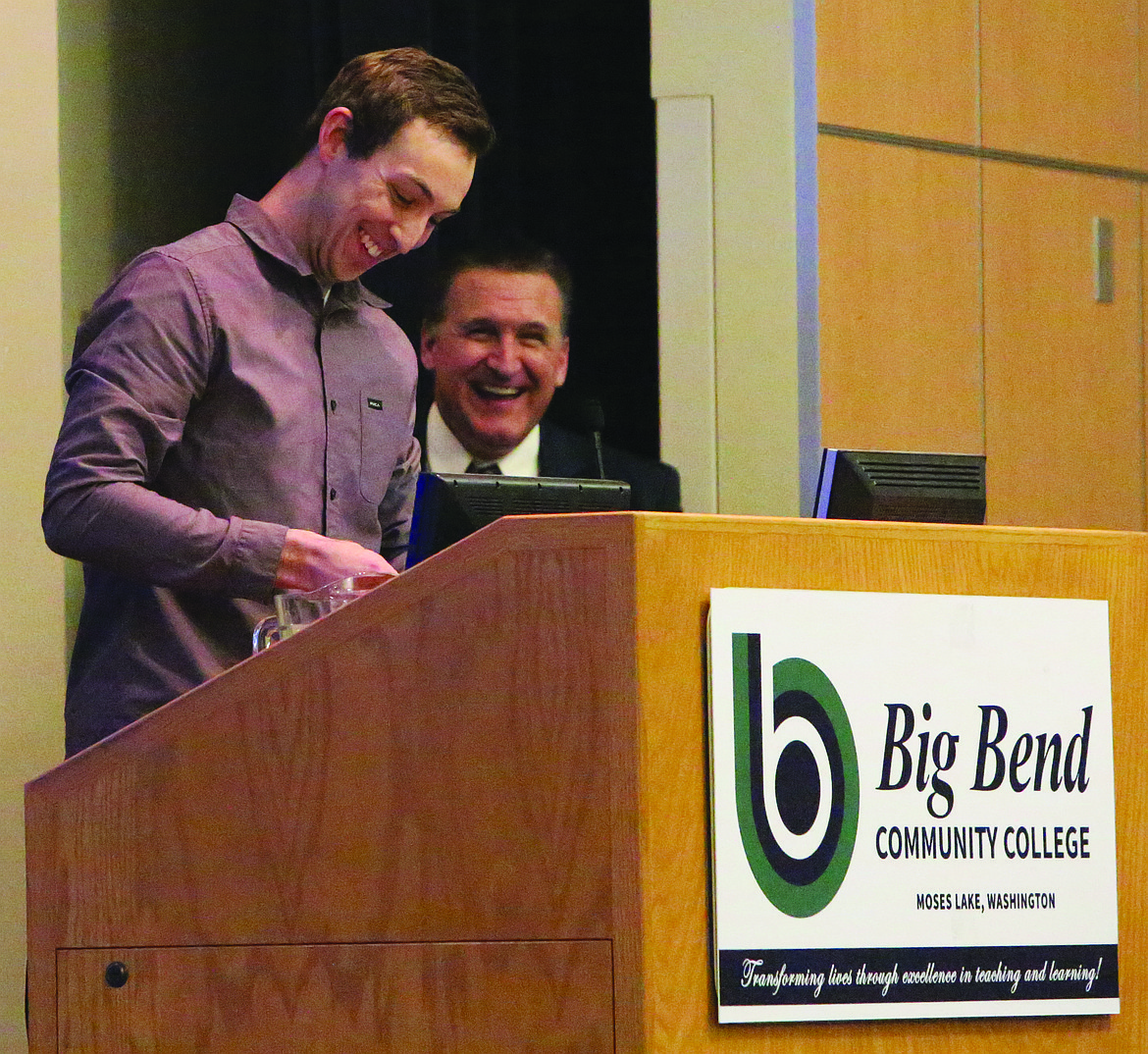 Connor Vanderweyst/Columbia Basin Herald Former Big Bend baseball player Dylan Signorelli (foreground) and athletic director Mark Poth share a laugh during the college's Hall of Fame banquet.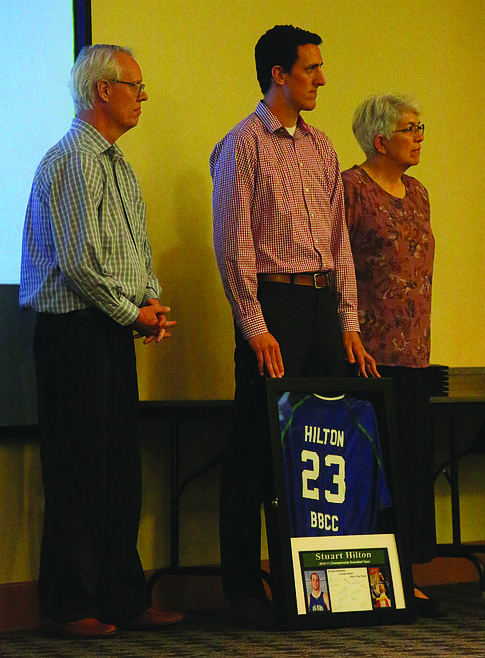 Connor Vanderweyst/Columbia Basin Herald Former Big Bend basketball player Stuart Hilton, who passed away in 2016, was honored with a framed shooting shirt and commemorative message at the college's Hall of Fame banquet. Stuart's parents, Hugh and Nalene, and his brother Shaun accepted the shirt.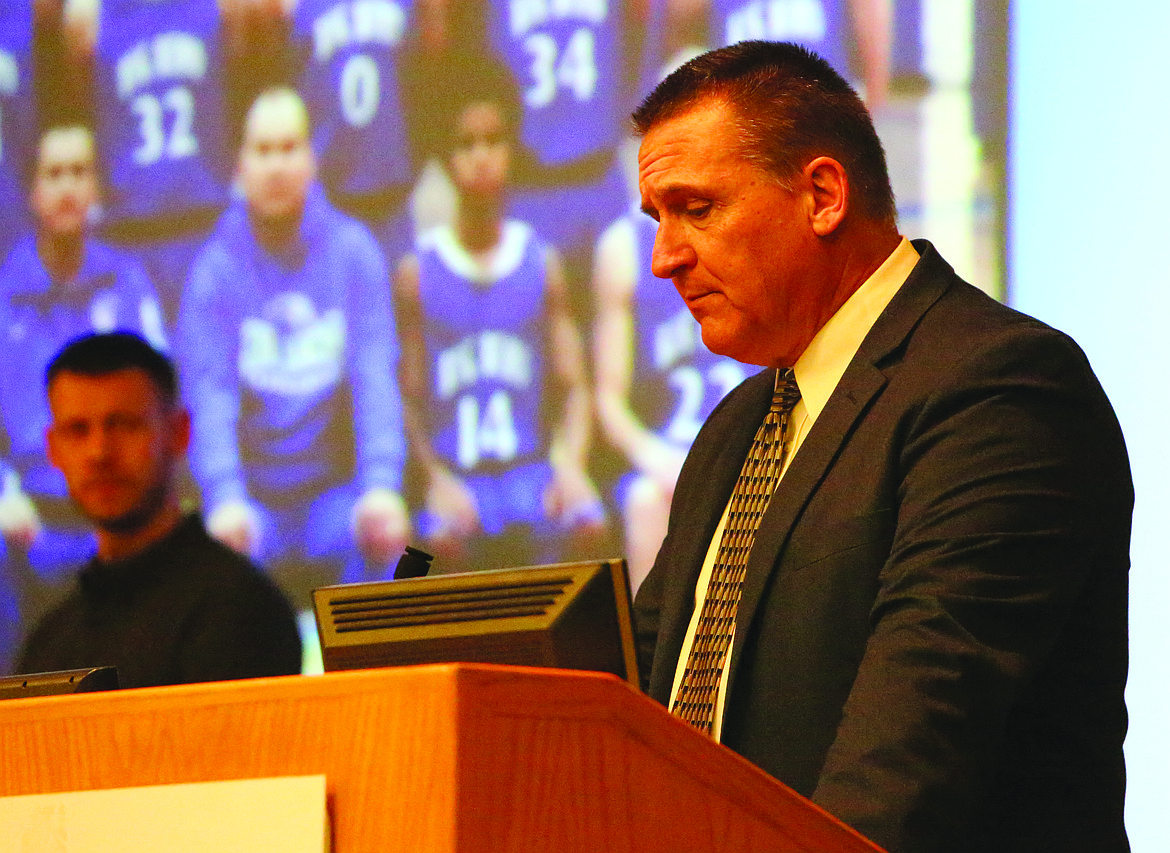 Connor Vanderweyst/Columbia Basin Herald Athletic director Mark Poth speaks to the crowd at the third annual Big Bend Community College Hall of Fame banquet.
Previous
Next
by
CONNOR VANDERWEYST
Staff Writer
|
March 2, 2020 11:39 PM
MOSES LAKE — Members of Big Bend's 2010-11 men's basketball team milled around the stage inside the campus's ATEC building, unaware of exactly where to stand or position themselves.
"It's amazing they won a game, isn't it?" athletic director and coach of that year's team Mark Poth quipped.
The 2010-11 iteration of the Runnin' Vikes won more than a game that season. In fact, they reached the NWAC Final Four and were Eastern Region champions. That team, along with the 1998-99 women's basketball team, women's basketball player Jessica Metz, baseball player Dylan Signorelli, and men's basketball players Hayes Garrity and Blake Skidmore were all inducted into the Big Bend Hall of Fame Friday at the third annual banquet.
"Congratulations to all of our hall of famers — well deserved, well earned," Big Bend President Terry Leas said. "Certainly have made Big Bend Community College proud, so thank you."
The 1998-99 women's basketball team was the first to grace the stage. That group of Vikings was the first women's team to win an Eastern Region championship. The team was coached by married couple Carey and Chris Carlson.
"She said 'I do' after he (Chris) said she was the head coach," Poth joked.
Carey Carlson commended her former players for their determination and drive to succeed as student-athletes.
"As a coach, often the biggest indicator of a tremendous team is when you realize that you're learning just as much from them as they are learning from you," she said. "Chris and I were lucky enough to see their characteristics of resiliency, grit and enthusiasm played out before our very eyes every day in practice and in the games."
Chris Carlson spoke of the significance of the 98-99 team, and detailed the adversity the group had to overcome to make Big Bend history. The Vikings had lost two starters around Christmas time, scored 15 straight points to win on the road against Columbia Basin College, and swept "powerhouse" Wenatchee Valley that season.
"This team was amazing," Chris Carlson said. "They overcame. They weren't gonna fall and not win that championship this year. This team won the first ever Eastern Region championship for Big Bend Community College, and do you ever really know how close you are when you have great kids like these girls right here? You kind of get a clue, but you still don't know. But they were tremendous and I'm absolutely proud of them and I'm so proud to be here tonight at Big Bend."
Poth welcomed his 2010-11 men's basketball team to the stage next. That group won an Eastern Region championship and advanced to the NWAC Final Four while, like the 98-99 women's team, dealing with a multitude of injuries.
Team member Stuart Hilton, who passed away in 2016, was honored with a framed shooting shirt and commemorative message that was received by his parents Hugh and Nalene Hilton and brother Shaun Hilton.
"Stuart Hilton — a great teammate, a great person and a true friend," the message read.
Spencer Pingel, a player on the 2010-11 team and former Big Bend assistant coach, spoke on behalf of his team.
"As I think about this team, the team is more than just the win-loss record for me," he said. "We won a lot of games and we had a lot of fun, but the lessons that we all learned from each other is what I'm going to take with me forever and I think the lessons I teach my own son are things that I learned from being a part of this team."
In addition to another one of his talented teams entering the college's hall of fame, it was announced that Poth would be inducted into the NWAC Hall of Fame in late May.
"I personally think the gym should have his name on it," said Mingo Scott, former assistant and current head men's basketball coach. "He has given everything he's ever had to this college and to every team he's ever coached, and I personally love him."
Men's basketball players Garrity and Skidmore were inducted on an individual basis. Garrity averaged 21.5 points per game for the 2010-11 Runnin' Vikes, on his way to an Eastern Region MVP in the Northwest Athletic Association of Community Colleges. Garrity moved on to play for Idaho State University and Utah Valley University.
Skidmore played for the Runnin' Vikes from 2012-14. During his time with Big Bend, Skidmore was named All-Region twice won an Eastern Region MVP and was an NWAC All-Star. Skidmore received the NWAC Academic Excellence Award before going on to play at Westminster College.
Metz was unable to attend the event due to her busy work schedule as the head trainer for San Diego State University. Metz played for the women's basketball team from 2002-04, leading the conference in 3-point percentage as a freshman at 52 percent. Metz was also named First-Team Eastern Region before going on to play professionally in Nitra, Slovakia and Honduras.
Signorelli was named First-Team Eastern Region, First-Team All-NWAACC and Team Rawlings/ABCA All-America as a Viking baseball player from 2012-14. Signorelli also received the NWAACC Academic Excellence Award.
"Looking back, I have a lot of great memories," Signorelli said. "I made a lot of great relationships here at Big Bend. It allowed me to get a great education at a great value."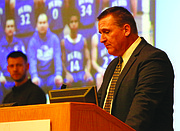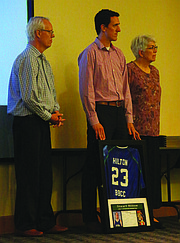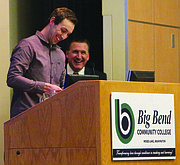 ---