Hotel set to open in George, a first for small community
by
CHARLES H. FEATHERSTONE
Staff Writer
|
June 28, 2020 10:37 PM
GEORGE — Caleb McNamara has never run a hotel before.
A general contractor from a long line of builders, McNamara and his business partner Bill Stevens last year decided almost on a whim to build the new Microtel by Wyndham in George.
"I was driving down the road, and I just started thinking about I-90 traffic flow to the Gorge, and we decided to jump," McNamara said, sitting in the lobby of his new hotel as workers were putting the finishing touches on floors, halls and rooms. "We looked into Wyndham, and we made a franchise agreement last August."
"We don't mess around," McNamara said. "We got it done."
The new hotel, the first Wyndham's Microtel franchise in Washington state, is set to open today, McNamara said. The 65-room hotel (including two "mega-suites" and 11 regular suites) will have a full bar, a gym, a conference room, and will one day be joined by a coffee shack and a Fatburger that will also serve Buffalo Wild Wings.
"It's super modern," McNamara said of the hotel's design. "It almost looks like a spaceship sometimes."
Wyndham Hotels and Resorts operates over 9,200 hotels worldwide — many under franchise agreements — under brands as varied as La Quinta, Ramada, Days Inn and Super 8. Wyndham has 351 Microtel hotels in the United States, according to the company's website.
When he first announced construction of the new hotel in George, McNamara said Gorge concert-goers booked rooms and paid deposits as early as January.
"We were sitting pretty knowing our hotel was booked solid for four months," he said. "But it's a little different game now."
The cancellation of the concert season at the Gorge due to the COVID-19 pandemic means 2020 will be a "rough year" for a new hotel in George, McNamara said. He added that he and his partner didn't build here solely with the Gorge in mind.
"The Gorge is easy money, it's low-hanging fruit, and it's a no-brainer," he said. "But we made our bet on contractors and data in Quincy."
McNamara said some contract workers at data centers in Quincy have to stay in Wenatchee or Ephrata. George is closer, he explained, and the traffic flow on the Interstate 90 George exit is heavy enough to be "really intriguing to us."
The hotel itself adds roughly 20 new jobs to George, with the coffee shop and Fatburger to add another 30 or so more, McNamara said.
He also sees the prospect of future data center construction in George as a possibility as well as Grant County Public Utility District beefing up the power going to George, where the Port of Quincy currently runs an industrial park.
"From what I understand, there is a lot of land out here at $4 or $5 per square foot, where in Quincy it's over $25," he said. "Most of these data employees are used to the West Side traffic, and they have to exit here anyway. That's why we put it here."
In the event things take off, McNamara said there's room on the site for another hotel — likely a La Quinta, another Wyndham brand — and so whatever happens, however the future plays out, he's optimistic.
"It's definitely high-risk. It's George, it's in the middle of nowhere," he said. "But we like to gamble."
"We're well positioned for something, and we'll find out real quick what it is," McNamara added.
Charles H. Featherstone can be reached at cfeatherstone@columbiabasinherald.com.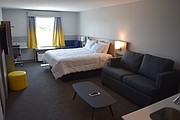 Recent Headlines
---