Warden student Avree Pruneda powers forward through physical, mental tolls of cancer treatment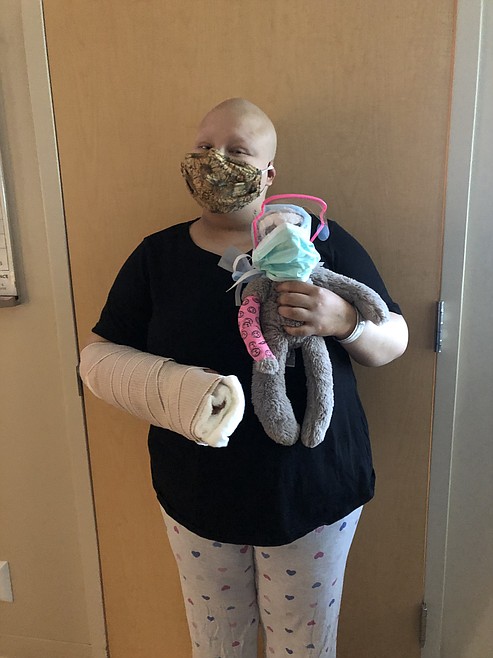 Avree Pruneda poses with her sloth, in matching masks and casts, at Providence Sacred Heart Medical Center and Children's Hospital in Spokane a few days after surgery to remove a cancerous tumor.
Courtesy photo
by
CASEY MCCARTHY
Staff Writer
|
June 23, 2020 9:44 PM
WARDEN — Almost six months from the day she received her initial diagnosis, Avree Pruneda perseveres as she moves toward her hopefully final chemotherapy treatments in the fall.
Pruneda was diagnosed with Ewing's sarcoma in January after developing a tumor in her arm. In late April, she had surgery that removed the large part of the tumor and is now in the preventive phase with chemotherapy.
Receiving the news that she was cancer-free was great, Pruneda said.
"My grandma passed away from cancer, so I thought to myself, 'I did this Grandma, I did this for you. I beat this for you,'" she said. "It was great to get off my chest."
Avree's mother, Tara Pruneda, said it feels good to be where they are given where the journey began. Even with the progress Avree's made, Tara Pruneda said the road's still been tough.
In May, Avree Pruneda developed burns from chemotherapy a few days after treatment on the inside of her esophagus, leaving her in the hospital for five days as doctors tried to manage the pain.
"She couldn't eat or drink because it was too painful," Tara Pruneda said. "That was pretty rough, she was miserable. That's the first time that's ever happened to her. We did her five-day chemo last week. We did really well with that, keeping our fingers crossed."
Avree Pruneda's chemotherapy schedule involves an alternating five- and two-day treatment with 14 days in between. As Avree's body wears down from the barrage of chemotherapy, Tara Pruneda said, things are put off sometimes if her white blood cell numbers aren't high enough.
Coming off Avree's five-day treatment last week, Tara Pruneda said, they'll head to Spokane so Avree can receive a shot to boost her immune system. Doctors will run tests next week to see if her numbers are high enough to begin treatment. If not, they'll wait a few days, and try again.
Avree Pruneda said she's had so much chemotherapy these last few months that her body is worn down from it. In the early treatments, Avree said, her body would bounce back and regenerate a little while afterwards. Now, she said that recovery is limited.
"After treatment, I don't feel like doing anything half the day," she said. "Or, at one point, I'll have a burst of energy, and then I'm tired, and I'll sleep the rest of the day. It's way more difficult now with the chemo for me than it was before."
Tara Pruneda said the side effects of the chemotherapy treatments are something she doesn't think people always think about when they consider the battle with cancer. She said Avree's body will spike a fever at 2 a.m. as a result of her treatment, leading to another stay in Spokane just to make sure it's only her weakened immune system trying to fight.
Tara Pruneda said there are just things you learn are going to happen.
"You think you're just gonna go and do chemo, and come home and recover, and it just doesn't work like that," she said.
Months into her treatment, COVID-19 hitting the state added new challenges for Avree and her family on top of everything already on their slate.
Already practicing social distancing and extra sanitizing given her daughter's compromised immune system, Tara Pruneda said she was upset when her family received rude remarks from someone for their decision to wear facial masks in public.
"Just remember, if someone's wearing a mask, you don't know if they have someone who's immune-compromised at home," Tara Pruneda said. "I think maybe sometimes, in this whole COVID thing, maybe people are forgetting about that. People are upset, but remember to be kind to each other."
Even without a pandemic present, Tara Pruneda said, she couldn't risk even bringing home a common cold or the flu.
With Tara and Avree Pruneda making constant trips to Spokane, Gabe Pruneda has been working and looking after Avree's younger brother. Tara Pruneda said hospital restrictions limit them to having just one other person in the hospital with them each week.
While Tara Pruneda said they've had a lot of support from everyone, added restrictions have limited some of their options. Due to COVID-19, Tara Pruneda said, the pediatric cancer wing at Providence Sacred Heart Medical Center and Children's Hospital in Spokane has seen a smaller number of patients. As a result, she said they've been moved to a smaller room in the pediatric wing.
"She has her pole attached to her the whole time we're there; she has to drag that thing everywhere because it has all her fluids and stuff," Tara Pruneda said. "With these new rooms, they're just so small. It's hard to maneuver around now. It's just like, once we get in a groove, another wrench gets thrown in."
Tara Pruneda said their doctors and nurses in Spokane have been outstanding. Other groups have helped with offering things such as snacks, gift cards and gas vouchers for traveling to and from the hospital.
"It's really the small things," she said.
In March, a few months into her treatment and fight with cancer, Avree Pruneda said the toughest part was not being able to be with friends. Avree said she's struggled a great deal at times with the isolation.
"Not being able to be at home, just seeing the four same walls over and over again and not being able to see like anybody, it's just really taken a toll on me," she said. "Like I've said before, I'm just a social person, so not being able to see my people at all, it really just makes you sad and depressed."
Avree Pruneda said she's tried to occupy her time with other things, art, video games, music, but admitted she isn't sure what else to do.
"I'm lost," she said.
Avree Pruneda said she can't really go into town anymore, even with a mask. She can't go swimming at her cousin's house. Her friends have been really supportive understanding she can't do all the things she might want to, she said.
Tara Pruneda said a few of Avree's friends and cousins were able to visit briefly after isolating themselves. Avree's stayed in touch with friends through FaceTime calls and playing video games online, but it's not the same as being able to visit in person, she added.
Coming out of a successful surgery in April, receiving the news that Avree was cancer-free, Tara Pruneda said they learned how special those moments were.
"As we were in the cancer wing all the time, we realize those moments come few and far between, how lucky Avree is to be cancer-free and that they got all of her cancer and we're just doing preventative treatment now," Tara Pruneda said. "We have lots of kids up there that we know where that's not their case."
It's tough to describe how heartbreaking it is to see so many young kids deal with such difficult roads, Tara Pruneda said. "These kids definitely see things and have an appreciation well before their time. They're dealing with things that most teenagers are definitely not dealing with."
With the end of the road a little clearer than it was in January, Tara Pruneda said, the thing she's looking forward to the most is just her and Avree being home more, and not at the hospital.
---