Museum to open new exhibit, but public won't be able to see it right away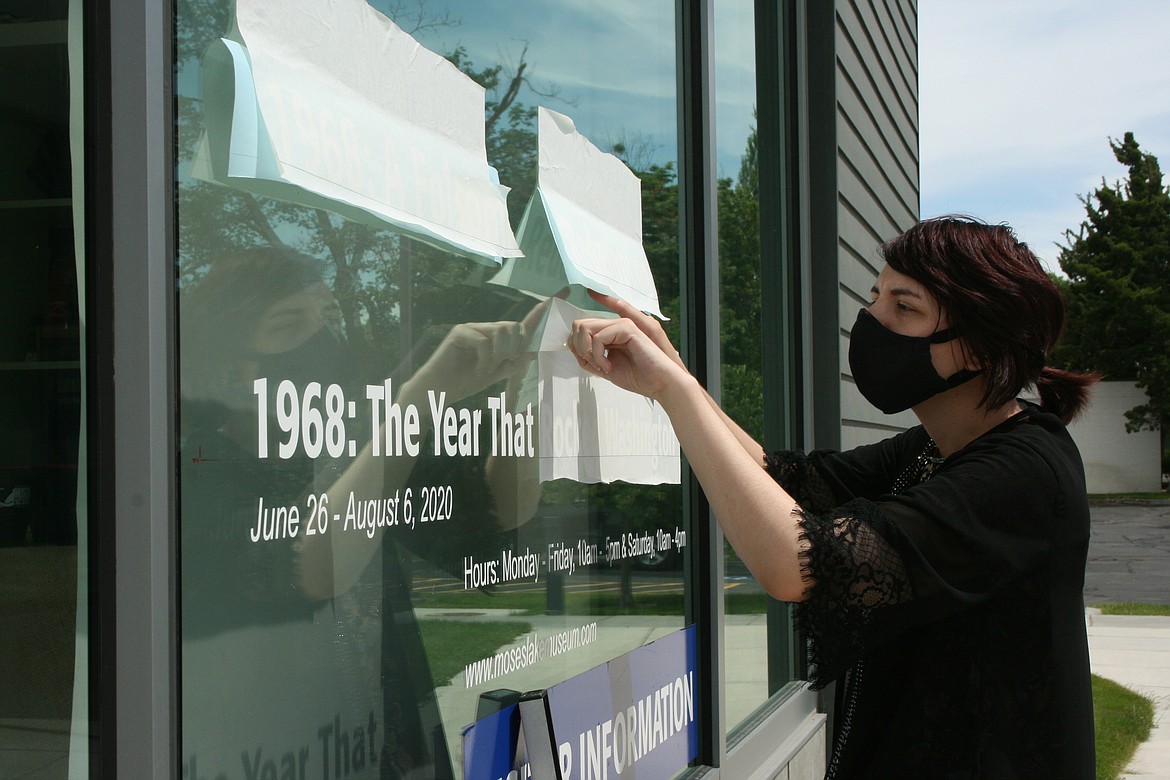 Moses Lake Museum & Art Center coordinator Sierra Uhlinger adds the title of an upcoming exhibit to the museum's front window Friday. The exhibit opens June 26, but people will be unable to see it until the museum reopens to the public.
Cheryl Schweizer/Columbia Basin Herald
by
CHERYL SCHWEIZER
Staff Writer
|
June 22, 2020 11:50 PM
MOSES LAKE — A new exhibit at the Moses Lake Museum & Art Center technically will open June 26, although the date when people will be able to get into the museum to see it is undetermined.
The main exhibit, "1968: A Folsom Redemption," details a legendary Johnny Cash concert, and is supplemented by "1968: The Year that Rocked Washington," highlighting some of the events of that tumultuous year in the state.
Currently the museum is closed to the public, one of the restrictions placed on state residents as part of the effort to combat the COVID-19 virus. The restrictions are being lifted in phases, and the museum will be allowed to reopen its doors during Phase 3. Currently, Grant County is in Phase 2.
Museum manager Dollie Boyd said the exhibit on Johnny Cash's concert was coming to Moses Lake whether the museum was open or not. The exhibit detailing 1968 in Washington was free, offered by the Washington Secretary of State's office, Boyd said, and it was a good companion for the Cash exhibit.
The exhibits will be on display through Aug. 6. Boyd said museum officials hope Grant County will be in Phase 3 in time for people to see it.
In the meantime, Boyd said, museum officials are looking for ways to make the exhibit available to the public. One option under consideration is to post images from the exhibit online, while a video tour of the exhibit is another.
Boyd said museum officials posted pictures from the museum's previous exhibit online, and received a good response from that.
Cash's career was in decline in 1968, but the concert at Folsom State Prison in California gave him a new opportunity. He convinced executives at Columbia Records to allow him to record his live performances at the prison in January 1968, and the resulting album reignited his career.
He was accompanied by photographer Dan Poush and writer Gene Beley, among others, and their story of the concert is the basis of the exhibit.
The Washington 1968 exhibit includes artifacts from throughout the state and details some of the immediate and lasting impacts of that year.
Cheryl Schweizer can be reached via email at education@columbiabasinherald.com.
Recent Headlines
---