Central Washington Spuds players excited to be back on the diamond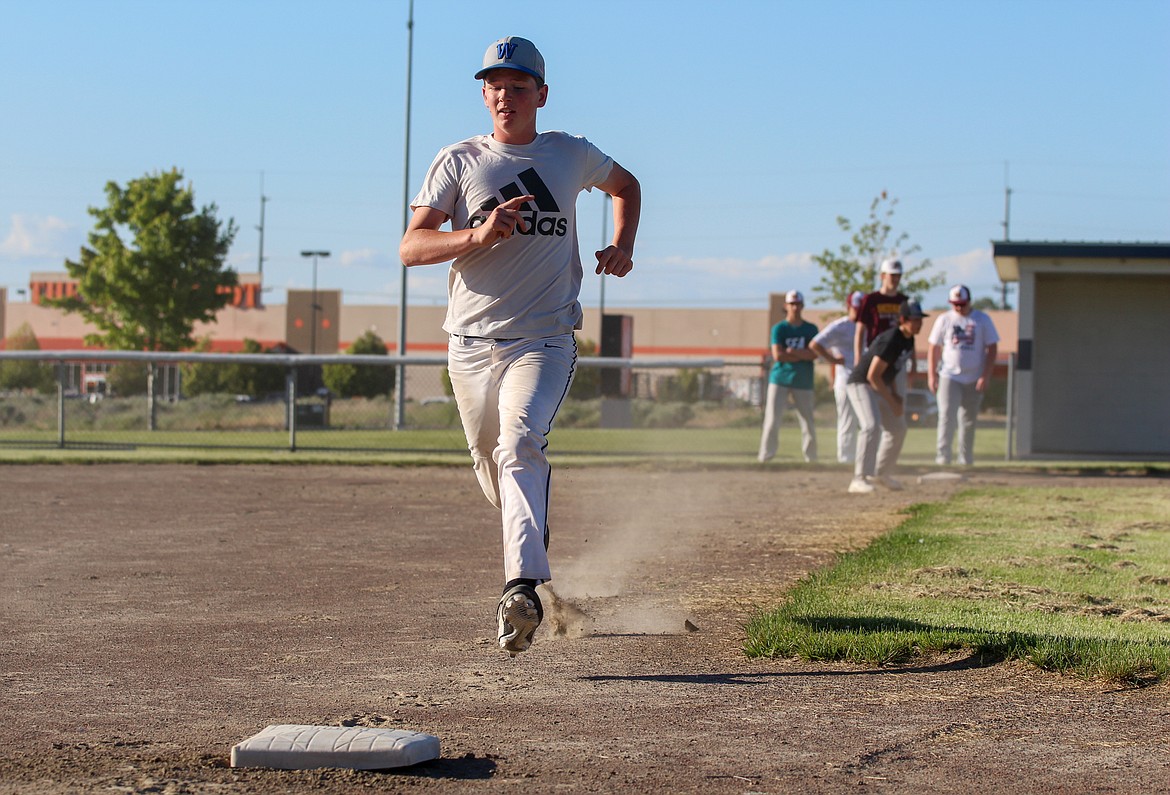 Central Washington Spuds dust off the cobwebs as they get ready for a hopeful return to competition soon.
Casey McCarthy/Columbia Basin Herald
by
CASEY MCCARTHY
Staff Writer
|
June 19, 2020 12:24 AM
MOSES LAKE — The Central Washington Spuds hit the field for practice for the second day on Thursday, with players excited to be back on the diamond.
Wade Visker saw his first season at Big Bend get wiped away this spring, and said it feels awesome to return to the field after the way things ended in March.
"I didn't think I was gonna get to play at all, I thought I was just gonna try and get a job and work through until next season," he said. "I just feel blessed. Just like that, it's gone, and then you get another opportunity to play."
Visker said it's just one of those things you have to be grateful for. Stepping in as the "older kid" on the team for the first time, Visker said he's looking forward to working on some aspects of himself as a leader this summer.
"This year, I think I'm going to really work on character because I don't really think I've sprouted into the leader that I should have been," he said. "I'm really just looking forward to changing that this year."
Visker said he's just happy to be back on the field playing again, and hopes to have some fun this summer while winning some games in the process.
John Shea returns to the Spuds after playing on last year's team. Shea said it was fun, but painful, as players try and bust the "quarantine rust" off.
"It's gonna be hard," he said. "After the quarantine, even though some of us were working, we were still sitting on our butts more than we were working. So we've gotta work that stuff off. It's shown."
Shea said he's looking to get back in shape this summer, make the most of the season and be ready for fall ball.
Kamden Kuykendall said he was looking forward to a chance to step up during his senior year at Moses Lake High School. After the season was canceled, Kuykendall said he assumed his baseball career might be over.
"I've been missing baseball, especially because I'm probably not going to be playing baseball in college," Kuykendall said. "I was really bummed out to have high school, senior year, get canceled like that. I was just looking forward to getting any sort of game time I could before college hits."
Knowing this might be his last time on the diamond, Kuykendall said it definitely motivates him to want to make a big push in his final couple of months. Simply having the chance to close out his baseball career, Kuykendall said, is a blessing.
"I've been playing baseball since I was 4 years old, back in the south, so 13 years," Kuykendall said. "It's finally coming to a close. It's nice to have that closure."
---