Quincy welcomes new head football coach Greg McMillan
by
CASEY MCCARTHY
Staff Writer
|
June 9, 2020 11:58 PM
QUINCY — The new head football coach at Quincy High School, Greg McMillan, described himself as a football "lifer."
"My dad was a teacher and a coach for 40 years," McMillan said. "So I've been following my dad around to locker rooms all these years. I started coaching high school in 1989."
McMillan's last coaching job was at Selah High School where he currently lives, teaching at Eisenhower High School. McMillan didn't coach last season so that he could enjoy his son's senior year from the stands, which ended up being tough for him.
"Football's in my blood, it's what I do and love to do," McMillan said. "It was hard to sit in the bleachers. I really wanted to get back on the sidelines."
McMillan said he noticed the job opening at Quincy before the holidays in December. McMillan chatted with Quincy High School athletic director Brett Fancher in January through email and said he liked Fancher's ideas for the program.
After some hangups with COVID-19, McMillan said, a teaching position opened up a few weeks ago leading to him interviewing and accepting the job.
Like most coaches, McMillan said he has his fingers crossed that they'll be able to still hold a season this fall, or at least part of one.
McMillan said he believes the move to Class 1A and the Caribou Trail League will have a positive effect on a program that has seen some struggles in recent years. McMillan has a lot of familiarity with the league itself, his father having spent 19 years as the head coach for Leavenworth High School.
"I'm a North Central Washington guy, I have connections all around, friends all around, so I'm just excited for Quincy and the opportunity that they're going to have in the Caribou Trail," he said.
McMillan stopped by the high school for a tour for the first time on Monday and called the facilities "the best ones around." McMillan said the upgrades to the school and its athletic facilities show the support the school and community have for the kids.
"We're gonna try and get a football team that we can pack the stadium, have some fun, and put a good climate out there just as fantastic as the stadium and the school that they've started to get rolling around here," he said.
McMillan said he's currently working on assembling his coaching staff, and was able to introduce himself to a few players on Monday.
"I plan on having some Zoom meetings, either by the end of the week or next week, just to try and introduce myself to the kids and kinda tell 'em what expectations are going to be, maybe give them some workouts to do at home," McMillan said.
With the pandemic, McMillan said, everyone's in the same position with things kind of "up in the air." He added that it's still only early June, and he hopes to be in a spot to possibly hold some workouts next month.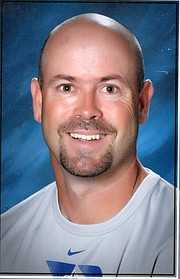 ---