Hundreds peacefully march through Moses Lake to protest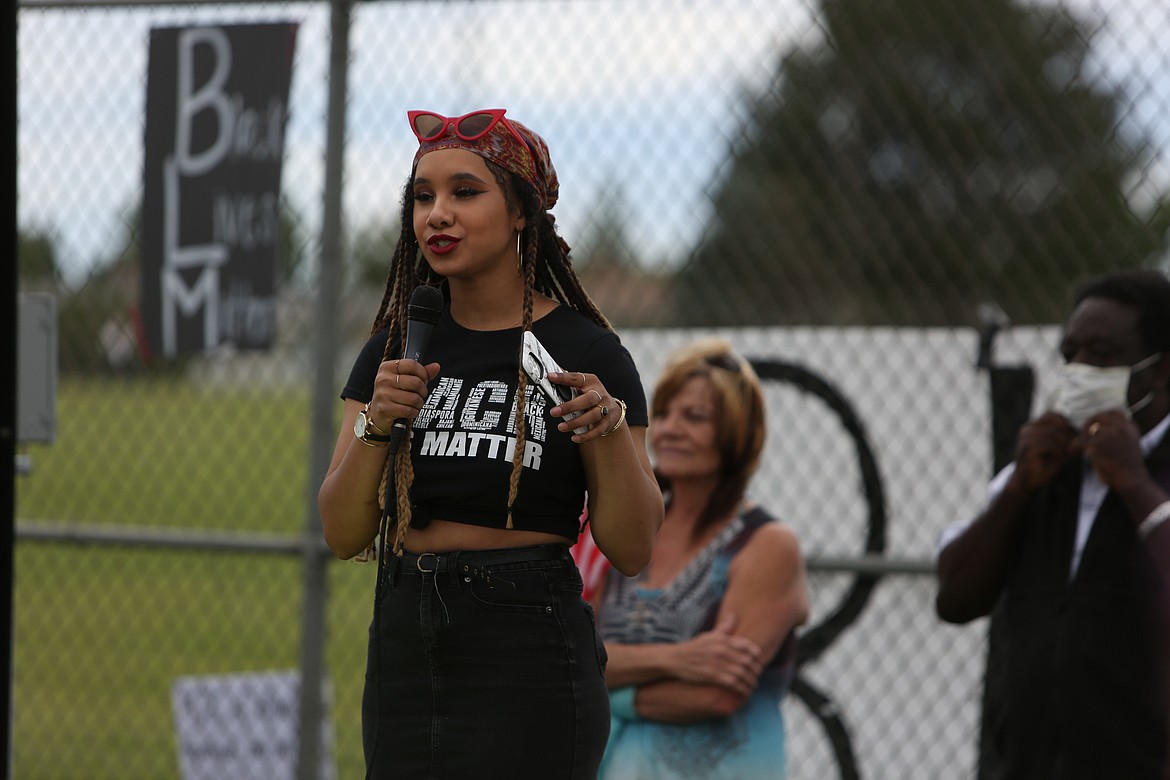 Emry Dinman/Columbia Basin Herald One of six organizers of Sunday's event, 21-year-old Baleigh Sampson, a native of Moses Lake, spoke before the march to thank those who showed up and to reiterate the event's central message about police brutality.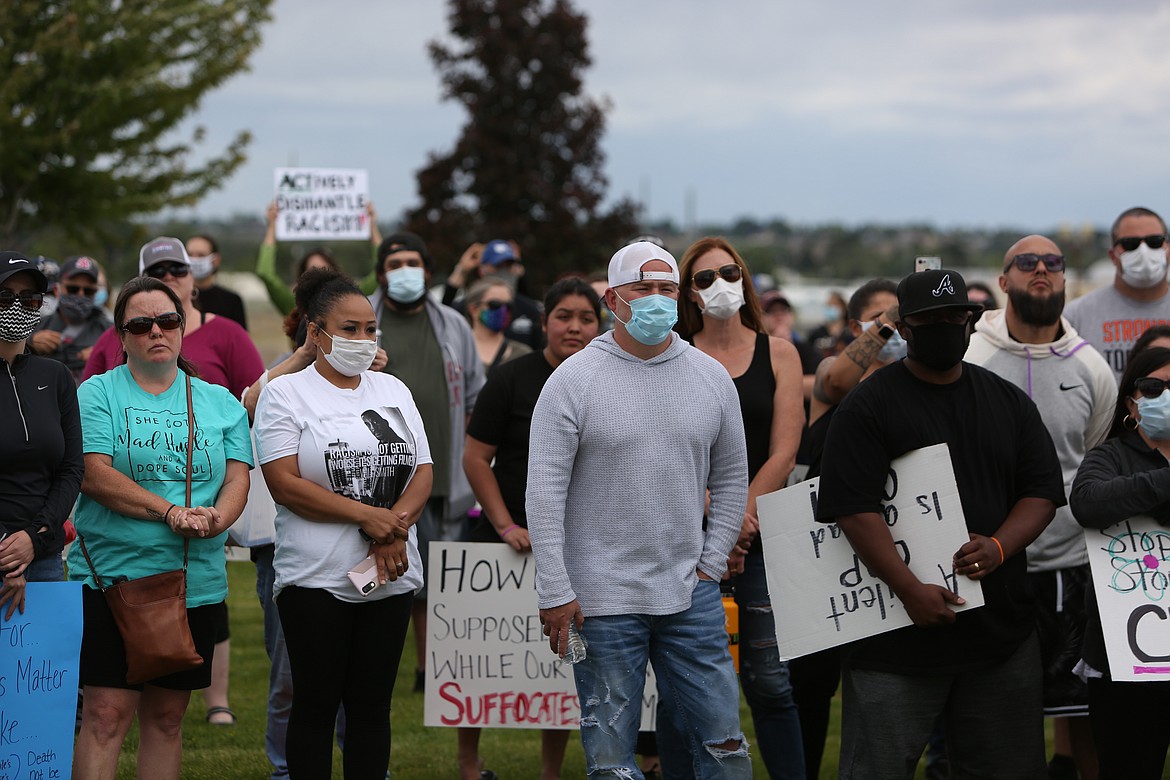 Emry Dinman/Columbia Basin Herald Attendees at Sunday's march look up at Baleigh Sampson, one of the event's organizers, as she spoke about police brutality and the march's purpose.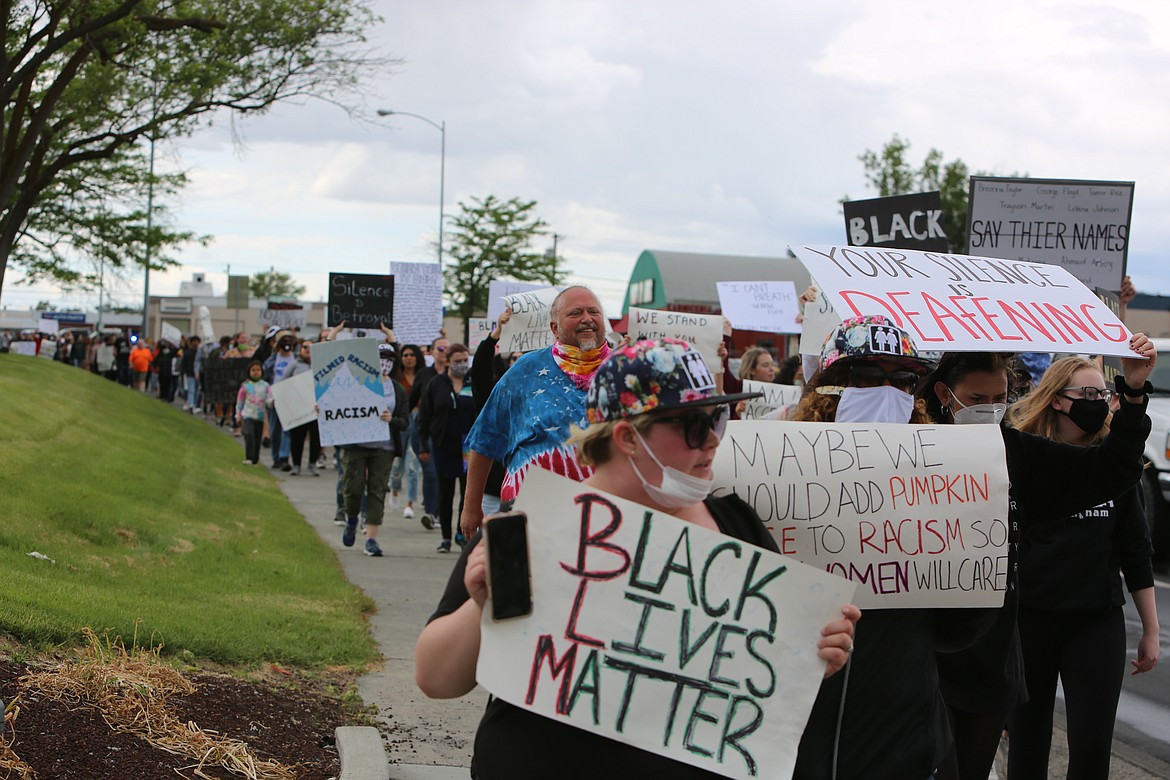 Emry Dinman/Columbia Basin Herald Protesters stretched for the better part of a mile as they marched down South Pioneer Way towards East Wheeler Road.
Previous
Next
by
EMRY DINMAN
Staff Writer
|
June 8, 2020 12:43 AM
MOSES LAKE — More than 300 people, most from Moses Lake but a few from as far afield as Seattle, attended Sunday's Black Lives Matter march and vigil in Moses Lake.
The event started with a number of speeches at the Paul Lauzier Memorial Athletic Park, as attendees gathered by the baseball diamond, while middle school counselor Dana Santos, who helped advise the event's young organizers, registered people to vote.
Speakers included members of the local Martin Luther King Jr. Committee, Police Chief Kevin Fuhr, Mayor David Curnel and event organizers, touching on their personal experiences of racism and their hopes for change.
The event was organized by five women from Moses Lake in their early twenties: Jade Kelly, Baleigh Sampson, Kagan Collins, Serina Sabedra and Madalyn Babak, after Sampson and Kelly attended a protest in Seattle. There, they said, they experienced unwarranted police violence against peaceful protesters but also saw thousands of people rally for a common cause.
"After experiencing something like that, we decided we needed to bring it back home," Kelly said. "A lot of the people here like to shut out the outside world; they like to live in their own world and shut out outside problems."
"No one deserves the privilege to ignore other people's problems," she continued.
There was initially sharp backlash against the planned march, which would take attendees past many of Moses Lake's businesses — threats were made online. Armed individuals, many of them members of local militia groups they said, began to station themselves in front of businesses at night. Rumors swirled around the community for days, stoking fears among some that the protest would be hijacked by radical groups bused in from urban areas or would devolve into riots.
Hoping to reclaim their message and insisting that the march would remain peaceful, organizers looked at different ways to hold the event to mitigate some of the concerns, including at one point considering removing the march portion of the event altogether.
"This is a very conservative community, and having spoken with people who don't understand, hearing them, it was really the misinformation that the media was showing about the protests," Sampson added.
Eventually, the march route was changed in order to avoid passing through downtown and coming into contact with militia members, some of whom were stationed on rooftops with long guns Sunday.
"We care about this community, and we did not feel comfortable bringing people and their children through that," Kelly said.
After convening at Lauzier Park and giving speeches about racial equality and police violence, with some telling stories about similar marches they attended in decades past, the march began along its new route and kept to sidewalks. From Lauzier Park, marchers walked nearly two miles to East Wheeler Road before looping back and walking back to the park to hold a final vigil.
There were no riots or reports of property damage at Sunday's event. And unlike what Sampson and Kelly said they saw in Seattle, there were no incidents of violence between marchers and the police, according to both law enforcement and organizers. In fact, organizers and attendees alike said they were encouraged by the local police departments' engagement with protesters.
For some, like protester Ywhna Bin Wahid, a recent transplant to Moses Lake, the Moses Lake Police Department already has some of the qualities he wants to see in other departments, like police coming from the communities that they police.
"This is why Moses Lake police are so good," Bin Wahid said. "We see them at the grocery store, at the liquor store, at church. We need these cops to be local."
But both at home and across the country, Bin Wahid and event organizers said they want to see renewed efforts to educate police with bias training and on the laws that they are asked to uphold.
While organizers said they didn't feel like Sunday's event had connected with many people that were not already supportive of their message, they said it was only the first in what they hope will become regular outreach events. In the future, Kelly said, they want to hold sit-down conversations at local churches with anyone who will listen.
"We want change, so we're going to take away the excuses that they have for not knowing," Sampson said. "This isn't just about bringing together like-minded people, this is about creating a bridge."
For more photos of the march, check out the photo gallery here.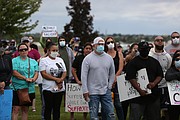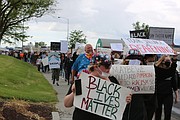 Recent Headlines
---