Moses Lake graduate chasing artistic dream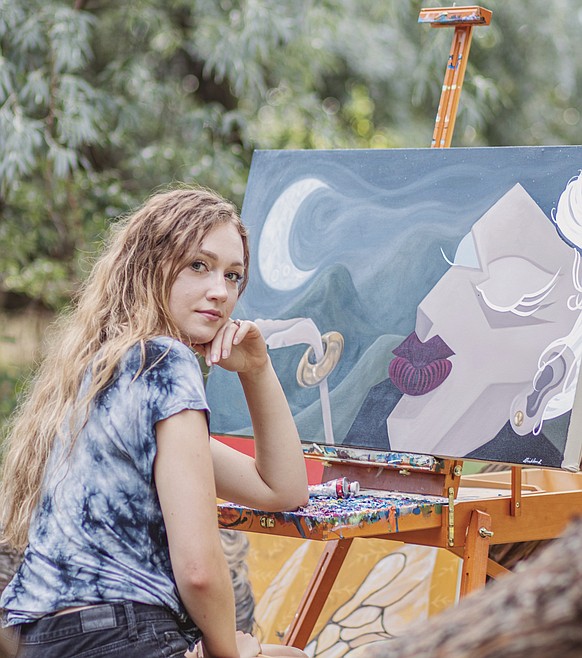 Moses Lake High School graduate Marissa Strickland poses with one of her paintings. Strickland recently earned a Bachelor of Fine Arts degree in studio art from Central Washington University.
Courtesy photo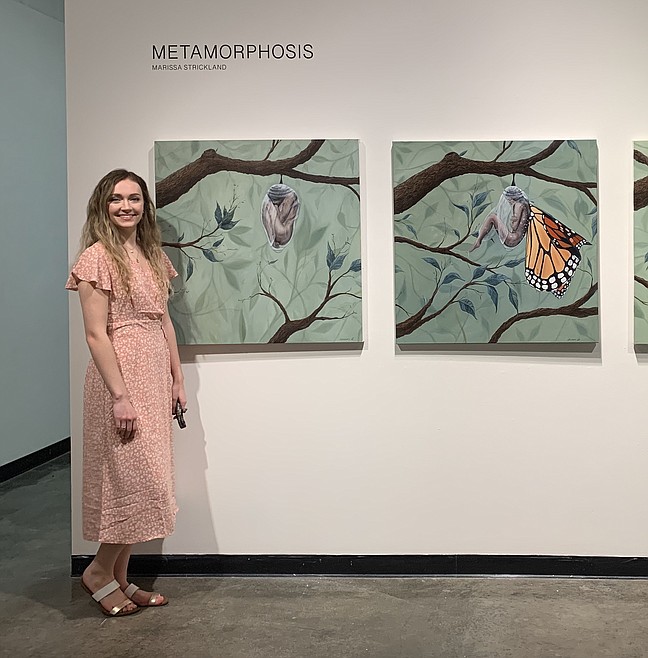 Marissa Strickland poses with her paintings during her show "Metamorphosis" at Gallery 231 on the campus of Central Washington University.
Courtesy photo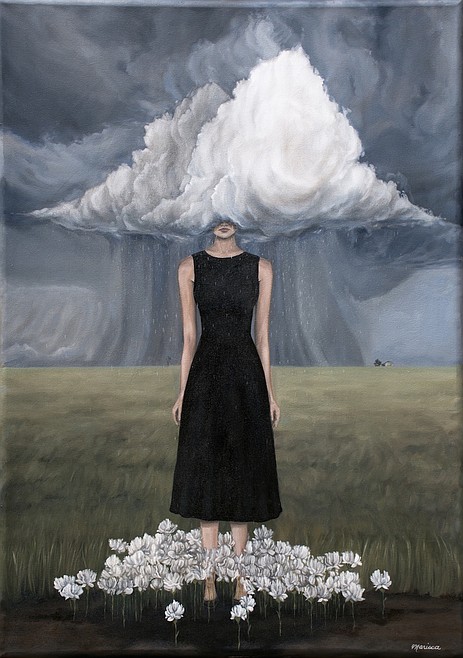 One of Marissa Strickland's paintings titled "No Rain, No Flowers."
Courtesy photo
Previous
Next
by
CONNOR VANDERWEYST
Staff Writer
|
July 31, 2020 12:08 AM
MOSES LAKE — Marissa Strickland's grandmother, Susan Fanning, taught her an important lesson when it comes to art: there is no such thing as a mistake.
The love of art was instilled in Strickland at an early age by her grandmother, who instructed her and her sister to sit down in front of a mirror and draw portraits of themselves when they were in elementary school. Strickland started getting more serious about the subject in seventh grade.
"Mainly because of her," she said of her grandmother.
Fanning owned Alsted Real Estate in Moses Lake and passed the business on to Sherri Kasperak, Strickland's aunt. Fanning still helps out at the business and continues to paint with watercolors in her free time.
Many years after those self-portraits, Strickland is now a Central Washington University graduate with a Bachelor of Fine Arts in studio art. Her grandmother's influence is still prevalent.
"She always told me that you can never make any mistakes in art and her stuff was very strange ... so I felt like art never really had any limits to it, which is probably why my art has turned out pretty weird," Strickland said.
Strickland said her grandmother would paint big red lips on a fish, or have a theme of Christmas underwater.
Strickland's art also tends toward the surreal, like her painting of a woman underwater, on her knees, arms outstretched with lily pads sprouting from her back. Or a woman clad in a pitch black dress, head shrouded in a storm cloud.
"I usually start with a concept like an emotion I'm feeling or a lot of my work revolves around growth after negative experiences, so I try to create an emotion or a theme that represents that growth and kind of the uncomfortable phases of pain and the good things that can come out of it," Strickland said.
Sitting down to paint, for Strickland, is therapeutic. Each brush stroke helping demystify a complex emotion.
"I feel like a lot of times the uncomfortable emotions can be hard to process or understand so having art to give them a visual form and also self-expression has been super beneficial for me personally," Strickland said.
Strickland was an all-league volleyball player for Moses Lake High School, moving on to Wenatchee Valley College's team after high school. The sport of volleyball requires split-second reflexes to dig an incoming spike or to time the jump on a ball set into the air. The methodical process of painting is a little different for Strickland, who isn't so much worried about making a mistake on canvas as opposed to the court.
"I felt the pressure to perform for my team and for my coaches," she said. "If I failed, I wasn't just failing myself, I was failing a group of people. But for art I don't feel that pressure to perform for other people. I'm doing it for myself. So I feel like it's much more enjoyable when I'm not worried about failing. I can kind of fail and then learn from it and then apply those lessons the next time."
Art courses at Wenatchee Valley College helped Strickland realize that she wanted art to be a lifelong pursuit and she gushed about her time in Central's art program.
"It was awesome," she said. "I had the best professors that I could have even imagined. They took me way further than I ever would have painting by myself."
Strickland has had her art displayed at Basalt Collective in Moses Lake and also in the Sarah Spurgeon Gallery on Central's campus. She also spent some time working at the Moses Lake Museum & Art Center, which gave her a different perspective on the creative process. Strickland was able to speak with visiting artists who were showing their work and even had the opportunity to hang a gallery show.
"I learned a lot about how to care for art properly because I know when it's my own work I can kind of be a little rough with it sometimes," she said.
As far as what's next, Strickland plans to apply for graduate programs for the fall of 2021, and would love to work in a museum or possibly teach.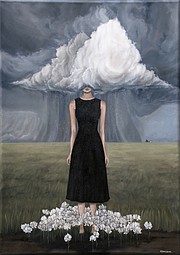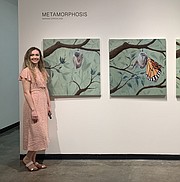 ---