Top Gun concessions keeps cooking to keep going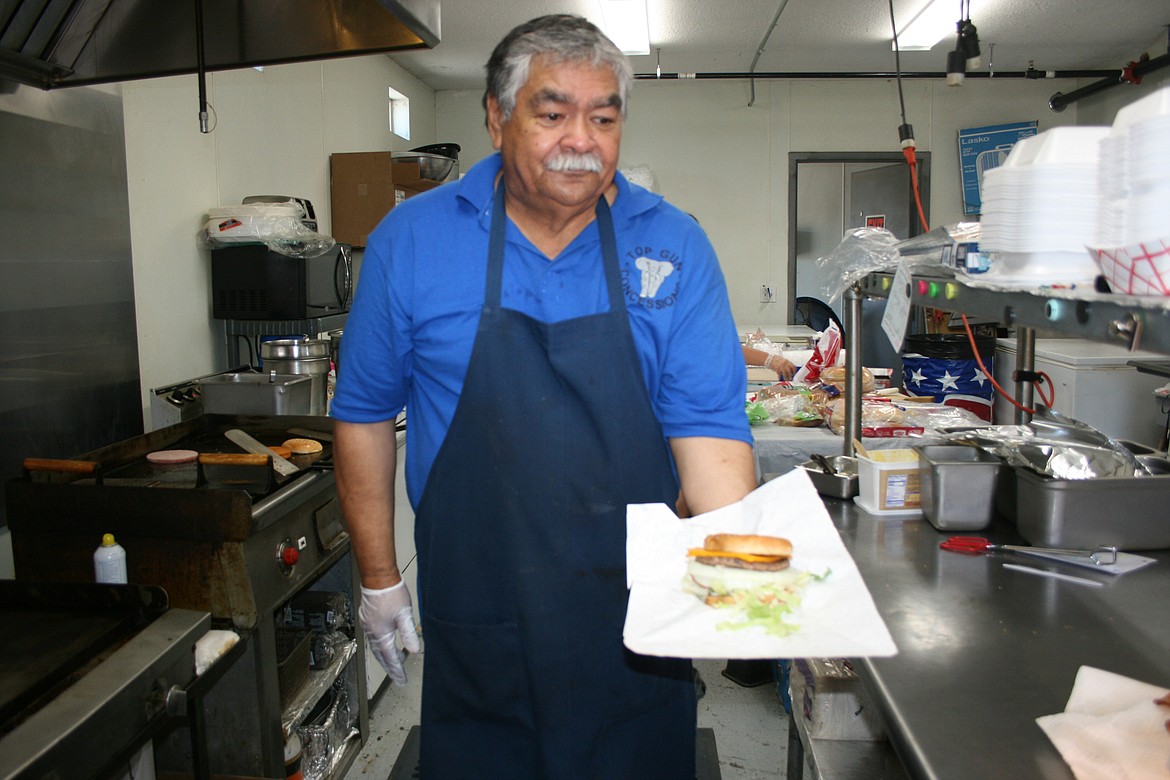 Top Gun concessions owner Jim Duzon gets a burger ready. Many of the company's regular customers are closed for 2020, so Duzon and his wife Joy have their business open on a limited basis at Grant County Fairgrounds.
Cheryl Schweizer/Columbia Basin Herald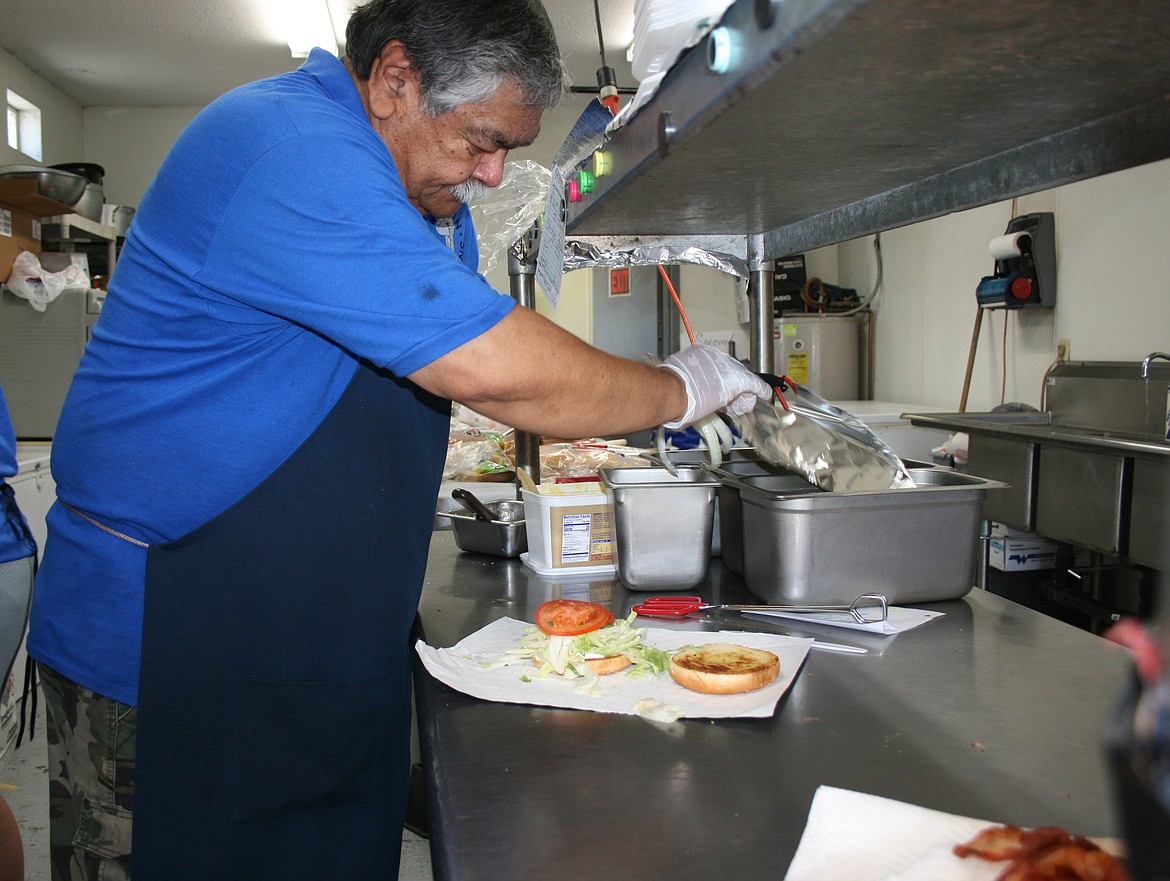 Jim Duzon, owner of Top Gun concessions, adds toppings to a hamburger. Duzon and his wife Joy are looking at a new way to promote their business, since many of their regular customers are closed in 2020.
Cheryl Schweizer/Columbia Basin Herald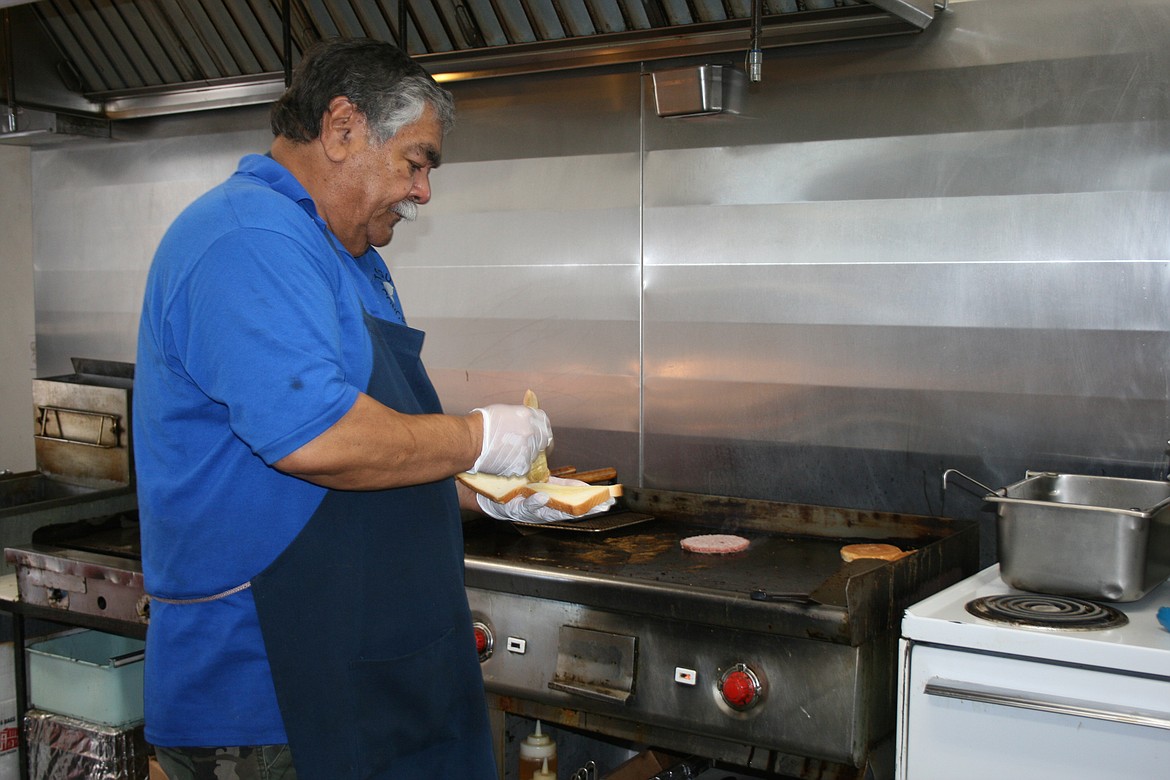 Top Gun owner Jim Duzon butters bread for a sandwich. With many of their regular customers closed for 2020, Duzon and his wife Joy are looking at other ways to promote their business.
Cheryl Schweizer/Columbia Basin Herald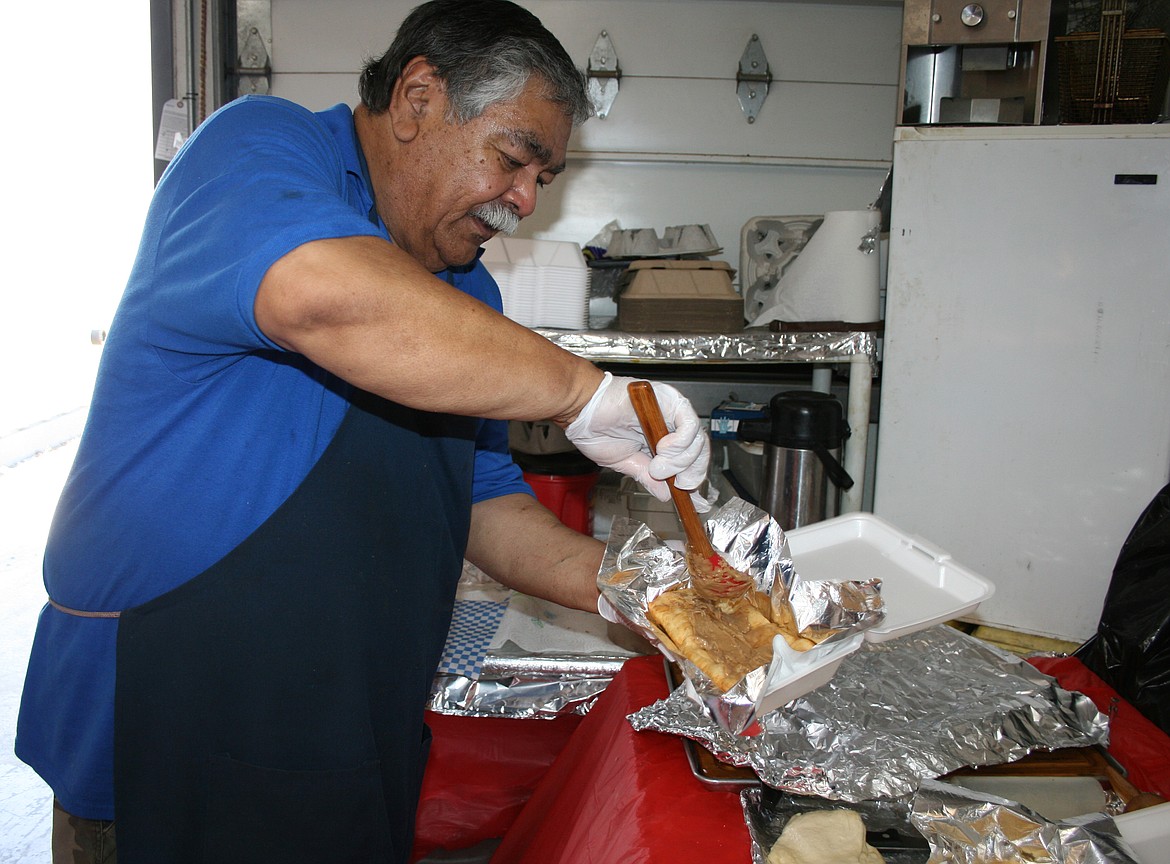 Top Gun concessions owner Jim Duzon adds topping to a maple bar. With many of its usual customers closed in 2020, Duzon and his wife Joy are finding other ways to get their name and menu out there.
Cheryl Schweizer/Columbia Basin Herald
Previous
Next
by
CHERYL SCHWEIZER
Staff Writer
|
July 29, 2020 12:51 AM
MOSES LAKE — In any other year but 2020 the Ardell Pavilion at the Grant County Fairgrounds is a great place for a concession business. But it is 2020, and the concession business – well, business is pretty hard to find, since all events scheduled for the fairgrounds since March have been canceled.
Even so, there are signs on the fence announcing that the Top Gun concession stand is open, selling hamburgers, cheeseburgers, a different special each day they're open and a prime rib dinner on Friday nights.
Top Gun owners Jim and Joy Duzon have been in the game for a long time. "We've been doing this 33 years," Jim Duzon said. "And many of our events we've been doing for anywhere from 25 to 30 years."
But the COVID-19 outbreak shut down events across Washington and neighboring states, closed event venues and closed, at least temporarily, most restaurants. "The food service industry was probably hit harder than a lot," Jim Duzon said.
Cancellations started happening as early as March, he said. "By March 17, when we had the lockdown, we had already lost 14 events, and up to this point we've lost 42 events," he said on July 22.
"When this hit, it just killed us," Jim Duzon said. So the Duzons decided to take advantage of their skills to keep their name and menu out there – and maybe make some money, to help stay afloat.
The Duzons made a proposal to the health department, and were approved for operations at the Ardell Pavilion. Top Gun is open Wednesday through Friday, and the Duzons will deliver.
"Since we've been open, five weeks now, we've been able to pay the bills, and (are) taking care of our commitment to the fairgrounds," Jim Duzon said. Concessionaires at the fairgrounds sign a lease, which charges them a percentage of the business done.
"We haven't really generated a lot but we're paying our bills, and that's the most important thing," he said. "It's getting better."
The fairgrounds location has been something of a handicap, he said, since it's a long way from downtown. Top Gun has started a delivery service to help address that. People can place orders at 509-760-4514.
Top Gun has benefited from the support of some longtime customers and friends, Jim Duzon said, including John and Valli Millard from Ephrata, Doug Rathbone, Rob Jones and Nic and Cristi Dirks. The Moses Lake Chamber of Commerce and its director Debbie Doran-Martinez have been very supportive, he said. "These people have been really important to us, they've been calling and sending us customers – and once we get the customers, they come back," Jim Duzon said.
Top Gun sells hamburgers and cheeseburgers, french fries and specialty sandwiches like grilled cheese, and maple bars, among other selections. The maple bars are big sellers, Jim Duzon said.
Joy Duzon actually got into the concessions business first. "My cousin got me started. She had a huge catering business," she said. Joy Duzon is a Grant County native, she said, her family having homesteaded near Wilson Creek.
"We've made friends all over Washington (and) Oregon," Joy Duzon said. They've watched 4H and FFA competitors grow up and have kids of their own. "We've had wedding announcements, birth announcements," she said. "We've seen it all with these kids."
Their goal this summer is to keep their business open in a challenging year. "I think that (the business) is what keeps us on our feet," Joy Duzon said.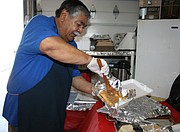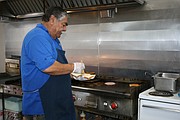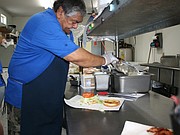 ---