Taylor, Jones run for District 2 commissioner seat
by
CHARLES H. FEATHERSTONE
Staff Writer
|
July 29, 2020 12:47 AM
MOSES LAKE — With two of the three seats on the Grant County Commission up for election in November, voters in District 2 — which includes the southeast part of Grant County, including Moses Lake and Warden — are getting a choice this year between an incumbent commissioner and a businessman challenger.
Tom Taylor, who was elected to his first term on the commission in 2016, served in the Moses Lake Fire Department for 26 years before retiring as fire chief in 2015. He also served for 24 years in the U.S. Army, both active duty and reserves.
Rob Jones, who is challenging Taylor, describes himself as "a locally recognized private business owner with operations at many levels from Main Street to the County Fair."
The Columbia Basin Herald emailed each candidate a series of questions about important issues this year, and each replied by email. The answers have been edited for clarity.
1) What is your view on how Grant County Health District has handled the COVID-19 outbreak in Grant County, and what would you like to see done differently? What leadership would you provide in the county's response to the pandemic?
Tom Taylor: Initially, the Grant County Health District responded quickly to the COVID-19 pandemic. I feel that the communication with the public could have been much better. They are doing a much better job now. The County Commissioners have no actual authority over the health district, though we contract with them as our public health agency. The health district is governed by a board of directors in which we have a seat. I feel that the Grant County Commissioners have been proactive in our attempts to get clarification from the governor's office on many issues that affect our citizens, specifically small businesses. We've received minimal response from our state leadership.
Rob Jones: The Grant County Health District has been proactively pursuing a response to COVID-19. GCHD has done well providing the citizens safety information, while running seven days per week short staffed for months (GCHD recently received $1.4M from the county to add additional staff to help with the case studies, public messaging, community guidance to meet the governor's requirements). The health district is very active and responsive to the public via direct contact or through their social media outlets. I have personally reached out with questions about my concession business and the requirements to be open for the Farmers Market in May, all the way to discussing the positivity rate and how it is part of a formula in allowing us to progress into the next phase. I think it is important to remember our local health district employees are not the enemy, they are our neighbors and our friends, and ultimately we are living in this together.
2) How would you handle the expected budget shortfall this year? What would you cut? Would you look for additional revenue?
Tom Taylor: As far as a budget shortfall for 2020, we are closely watching our expenditures and will have a better picture in a few months. We have restricted capital expenditures and are expecting each County department to reduce their budgets by 3-5% where possible. We have received approximately $5.4 million in reimbursable funding through the CARES Act to offset activities and expenses related to COVID-19. We have established business grants to ease the financial burden placed on small businesses.
Rob Jones: In preparation for an expected budget shortfall this year I would begin by requesting that county departments reduce expenses and look for areas in their budget that could be cut. As of July, the county began employee furloughs (employee furlough is when staff are required to take an unpaid leave of absence), and they estimate this will save several hundred thousand dollars. The county has also received a $5.4 million grant that has been distributed to the Grant County Health District, and is available for small private businesses in Grant County that have been negatively affected by COVID-19.
3) There's a lot of talk right now about defunding the police or reforming police practice. As commissioners, you oversee the county's budget, and that includes the Sheriff's Office. Are there changes you would like to see in how the sheriff's office does its job?
Tom Taylor: The national rhetoric regarding defunding law enforcement is not warranted. The Grant County Sheriff's Office is vital in maintaining law enforcement in our county. I adamantly support our law enforcement officers across the county and will do whatever I can to continue to ensure they have the resources to do their job. The recent passage of Proposition 1 for law and justice will help in that effort.
Rob Jones: First off, defunding the police or sheriff office should not be an option. The communities moving forward with defunding of police/sheriff office will see an immediate negative community impact. Studies have shown if you remove the police, violent crimes will increase. The GCSO does a good job, and I will work with elected official Sheriff Tom Jones in any capacity he requests for the good and safety of the people of our County.
4) Along those lines, what — if anything — should the county do in the Larson community, where much of Grant County's crime occurs?
Rob Jones: It is important to remember that there are good people that live in the Larson community. We all have friends and family that live in the Larson community and they deserve a safe community, just as much as any other community in Grant County. I would like to see a joint effort of law enforcement between the City of Moses Lake and the Grant County Sheriff's Office. The Larson Housing Area is responsible for nearly 20% of the total calls for service received by the GCSO. As a commissioner, I would advise strict code enforcement to clean up the Larson housing area, and look to budget toward improving roads and sidewalks in the community.
Tom Taylor: As for the issues in the Larson subdivision, we continue to provide law enforcement services, but it will continue to be a challenge.
5) How do you think the county should address the homeless situation? What would you, as commissioner, do to help deal with the problem?
Rob Jones: The homeless situation Grant County is dealing with is a group problem, and will require a group effort between each of the cities in Grant County, as well as the churches, family members and good Samaritans who volunteer to help. As commissioner, I would be involved in finding a solution or alternative. In Moses Lake, we have a homeless camp along the railroad tracks between waterfront property and many private business owners. I was previously an owner of one of these properties and this is another area we need to actively improve, it is not fair to these small businesses to deal with theft, vandalism, and other indecencies.
Tom Taylor: Grant County receives funding through various resources to address the homeless situation and those funds are distributed to the appropriate agencies. We are working closely with other jurisdictions to provide more services as resources allow.
We asked Taylor what he has learned in his first term as county commissioner, and what he might do differently in a second term.
"In the past 3 1/2 years, I have learned a lot about county government and the vast amount of services we provide," Taylor replied. "We have an amazing staff that deliver these services with pride and professionalism. If re-elected, I will continue to work with the public to serve their best interests."
We asked Jones how he assessed Taylor's first term, and what he would do differently.
Jones responded: I commend, and respect the career Tom Taylor has given to public service. However, we in Grant County need a commissioner actively working to help with the recovery of COVID-19. Not a commissioner who is vacationing while his constituents are struggling. During these unprecedented times we need a commissioner who is available, responsive, and understands how private business operates and is willing to be a voice for them. Someone who is involved in community events, attends their assigned board meetings and listens to the people of Grant County. As a commissioner, I will listen to you and use my elected voice to portray your feelings and concerns to the appropriate elected officials, departments and county board meetings.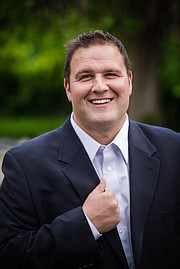 ---