Making fudge a family affair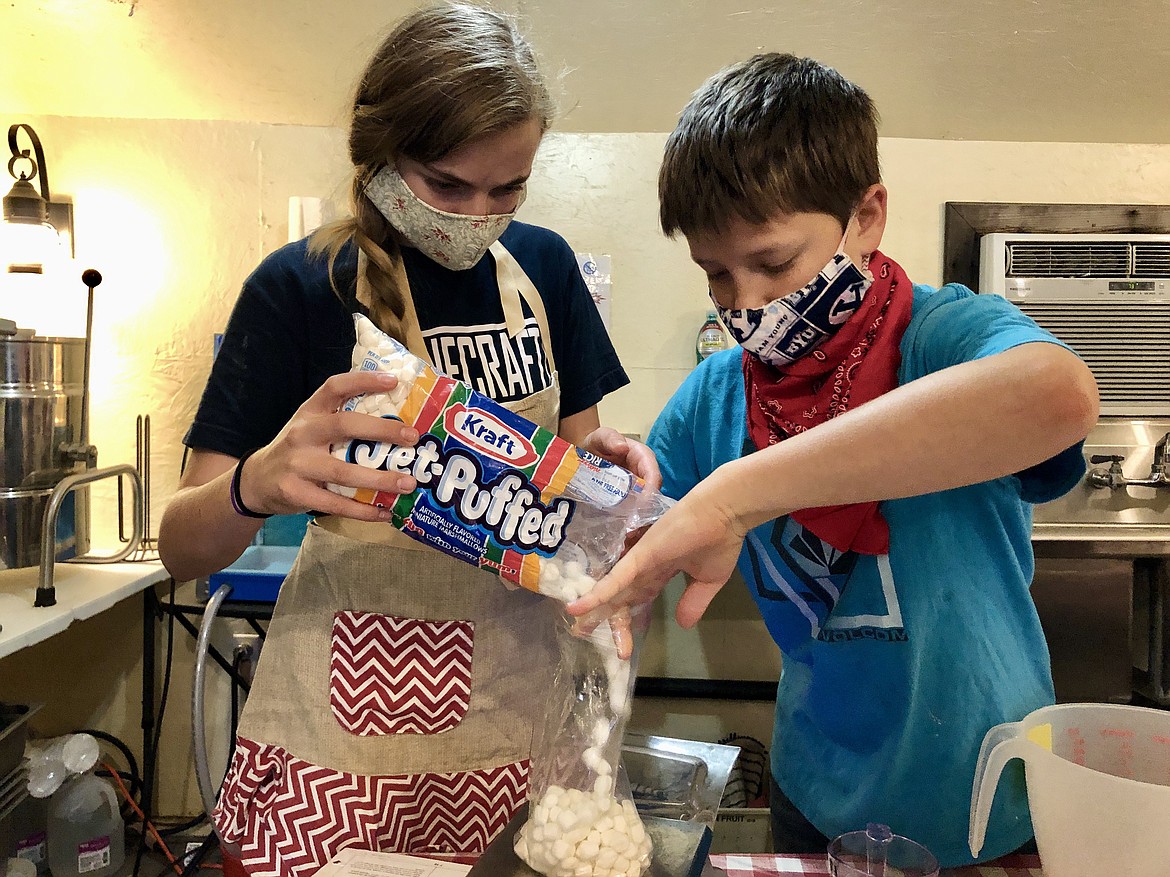 Kathryn Phillips, 15, and her brother Austin, 10, measure out eight ounces of marshmallows for rocky road fudge.
Charles H. Featherstone/Columbia Basin Herald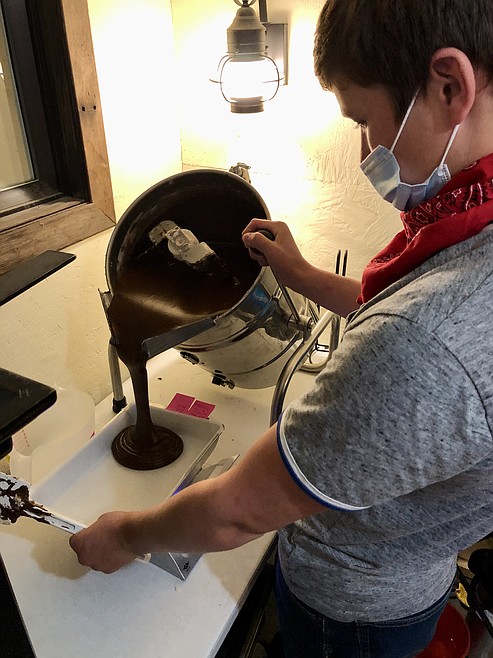 Dallin Freeman, 17, pours out chocolate fudge.
Charles H. Featherstone/Columbia Basin Herald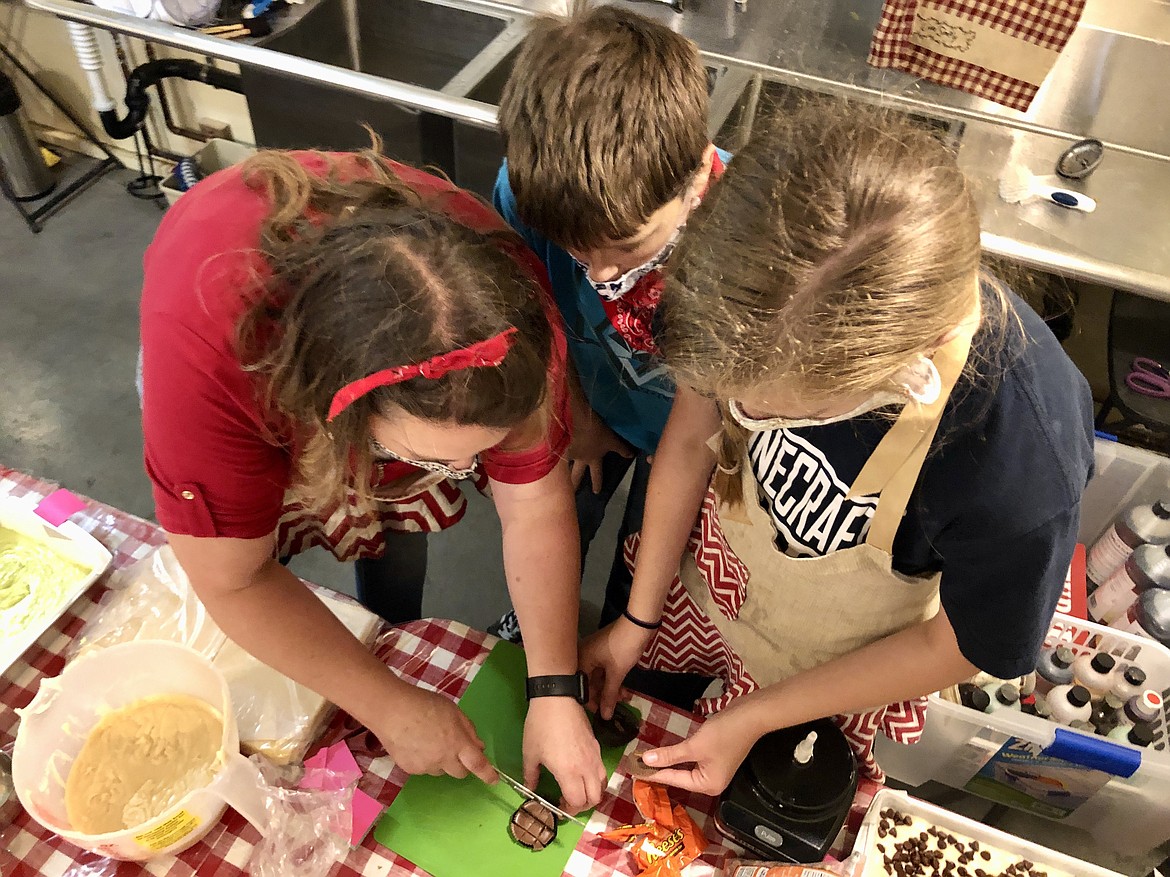 Amy Phillips shows her daughter, Karthryn, 15, and her son Austin, 10, what size to cut Reese's Peanut Butter Cups for a fudge mixture they are making.
Charles H. Featherstone/Columbia Basin Herald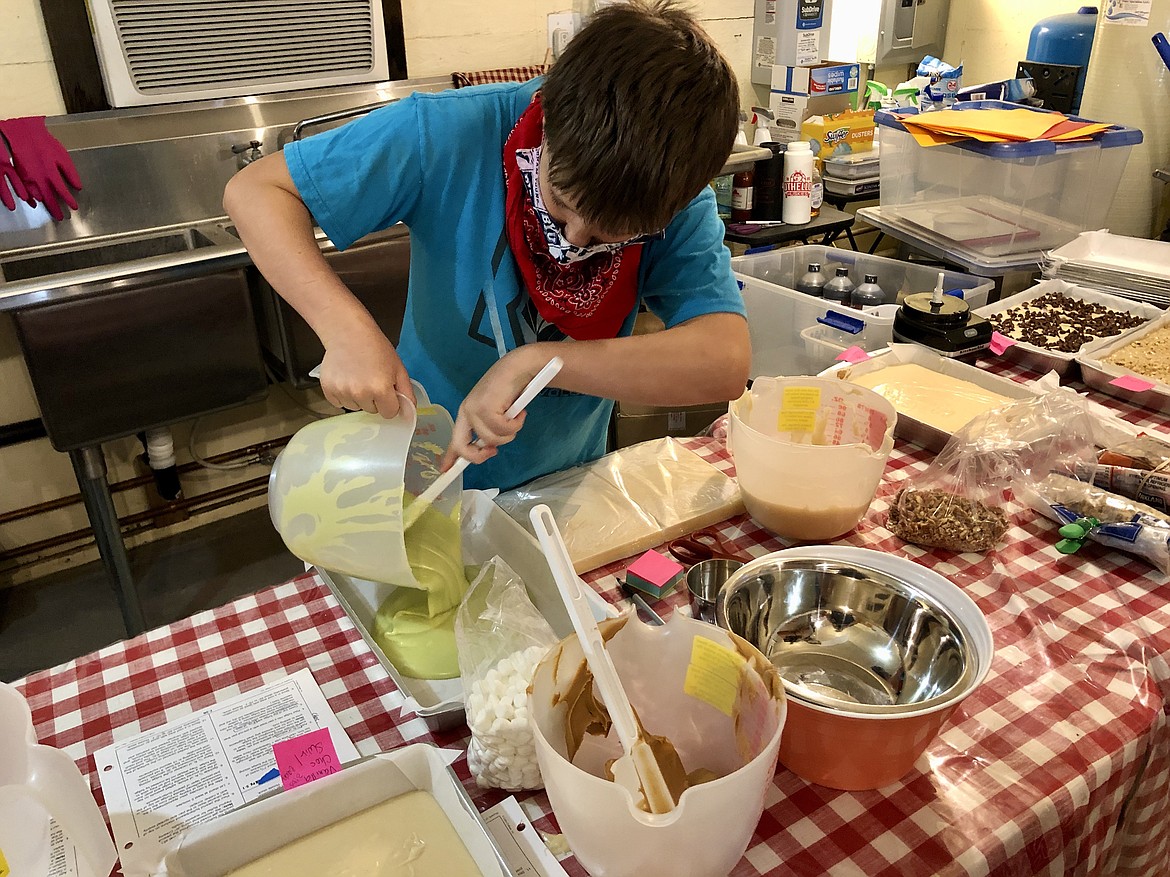 Austin Phillips, 10, ladles out mint fudge.
Charles H. Featherstone/Columbia Basin Herald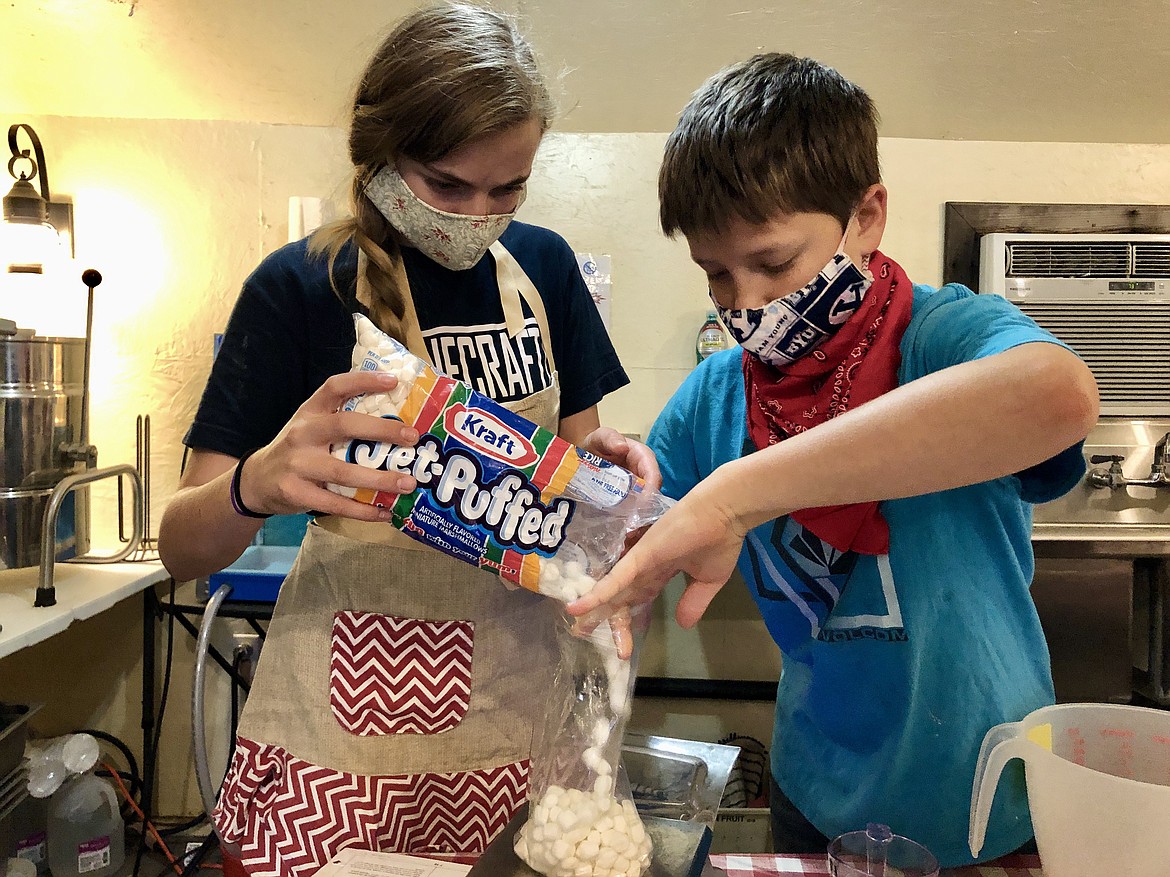 Kathryn Phillips, 15, and her brother Austin, 10, measure out eight ounces of marshmallows for rocky road fudge.
Charles H. Featherstone/Columbia Basin Herald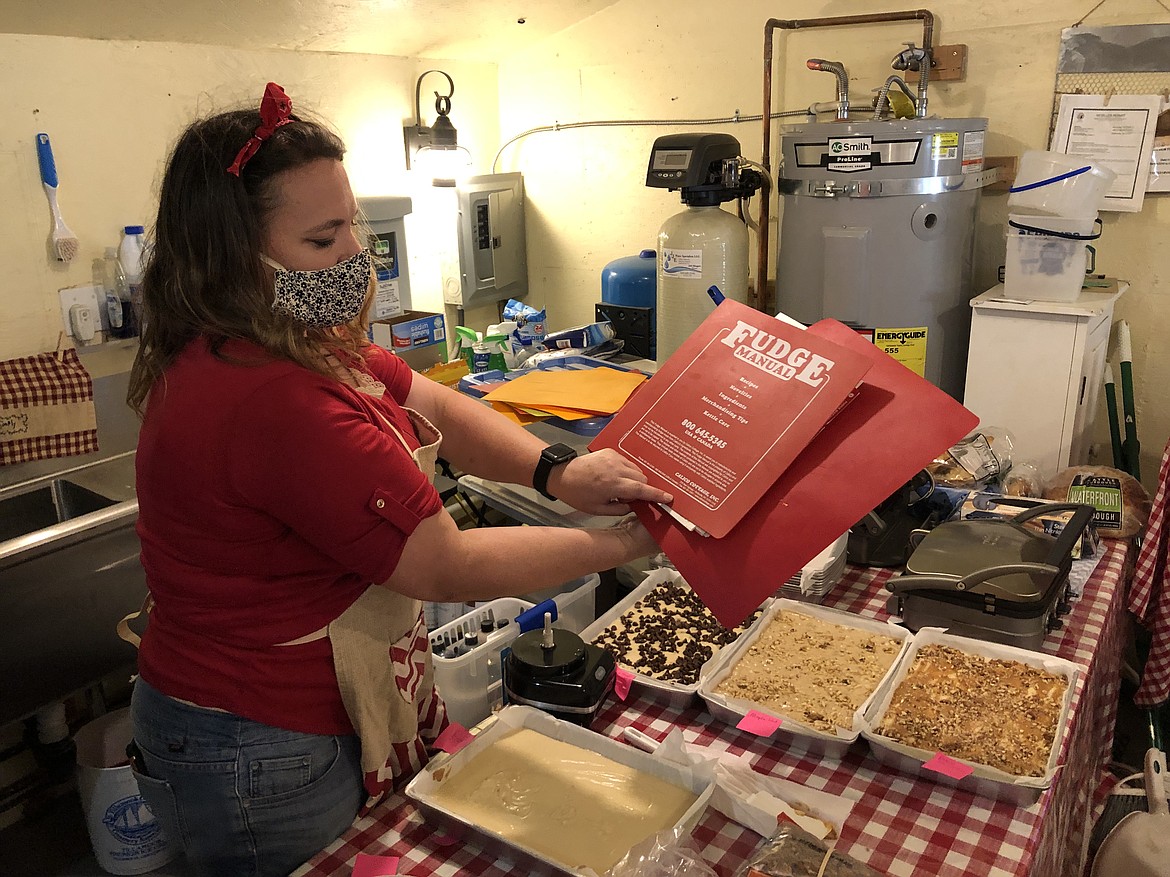 Amy Phillips holds up the Calico Cottage "Fudge Manual," the guide to fudge making used by Country Cousins.
Charles H. Featherstone/Columbia Basin Herald
Previous
Next
by
CHARLES H. FEATHERSTONE
Staff Writer
|
July 29, 2020 11:19 PM
OTHELLO — The folks at Country Cousins don't sell "lots and lots" of fudge.
But they sell enough that they have to make it a few times a week. Which keeps them busy churning and pouring and waiting.
Because making fudge requires a lot of waiting, too.
"We have been making fudge since the beginning, since 2015," said Amy Phillips. "We have staples. Tiger butter, it's a peanut butter fudge, we always have that one. Chocolate, chocolate nut, those are the only ones we always have."
And then she thinks a bit. The list of staples grows longer.
"Though we always have some kind of maple nut. And rocky road might be a staple," she added.
Phillips is overseeing the Tuesday morning fudge batch, typically 12 or 13 five-pound pans of fudge from simple chocolate to complex swirls of orange creme and vanilla, or chocolate and mint, to an elegantly made dulce de leche that sits cooling in a pan.
They may not sell "lots and lots," but they do sell a lot of fudge.
Phillips said Country Cousins was started by her parents Dave and Kaye Freeman in 2015 to have a place for all their grandchildren — they total 51 now, with the first great-grandchild on its way — to work and be together. The store sells fresh fruit and vegetables from the family's farms, ice cream, locally made sauces and dressings, and hosts a fall festival for five weeks beginning in late September that includes hay rides and a pumpkin patch.
And, of course, there's the fudge.
Phillips herself is overseeing her nephew Dallin Freeman, 17, who has been making the bulk of the Country Cousins fudge this summer, and her two kids Kathryn, 15, and Austin, 12, .
They don't quite make it from scratch, however. Phillips said they buy fudge mixes from Calico Cottage, a company that bills itself as "the world's largest provider of fudge ingredients, equipment and merchandising expertise" on its website and follow the recipes contained in a big, red binder.
That means heating a mixture up in a giant fudge kettle, pouring it out, and letting it sit overnight.
"The kettle heats it to the right temperature, so we put it all in and time it," she said. "As you can see, it's kind of messy right now because we already did vanilla. You always do vanilla first, and then chocolate."
Phillips said they freeze about half the fudge they make, in order to save it for later, when it's needed. That way they don't have to make the same kinds of fudge every time.
"It lasts about three weeks on the shelf, and we freeze half of it," she said. "It freezes really well, and then we take it out as we need it."
"And you can take it home and freeze it again," Phillips added. "The key is wrapping it in foil, putting it in a plastic bag, seal it up and do not unseal it until it's completely thawed out," she said.
And then, Phillips said, the fudge is "fresh and beautiful" and ready to eat.
Phillips said the family hasn't made any decisions on its fall festival — which typically draws over 1,200 school students to see something of farm life first hand — but will likely stage the event anyway, even if the COVID-19 pandemic will make it difficult to draw large crowds.
"I think we will have one regardless, and we actually have trailers we don't use, so I guess we will pull them all out and put family together," she said.
Which may be enough of a crowd all by itself.
Charles H. Featherstone can be reached at cfeatherstone@columbiabasinherald.com.
---