State to require masks be worn more, tighten limits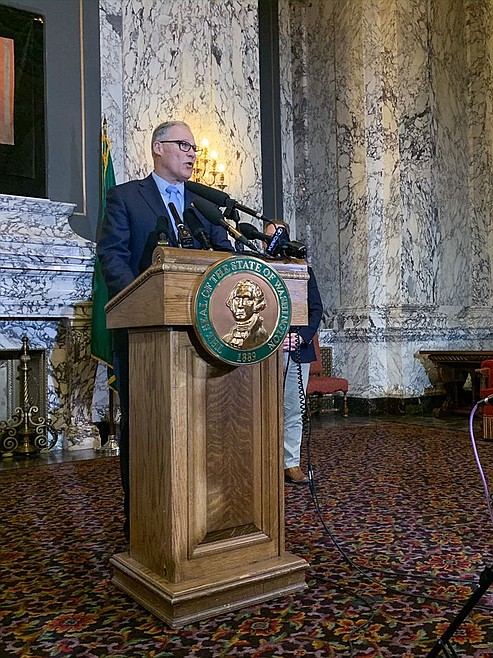 by
EMRY DINMAN
Staff Writer
|
July 24, 2020 12:27 AM
OLYMPIA — Washington state will be tightening a number of restrictions on businesses, face masks and certain religious services in the face of a surge of the coronavirus pandemic, Gov. Jay Inslee said at a Thursday press briefing.
"We know it could have been much worse had we not faced this challenge head-on, had we not made some painful decisions early," Inslee said. "The reopening of in-person education is a goal that I know all of us share. But this starts with restraining the growth of this pandemic."
Effective Saturday, July 25, all people in the state will be required to wear face coverings in any common space, such as hallways, elevators and apartment buildings, even if they can maintain six feet of distance.
Receptions at weddings and funerals will be prohibited, and occupancy will be limited to 20 percent of the building's limit or 30 people, whichever is less. All people must be able to maintain 6 feet of distance at all times.
At restaurants and bars, diners will not be allowed to sit at the same table unless they are from the same household, and in Phase 3 of the state's reopening plan a maximum of five people will be allowed at each table and total occupancy will be restricted to 50 percent of the building's limit. Areas for games, such as pool, darts or arcade games, must close.
In addition, alcohol sales must end at 10 p.m., and bars will end indoor service.
Gyms and fitness centers will also be affected. No more than five people, including staff, will be allowed indoors if located in a county that's in Phase 2. Those in Phase 3 will be allowed 25 percent of the occupancy limit.
Emmy Winzler, manager of Evolve Fitness in Moses Lake, said in an interview Thursday that her head was spinning from the new restrictions.
"We tried to come up with some rules and regulations so we can keep open," Winzler said. "We're not going to shut down, but we're going to take a little time tonight to figure out what we can do."
Winzler said that the business will check with customers, who have continued to support the business through the closures, to see what they would want from the company. But either way, she said she expects the business to survive.
"I'm not too worried about that," Winzler said. "I think that, what doesn't kill us makes us stronger."
Some gyms and fitness centers, however, are concerned about making it through another round of closures. An owner of a Columbia Basin fitness center, who asked not to be named for fear of reprisal from state agencies, said the business would have to lay off staff, right when extended unemployment benefits were ending.
"I'll have to lay my staff off, and there's no extra $600 left," the owner said. "Now they'll go on unemployment with no additional money. Now they won't be able to make ends meet."
Indoor family entertainment and recreation centers, such as mini golf, indoor card rooms, bowling alleys and arcades, will be prohibited. An indoor movie theater's occupancy will be limited to 25 percent when the county it operates in reaches Phase 3.
The new restrictions on businesses take effect on July 30 and the restrictions on weddings and funerals will begin Aug. 6.
---