Combined brokerages already working together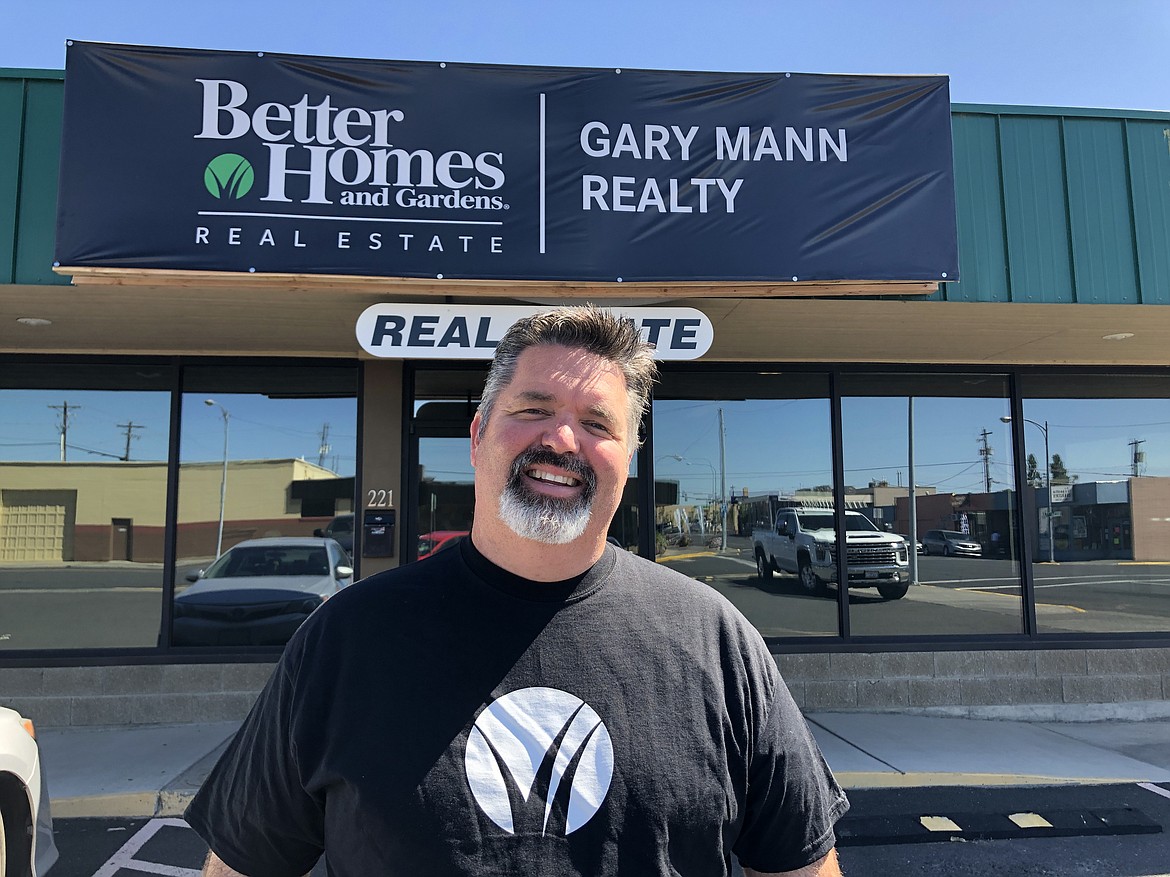 Charles H. Featherstone/Columbia Basin Herald Jason Hall, owner and managing broker of Better Homes and Gardens Real Estate Gary Mann Realty, outside the offices of his new company, which was formed this week with the formal merger of Team Up Real Estate and Gary Mann Realty.
by
CHARLES H. FEATHERSTONE
Staff Writer
|
July 24, 2020 12:14 AM
MOSES LAKE — When two of the largest real estate brokerage firms in Moses Lake formally announced their merger earlier this week, most of the hard work had already been done.
"Luckily the two companies have been working together cooperatively for years, so the culture is already in sync," said Jason Hall, a managing broker and owner of the new company. "But this combining of the companies gives us the same name and location, everyone working in the same building."
The new firm is Better Homes and Gardens Real Estate Gary Mann Realty, created in the July 21 merger of Team Up Real Estate and Gary Mann Real Estate. Their new office is at 221 S. Balsam St., right across Third Avenue from the Gary Mann offices at 305 E. Third Ave.
Hall is joined in running the firm by longtime partners Gary Mann, who founded the real estate brokerage that bears his name in 1983, and Dan Eilers. As owners of Gary Mann Realty, the three also bought Team Up in 2011. They ran both companies in tandem until the formal merger this year.
While people may see some old Gary Mann Realty or Team Up Real Estate yard signs around, Hall said they will eventually be replaced.
"New yard signs for our listings should be arriving and going up this week," Hall said.
He said they also plan to take down the signs on the old Gary Mann building and possibly put the Third Avenue site up for sale. But right now the company's property management operations will continue to work out of those offices.
Everything else, however, has crossed the street to the joint company's new offices, where the company's 30 real estate brokers are expected to have a 20 percent share of all real estate sales in the Columbia Basin.
"All of our agents are licensed to sell real estate anywhere in Washington, but our main focus is the Columbia Basin," he said. "North to Grand Coulee, south to Othello, east to Ritzville, and as far west as Ellensburg, primarily."
Last year, the combined company reported around 550 transactions worth $125 million. Hall expected a downturn this year because of the coronavirus pandemic, but, so far, sales in 2020 have been far more robust than anticipated.
"Single-family residential homes are selling extremely fast these days; there's a lack of inventory, which is causing market time to be reduced to literally days," he said. "It is not uncommon for a listing on a home to come on the market one day" and be pending the next day.
Sometimes, there are even multiple offers in these situations, he added.
While he didn't know the exact reason for the strong sales, Hall suspects that record low interest rates as well as belief that real estate is "a safe haven" have something to do with it. A Wall Street Journal weekly survey of interest rates reported a prime interest rate — the base rate for all bank lending as well as state and local bond rates in the United States — of 3.25 percent.
Hall said the company decided to affiliate with New Jersey-based real estate franchiser Better Homes and Gardens because of the company's expansive market data.
"One thing Better Homes and Gardens Real Estate brings to the table that no other franchise has access to is a database of consumers who subscribe to magazines, published by the Meredith corporation, and their demographics," he said. "This information allows us to instantly have access to market to tens of thousands of potential buyers and sellers in our local market, that have demographics to fit what we are looking for depending on the property we are working with."
This tool, with the brand recognition of Better Homes & Gardens were just two of the many reasons for choosing to partner with them, Hall added.
Charles H. Featherstone can be reached at cfeatherstone@columbiabasinherald.com.
---