Big Bend volleyball coach discussed adjusting to later season next year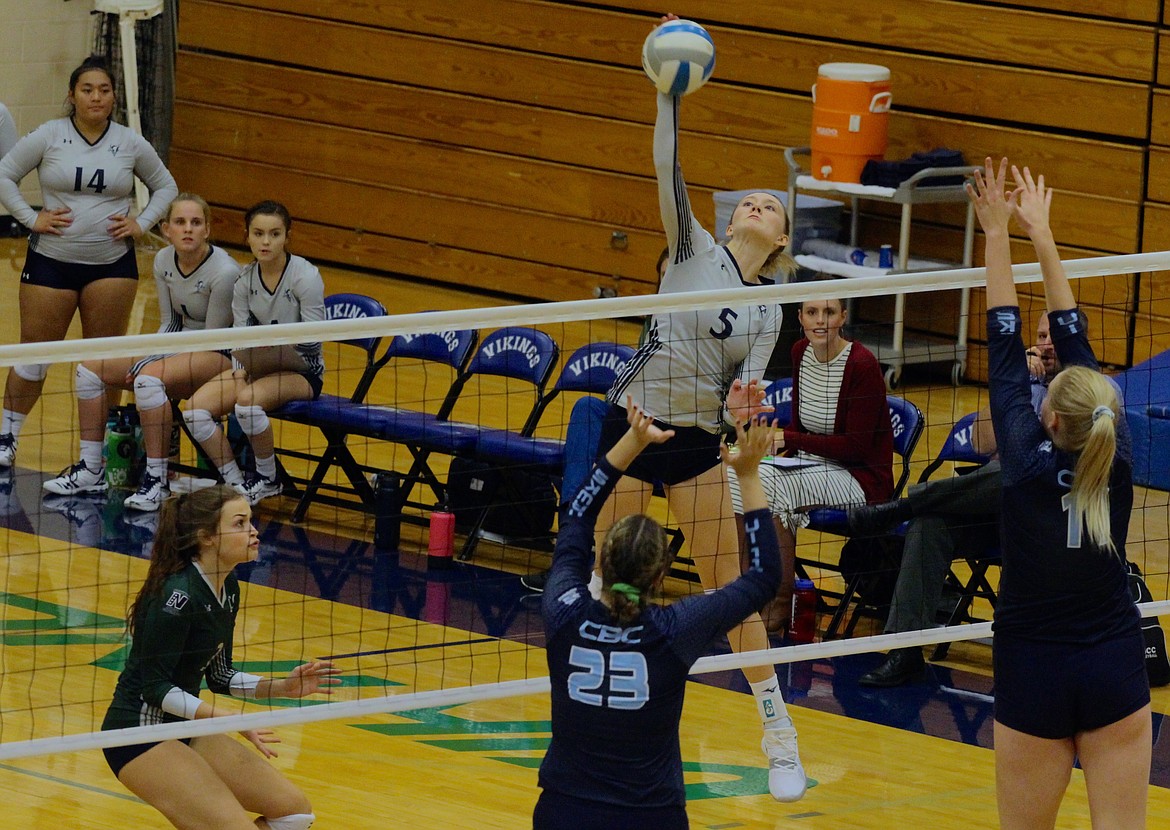 Big Bend hitter Brynn McKnight goes up for a spike last season against Columbia Basin. Big Bend volleyball won't get going until winter, or early spring, under the Northwest Athletic Conference's revised athletics calendar for next year.
Casey McCarthy/Columbia Basin Herald
by
CASEY MCCARTHY
Staff Writer
|
July 21, 2020 11:47 PM
MOSES LAKE — Big Bend Community College's volleyball season moved from the first sport to begin to the last one to end after the Northwest Athletic Conference's adjusted schedule was released.
Big Bend and other NWAC volleyball programs will move from a fall start to a tentative start date between late February and March.
Vikings head coach Michael De Hoog said he's tried to embrace the situation rather than be upset about the changes. He said most of his players coming out of high school are used to transitioning to club play in the spring anyway.
"I asked our student-athletes to be adaptable and flexible, so I'm working on that myself," De Hoog said. "Whatever comes, we're just going to prepare the best that we can and perform the best that we can."
Gym time next season will be hectic for the Vikings with multiple programs in need of the space, De Hoog said. Ultimately, he said they'll work to find the way that provides the safest conditions for student-athletes. Recruiting typically takes place in the spring during the club volleyball season, De Hoog said. He said they are still looking at how that might work best next year, with their own games slated for the same months.
"I'm not sure what USA Volleyball has in the works right now, what that's gonna look like, so we're kind of waiting on what USA Volleyball's plan is," De Hoog said.
De Hoog said, most likely, they'll just be twice as busy during the spring next year. For his returning players, De Hoog said they missed out on their entire spring for development and individual workouts.
Looking forward to when student-athletes are able to return to campus, De Hoog said they'll just have a longer preseason in the fall.
"Our plan is just to spend the time in fall and winter doing what we'd normally do in the spring because we weren't able to in the spring," De Hoog said. "So, it's kind of a wash."
De Hoog said he's trying to stay on top of the new guidelines and constant changes as they come down, and admitted it still doesn't feel real at times. He's ultimately just excited to get his players back on campus to get things going, he said.
---