Meals to Heal deliveries benefit cancer patients, delivery driver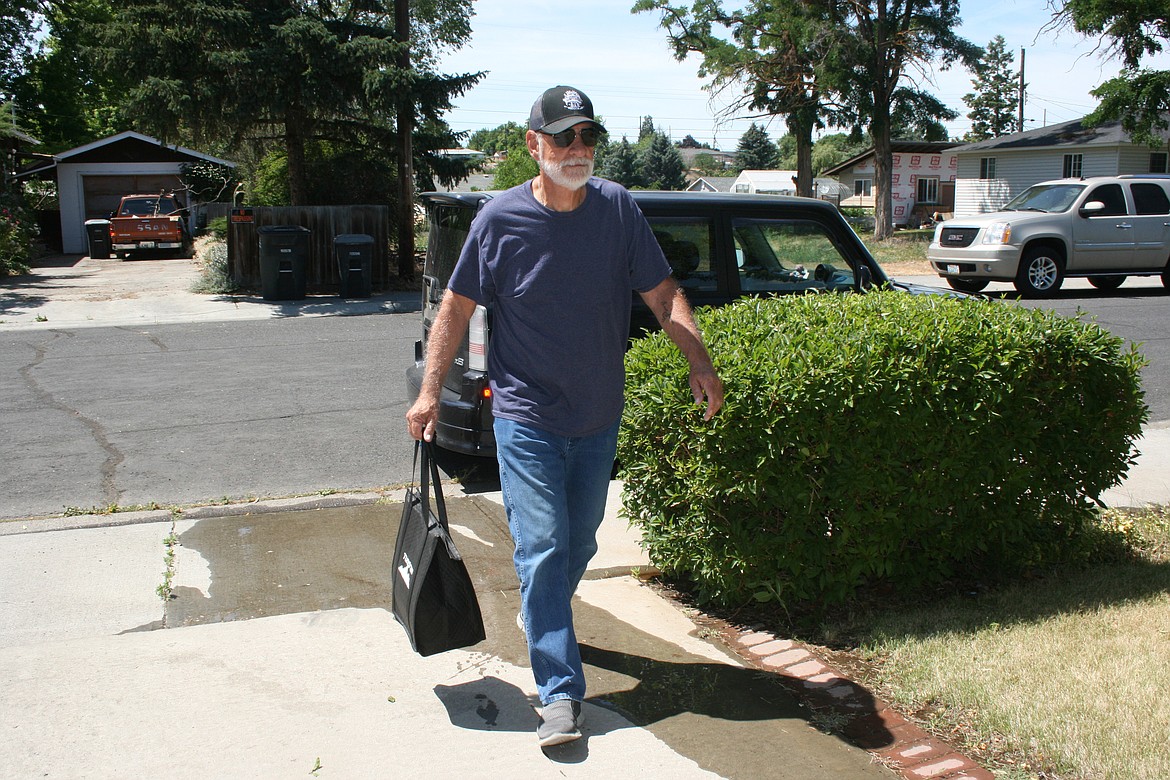 Steve Czimbal makes a delivery to a client of the Meals to Heal program sponsored by the Columbia Basin Cancer Foundation.
Cheryl Schweizer/Columbia Basin Herald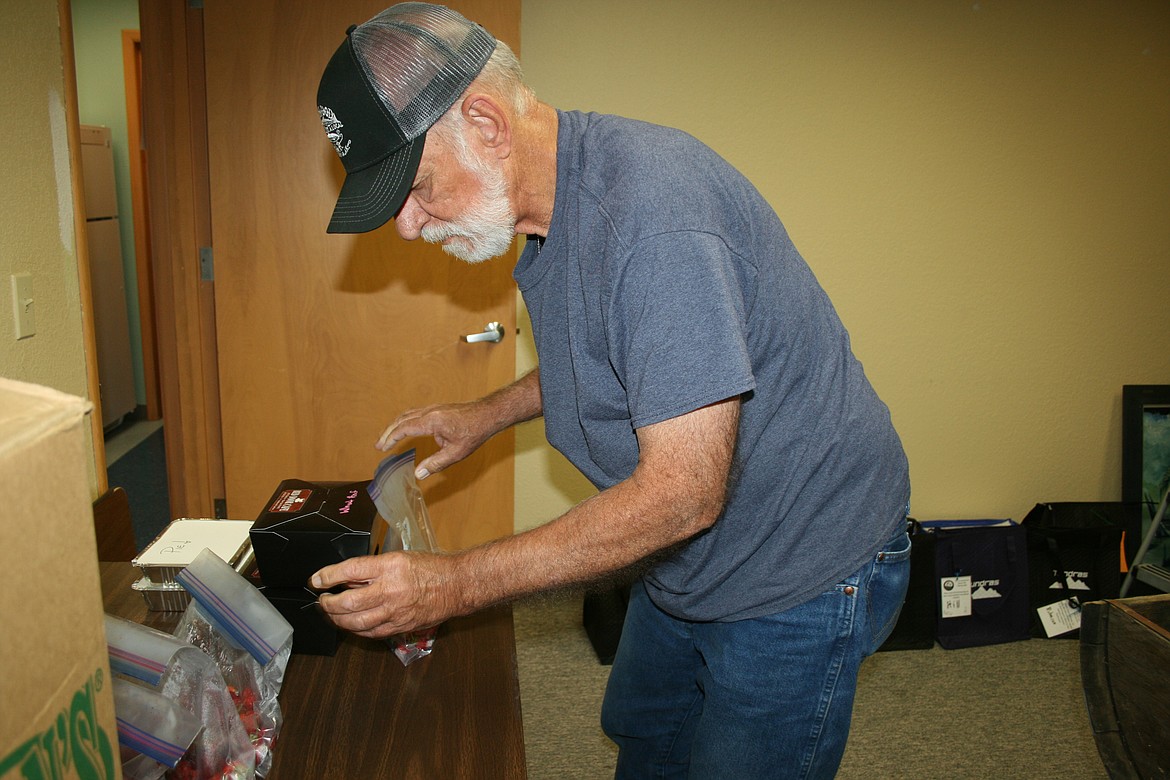 Steve Czimbal assembles the meal that will go to a client of the Meals to Heal program sponsored by the Columbia Basin Cancer Foundation.
Cheryl Schweizer/Columbia Basin Herald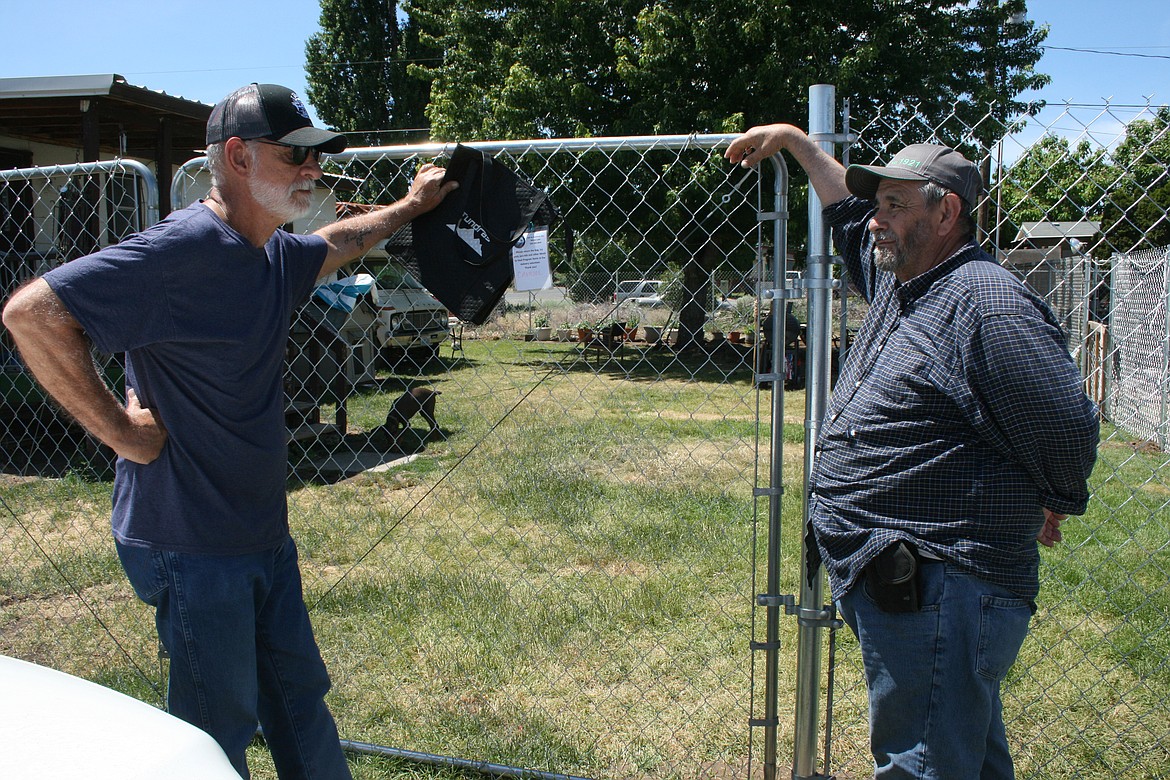 Steve Czimbal, left, a volunteer for the Meals to Heal program sponsored by the Columbia Basin Cancer Foundation, stops to talk with program recipient Jose Cavazos.
Cheryl Schweizer/Columbia Basin Herald
Previous
Next
by
CHERYL SCHWEIZER
Staff Writer
|
July 14, 2020 11:51 PM
MOSES LAKE — Steve Czimbal and his fellow volunteers are a crucial part of the Meals to Heal program sponsored by Columbia Basin Cancer Foundation, and they don't even cook the meals.
Meals to Heal provides regular food for cancer patients who are undergoing treatment, usually a fully cooked meal. Normally those are cooked by volunteers, although the foundation has been patronizing local restaurants in the time of coronavirus. Currently, Meals to Heal is delivering fresh vegetables.
But whatever is in the package, it has to be delivered to patients and their families. That's Czimbal's job. Every other week Czimbal and his dog Lucky take to the road, the back seat of his vehicle filled with – well, whatever's on the menu.
He's "one of several" volunteer drivers, he said. The cancer foundation serves clients throughout Grant and Adams counties, and on June 25 Czimbal was delivering to out-of-town clients. "From here (the cancer foundation office on East Broadway) we're going to Warden, up to Wheeler, back to Moses Lake for two stops," he said.
And for Meals to Heal, that's actually a pretty short route. "We've had clients as far as Mattawa (and) Lind," Czimbal said.
Cancer is a very challenging disease, for the patient and for the family. The Meals to Heal program gives families one day a week when cooking is one less thing to worry about, Czimbal said.
But Jose Cavazos said it's more than that. Cavazos' Warden home was the first stop on Czimbal's route.
"It makes me feel there's someone out there who cares about me," Cavazos said. The regular visits are welcomed at a time when Cavazos and his family are dealing with cancer and its side effects. "It's a light at the end of the tunnel."
The physical and mental effects of fighting cancer have taken a toll on Cavazos and his family, and in fact a few days earlier one of his sons had asked how he could cope. If he's not doing well, his family worries, Cavazos said.
"That brings even the strongest person down," he said. "And then you guys come in and make things much, much better." The support shown by the cancer foundation is a support in stressful times, he said.
The next stop was at the home of Sue Kimball on Wheeler Road, and the visit always picks her up, she said. "I look forward to seeing him," she said. Through Meals to Heal and in other ways, the cancer foundation shows that someone cares, that someone will check up on her. "They're great. They need to be here," she said.
Czimbal said he gets as much out of it, if not more, than his delivery recipients. "I love it. I absolutely love it," he said.
"I like the clients," he said. "I know what they're going through. I've been there. If this little bit of what I'm doing can help them out – it means so much to me. And everything I'm telling you is exactly what any of these other drivers will tell you."
Czimbal said it's also rewarding to know the staff and volunteers at the cancer foundation. "The people at the office mean so much to me," he said.
Czimbal learned about the cancer foundation during the long battle his wife Margaret – everybody called her Peg – fought with breast cancer. Peg Czimbal passed away in 2016.
The cancer foundation offered emotional support, with staff calling the family to see how they were doing. Peg supported the foundation in return, being a regular at the annual Country Sweethearts Ball, among other things.
After Peg died, "it took me about a year to get beyond the cancer. I just wanted to forget about it," Czimbal said. In 2017, he approached the cancer foundation about volunteer opportunities, right about the time the meal program started.
People who want more information about Meals to Heal and cancer foundation programs in general can contact the foundation at 509-764-4644.
Cheryl Schweizer can be reached via email at education@columibabasinherald.com.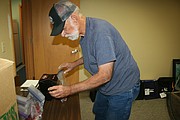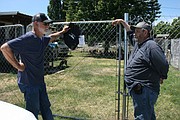 ---