Moses Lake store holds food drive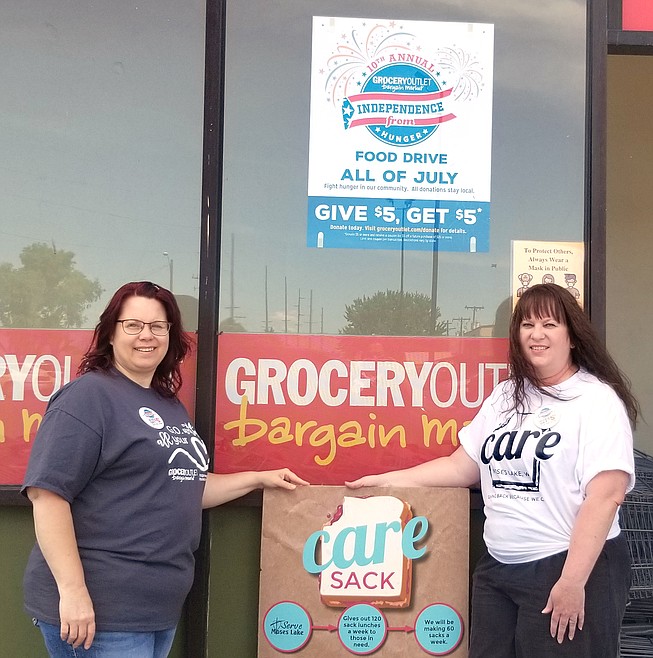 Kris Emerson, left, co-owner of Grocery Outlet in Moses Lake, kicks off the Independence from Hunger campaign with Care Sacks coordinator Michaelle Boetger.
Courtesy photo
by
JOEL MARTIN
Staff Writer
|
July 7, 2020 11:34 PM
MOSES LAKE — Grocery Outlet Bargain Market in Moses Lake last week launched its 10th annual Independence from Hunger Food Drive, according to a press release from the store's owners.
The Moses Lake store, owned by Kris and Paul Emerson, is partnering with Care Sacks to collect cash donations and prepared bags of nonperishable foods in-store. The campaign started June 24 and will continue until July 31.
The Care Sacks program is run by a group of volunteers who make sack lunches every week for those in need. The lunches are distributed through Serve Moses Lake and the Moses Lake Food Bank. Sack lunches are made every Tuesday at Youth Dynamics in downtown Moses Lake. The program relies on financial donations as well as donations of supplies from the local community, according to the release. Between 25 and 30 lunches are distributed every weekday. Donations will go directly to purchase lunch supplies for this program.
Customers can donate cash at the store, purchase an assembled sack of groceries at the register or donate online.
The Moses Lake Grocery Outlet store is one of over 300 locations, mostly in the western United States, participating in the Independence from Hunger Drive.
"With school closures resulting in record lows for food bank inventories across the country, we are once again reaching out to our loyal customers, employees and partners to join us and help support our neighbors," said Eric Lindberg, CEO of Grocery Outlet Inc. in a press release. "Our goal is to continue providing access to high-quality and nutritious food for our local communities in need and this year have promised to match up to $1 million to support our store's efforts."
Recent Headlines
---