Calming down: Schools focus on helping children cope with strong emotions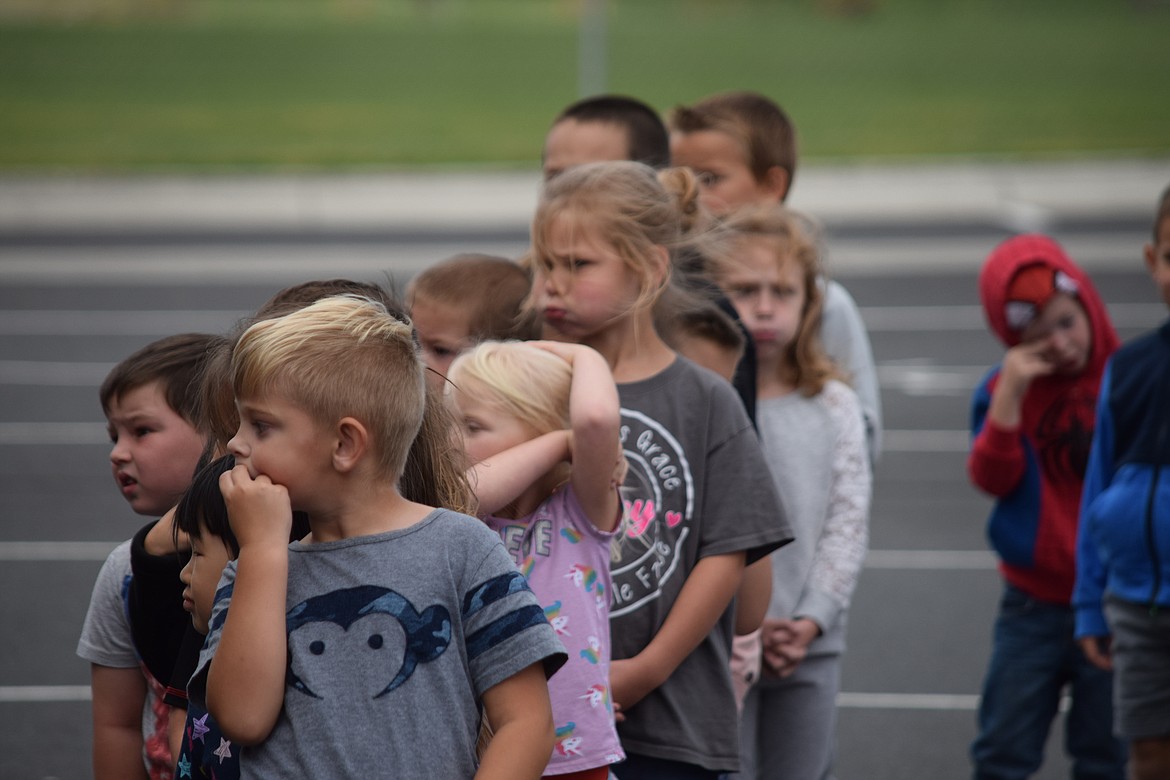 Charles H. Featherstone/Columbia Basin Herald Elementary school leaders in Moses Lake are focusing on helping children deal with their emotions in new ways.
by
CHARLES H. FEATHERSTONE
Staff Writer
|
January 31, 2020 12:09 AM
MOSES LAKE — Kristi Bateman knows what helps her calm down when she gets frustrated or angry.
"When I get really stressed, I go for a walk," the Lakeview Terrace Elementary School principal said. "So why would that not help our kids?"
Bateman and colleagues Karen Schotzko, Larson Heights Elementary principal, and Kelly Frederick, North Elementary principal, are finding similar ways to help their students deal with stress and frustration. They are also helping them identify and deal with their emotions and treat other students with kindness and respect.
It is one way teachers in Moses Lake School District are working to inculcate discipline in schools and head off bad behaviors before they become a problem.
As an example of the kinds of problems the district sometimes faces, on Wednesday the MLSD reported that it is investigating a report from a parent that a student was physically removed from a class at Park Orchard Elementary in early January after "de-escalation efforts failed to resolve" an incident of "extreme student misbehavior."
Concerns that this kind of misbehavior has forced teachers to clear classrooms, interrupting class and depriving other students of the chance to learn, prompted the Moses Lake School Board to start talking about school discipline late last year.
It has also prompted teachers and administrators at Lakeview Terrace, which is one of the most crowded elementary schools in the district, and North and Larson Heights, which have some of the highest numbers of children from low-income families, to teach kids very explicitly and purposefully about feelings, how to handle them, and how to treat each other while in class or out of class.
Even basic things, like how to make friends.
"Our kids don't always come to school knowing and understanding what it looks like to have good behavior, and we have to teach them," Bateman said.
"We're a school, we're going to have to teach," Schotzko added. "We need to teach kids how to say 'I am frustrated,' 'I need two minutes before I can talk to you about why I can't learn right now.'"
Bateman said it began a few years ago when a challenging group of kids came through Lakeview Terrace. In the process they learned that a lot of kids were dealing with a lot of trauma in their lives.
"We looked at the root cause, and what we thought was them being naughty was actually them not being able to control their emotions," she said. "They would get heightened emotions, strong emotions, and they didn't know how to deal with them."
Bateman said the school adopted Zones of Regulation, a method that helps kids figure out what they are feeling and then allows them to assign a color to that emotion. For especially strong emotions like anger or frustration, Bateman said they also teach coping techniques, such as breathing techniques and taking a break.
For a time, Lakeview also had a special calming room, though the lack of space has forced the school to create calming areas in each class instead, Bateman said.
"It's an area where kids can go to take that break. It's still in the classroom, still under supervision," but it gives that brain a break, she said. "Kids can breathe, squeeze the ball, look at the glitter bottle, or whatever will help them calm down and get their emotions under check before they jump back into class."
A child who needs it will typically spend about five minutes in a "calming corner," Bateman said.
"Learning can go on for the rest of the class, and (the child) is listening, they are still hearing what's going on, they are just removed to the side for a little while," she said.
Kids use the calming corners when they need to, Bateman added, and from her experience they seem to respect others who use it and recognize "they could need it anytime."
One advantage of such calming techniques is that kids often end up telling their teachers when "something big is going on in their lives," Bateman said.
"Instead of destroying a classroom, they are calming down, they are telling their teachers, so we are able to address issues that are happening both inside and outside of school," she said.
But both Schotzko and Bateman said this approach to discipline requires a serious investment in time and personnel. It means teaching many things people often take for granted as simply things they should know how to do. But it has a payoff, Bateman said, with a significant decrease in disruptive behavior.
"At the state level, it seems like they say, 'Clear the room, give that child anything they need.' In reality, we can't do that," Schotzko said. "Too much learning is lost due to misbehavior; we can't have more."
"Our goal in the Moses Lake School District is to keep kids in school," she said. "And I don't know any leader who doesn't agree with that."
Charles H. Featherstone can be reached at cfeatherstone@columbiabasinherald.com.
---