Meeting celebs at the SHOT Show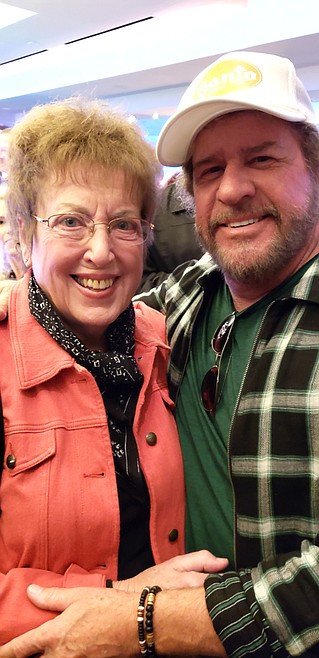 Dennis L. Clay photo Rocker Sammy Hagar took time to visit with Garnet Wilson and pose for a photo last week at The Stratosphere in Las Vegas. Yes, this is Sammy. The hat is hiding his hair.
by
DENNIS. L. CLAY
Herald Columnist
|
January 30, 2020 11:23 PM
The Shooting Hunting and Outdoor Trade Show, known as the SHOT Show, is aimed at the hunting and shooting industry.
The show includes firearms, binoculars, ammunition, shooting sticks, rifle scopes, rifle slings, knives, knife sharpeners, bullets, outdoor survival tools, shooting glasses, meat grinders, meat slicers, electric bicycles, generators, ear plugs, compound bows, crossbows, arrows, firearm cleaning supplies and much more.
The booth containing Smith's Consumer Products has the original Arkansas sharpening stone. While the stone is an excellent sharpening instrument, and has been since the late 1800s, they offer many newer-style sharpeners. These include tapered diamond rods for sharpening serrations, crossed carbide blades for the rough edge and crossed ceramic rods for a razor-sharp finish.
It is easy to visit the Buck Knife factory in Post Falls during any trip to Spokane. Still we stop at the Buck booth at the show. Sometimes C.J. Buck, CEO and Chairman of the Board, is available to visit for a few minutes, but most of the time, he is busy with buyers, who want to place orders for the 2020 selling year.
As stated before, this show is huge. Famous people are at the show, checking on the new products, just as the press people are doing.
One year we were at a booth awaiting a presentation about the product featured. There were close to 100 people standing with us, with a small opening in the isle for other people to pass.
Garnet had knelt down to put an item in her purse. A man was going to walk past us when his name was recognized.
"Hi Jeff," was my greeting. "This is my wife, Garnet."
Jeff Foxworthy reached down, grabbed Garnet's hand and pulled her up and greeted her.
Other celebrities we have visited with on the floor or in private meetings include Craig Morgan, Aaron Tippin, Tracy Lawrence, the Bellamy Brothers, Ted Nugent and others.
Not all celebs are at the show. We were headed to dinner at The Stratosphere one evening and had reached the main casino floor. A group of people were gathered around a large bar area.
Behind the bar was Guy Fieri. He was serving his birthday cake in martini glasses topped with tequila. Others in attendance were Carrot Top, Rick Springfield and Sammy Hagar.
Carrot Top walked by and we visited for a few seconds. Then Sammy was next to me. Garnet was introduced and the pair posed for a photo. Sammy grabbed her, with an arm around her shoulder and another holding on to her forearm.
Next week: Final thoughts about the 2020 SHOT Show.
Recent Headlines
---