Maxwell Quartet to perform Thursday
by
CHERYL SCHWEIZER
Staff Writer
|
January 29, 2020 12:34 PM
MOSES LAKE — Four friends who've played classical and folk music together most of their lives will perform in concert Thursday at the Wallenstien Theater. The Maxwell Quartet will take the stage at 7 p.m.
The concert is sponsored by the Central Basin Community Concert Association. Tickets are $25 for adults, $10 for students and $55 for families and can be purchased at the door.
The theater is located on the campus of Big Bend Community College.
The quartet's members – Colin Scobie and George Smith on violin, Elliot Perks on viola and Duncan Strachan on cello – grew up performing throughout their native Scotland, often playing with each other. Some of its members first formed the quartet in 2010, when they were graduate students at the Royal Conservatoire of Scotland.
Composers have been writing music for quartets for three centuries or so, and the quartet's repertoire includes some of the biggest names in music. The Maxwell Quartet plays Debussy, Tchaikovsky and Beethoven, among others, and a lot of the music of Joseph Haydn, who Strachan said was "one of our great musical heroes." Hayden, Strachan said, actually wrote the first pieces for four string players.
In concert the quartet performs traditional Scottish folk music in addition to its classical pieces. In the last 250 years millions of Scots emigrated to the United States and Canada, which had its impact on American and Canadian folk music, something that's readily apparent when listening to Scottish music.
The quartet is the third of four concerts in the CBCCA season. The fourth will be the Sons of Serendip, appearing March 26. The group features four-part harmonies, backed by harp, piano and cello.
The Central Basin Community Concert Association was formed in 1956 to bring live music to Moses Lake and the Columbia Basin. In its 65 seasons the association has sponsored everything from opera and art songs to folk and country music, to classical music to soul to pop music to gospel to – actually, every kind of music. It started as a subscription service, and still is. The association's board of directors decided to sell individual tickets to concerts a few years ago.
Season tickets also come with reciprocal agreements for concerts sponsored by other community groups that use the same booking company, Live on Stage. Members of CBCCA can attend concerts free of charge in Sunnyside, Wenatchee, Richland, Shelton, Longview, Bremerton, Centralia and Everett.
Cheryl Schweizer can be reached via email at education@columbiabasinherald.com.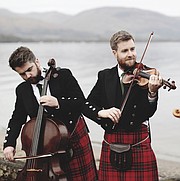 Recent Headlines
---