A tasty bit of Brazil in Soap Lake
by
CHARLES H. FEATHERSTONE
Staff Writer
|
January 22, 2020 11:43 PM
SOAP LAKE — Azad Tarikian didn't come to the United States to start a restaurant.
And he certainly never intended to start that restaurant in Soap Lake.
In fact, Tarikian and his wife Andreia — both natives of São Paolo, Brazil — originally emigrated to the U.S. about 15 years ago to work for a friend's shipping company.
"We would vacation in the U.S. twice a year, and stay at their house, and he would say 'You need to work for me!'" Tarikian said. "One day, he made me an offer, and we moved to New Jersey. We handled cargo from China to Brazil, from Brazil to here and here to Brazil,"
"I was a manager, fixing problems with insurance and operations and things like that," he said.
But one day, Tarikian said his friend sold the company to "a crazy stupid guy" and very quickly things started "going wrong" at his shipping company.
"He started losing cargo for my clients," he said. "So I told him, 'Bye bye.'"
Always in the back of their minds was a restaurant, something for Andreia to do while Azad held down a day job, and a way to show off her love of cooking. They looked in northern New Jersey, southern Florida, even the Seattle area, but the problem was always the same.
"We never found the right place, or it was too expensive or too ugly, and when we found a place, I got transferred (for business)," he said. "So it never happened."
"The problem is always the same. If you don't have $1 million or $2 million even to make changes to the building, and the rent is stupid crazy," he said.
Tarikian said he only found the right place for La Cucina di Sophia by accident, after the Soap Lake Resort and Spa hired him and his wife as managers. After he saw a brand-new building slowly under construction down the street on Main Avenue, the couple began to dream of what they could turn it into.
They never expected the reception they got when they opened in September 2018.
"The day we opened it was a Friday at 5 p.m., and we had more than 100 people in line," he said. "It was crazy."
To step into La Cucina di Sophia — named after the couple's daughter — at 218 Main Ave. E. in Soap Lake is to walk into an eatery that could just as well belong in midtown Manhattan, Hoboken or Chicago's Near North Side. The atmosphere is simple, clean and elegant. And almost always busy.
Brazil, a country of 220 million, is home to 60 million people of Italian descent who have put their own twist on pasta and pizza.
The specialty at La Cucina di Sophia is pizza baked in a wood-fired oven, something Tarikian said you can find "probably on every corner" in São Paolo. But since opening, the Tarikians have expanded to pasta, steak and occasionally feijoada, a black bean and pork stew that is something of a national dish in Brazil.
"It's because we are doing real food, fresh food," he said. "Everything here, we just use the highest possible ingredients. Italian flour, the best tomatoes, the best cheese."
"We try to do the cooking the way we like, the way we expect when we go out. Good food, good friends, no need to be fancy. And we put it all together from our experience."
Because if you want good pizza, he said, you have to use the best ingredients.
"And it's working," Tarikian added.
By working, Tarikian means he has customers coming from as far away as Ellensburg and the Tri-Cities to eat at La Cucina di Sophia, keeping the Tarikians and their staff extra busy on weekends. And with a 15-year lease on the building, it is unlikely La Cucina di Sophia will be going anywhere anytime soon.
"And that makes us proud," he said. "We have a lot of friends."
Charles H. Featherstone can be reached at cfeatherstone@columbiaBasinherald.com.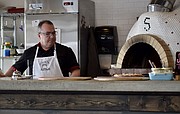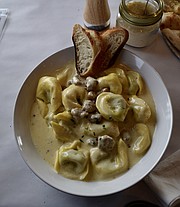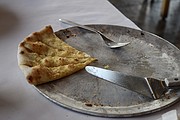 Recent Headlines
---