Manta Ray Aquatics 200 freestyle relay breaks team record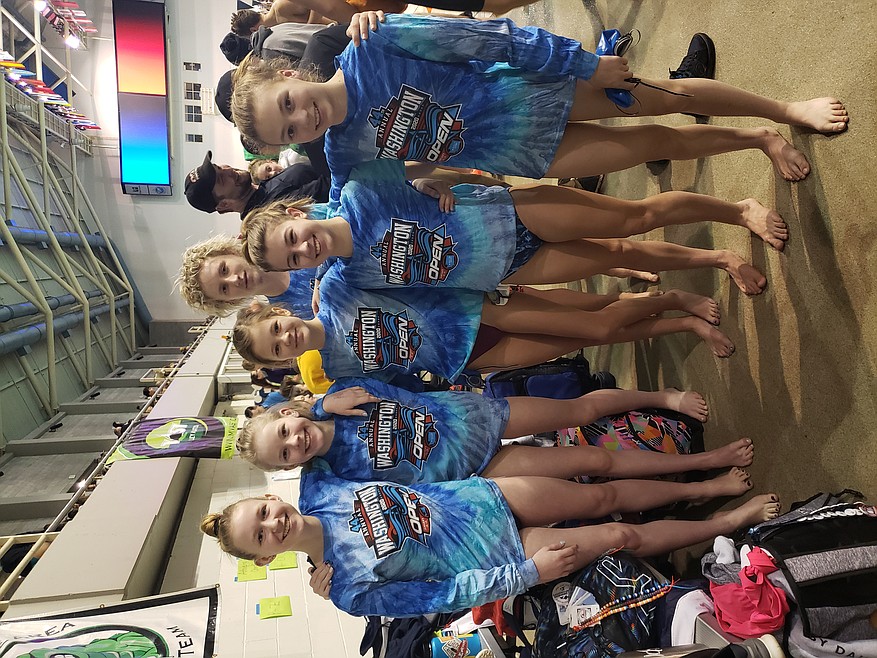 Manta Ray Aquatics competed at the Washington Open Swim Meet in Federal Way. Pictured left to right: Makhaela Parrish, Issabelle Parrish, Julia Heaps, Melody Lake, Kathryn Duvall. Cole Lindberg is pictured in the back.
Courtesy photo
by
Submitted Manta Ray Aquatics
|
January 20, 2020 9:12 PM
FEDERAL WAY — Manta Ray Aquatics sent seven elite swimmers to Federal Way to compete at the Washington Open Swim Meet.
This is the largest group the team has taken to this highly competitive meet that attracts nearly a thousand swimmers from around the western United States, including college teams. With five girls from the Manta Rays in attendance, the team was able to compete in two relays, one of which ended up breaking a Manta Ray Aquatics team record.
The 200-freestyle relay team of Julia Heaps, Kathryn Duvall, Issabelle Parrish and Makhaela Parrish was able to shave two seconds off their entry time and move up six places. Duvall would go on to swim a best time in her 50 freestyle and compete in the 100 breaststroke and the 100 freestyle. Heaps also competed in the 50 freestyle, as well as the 200 backstroke and the 200 freestyle, where she dropped an amazing nine seconds. Issabelle Parrish swam in the 50 freestyle, dropping over a second to go a 26.55. She also cut time in her other 2 events, the 200 freestyle and the 100 freestyle.
Makhaela Parrish had best times in all of her events, which included the 50 freestyle, 100 freestyle and 200 freestyle. The 200-medley relay team of Heaps, Melody Lake, Makhaela Parrish and Issabelle Parrish crushed the previous Manta Ray record by 10 seconds, finishing with a 2:03.04 and moving up six spots from their entry position. That record had stood since 2009.
Lake also swam a best time in her 200 freestyle, 100 freestyle and the 100 breaststroke. In her 200 breaststroke, she cut over three seconds and narrowly missed a Western Zones qualifying cut.
On the boys' side, Cole Lindberg competed in the 100 butterfly. Zachary Washburn cut over two seconds in his 200 individual medley, placing 11th in finals and setting a new Manta Ray team record. He also went on to place sixth overall in the 50 freestyle.

---