Theater, musical performances on tap in January, February
by
CHERYL SCHWEIZER
Staff Writer
|
January 1, 2020 10:21 PM
MOSES LAKE — Auditions for the Basin Community Theatre production of "Joseph and the Amazing Technicolor Dreamcoat" are scheduled for 6:30 p.m. Friday at the Dance FX Studios, 530 W. Valley Road. The show, scheduled for mid-April, is one of a plethora of local theater and professional performance options, and a soirée, in the Columbia Basin during the winter and spring.
Prospective actors are asked to schedule an audition time; auditions can be scheduled through Jan. 2. People interested in auditioning can call 509-750-3501 to set up the time.
"Joseph and the Amazing Technicolor Dreamcoat" was written in 1967 but not performed professionally for about a decade, when its authors, Andrew Lloyd Webber (music) and Tim Rice (lyrics), hit the big time. The story is based on the Old Testament tale of Joseph, whose brothers are so jealous they sell him into slavery in Pharaonic Egypt. But that, of course, is only the beginning of Joseph's story.
The Glasgow-based violinists and cellist of the Maxwell Quartet come to town at Jan. 30, in a performance sponsored by the Central Basin Community Concert Association. The concert is scheduled for 7 p.m. at the Wallenstien Theater on the Big Bend Community College campus.
The quartet will perform selections from the classical repertoire as well as their arrangements of traditional Scottish music.
The community concert association sells tickets to individual concerts as well as for its four-concert season. Tickets are available on the CBCCA website.
The Masquers Theater company brings its production of the Broadway classic "You Can't Take It With You" to the company's Soap Lake stage beginning Feb. 14. Currently the play is in rehearsals with the cast to be announced.
"You Can't Take It With You" tells the tale of Alice Sycamore, her boyfriend Tony Kirby — and Alice's, um, eccentric family. Grandpa refused to pay his taxes and he's in trouble with the government; Dad makes fireworks in the basement; there are eccentric candy makers, ballet instructors, former Grand Duchesses, and a snake collection, among much else.
Quincy Valley Allied Arts will present "Mary Poppins" beginning Feb. 20. It's the 2004 adaptation of the 1964 Disney movie and the books that served as the movie's inspiration.
Mary Poppins (Stephanie Moore in QVAA's production) is the nanny that arrives, as if by magic, at the house of George and Winifred Banks (Paul Slager and Carrie Bews). Mary Poppins is ostensibly there to take care of Jane and Michael Banks (Emma Foley and Lev Rosburg), but she's really there to help a fractured family.
Columbia Basin Allied Arts will hold its annual fundraising dinner, actually a fundraising soirée, on Feb. 21. "Red" will be the theme, as it has been for the last few years.
Cheryl Schweizer can be reached via email at education@columbiabasinherald.com.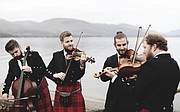 Recent Headlines
---