Quilters volunteer skills to help cancer patients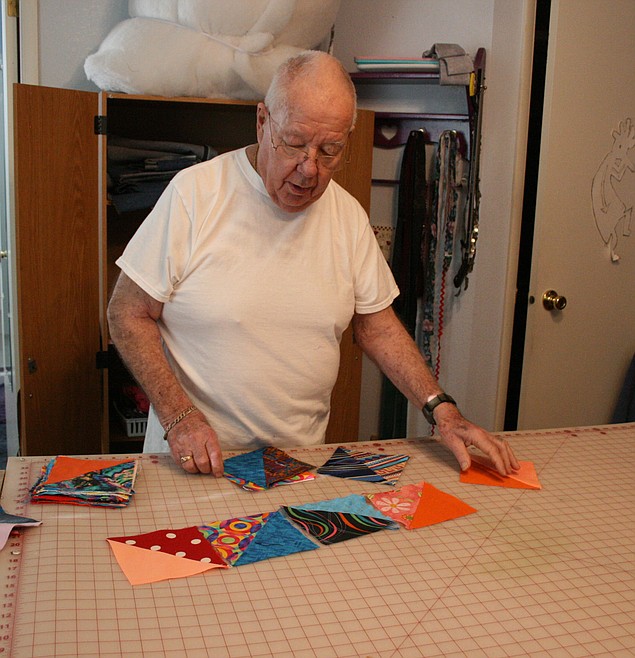 Mel Neal looks for the most pleasing quilt design. Mel and Max Neal have made more than 800 quilts for Columbia Basin Cancer Foundation patients.
Cheryl Schweizer/Columbia Basin Herald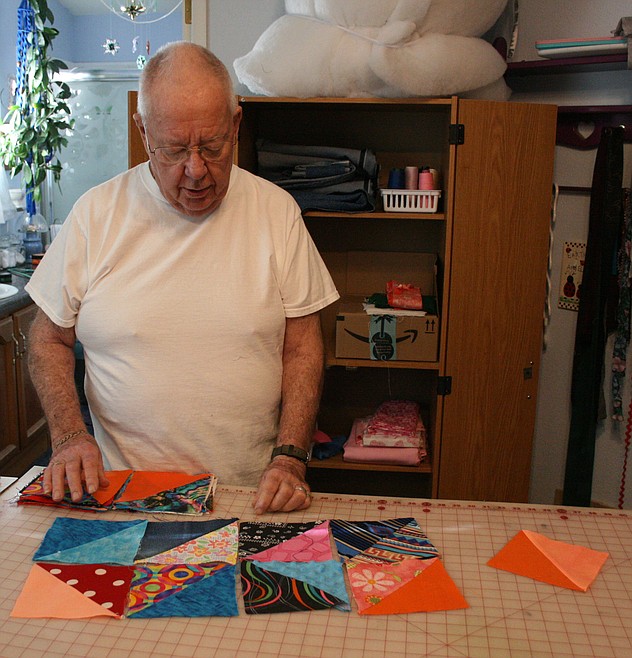 Mel Neal checks the design of a new quilt. Neal and his wife Max have made more than 800 quilts they donated to the Columbia Basin Cancer Foundation.
Cheryl Schweizer/Columbia Basin Herald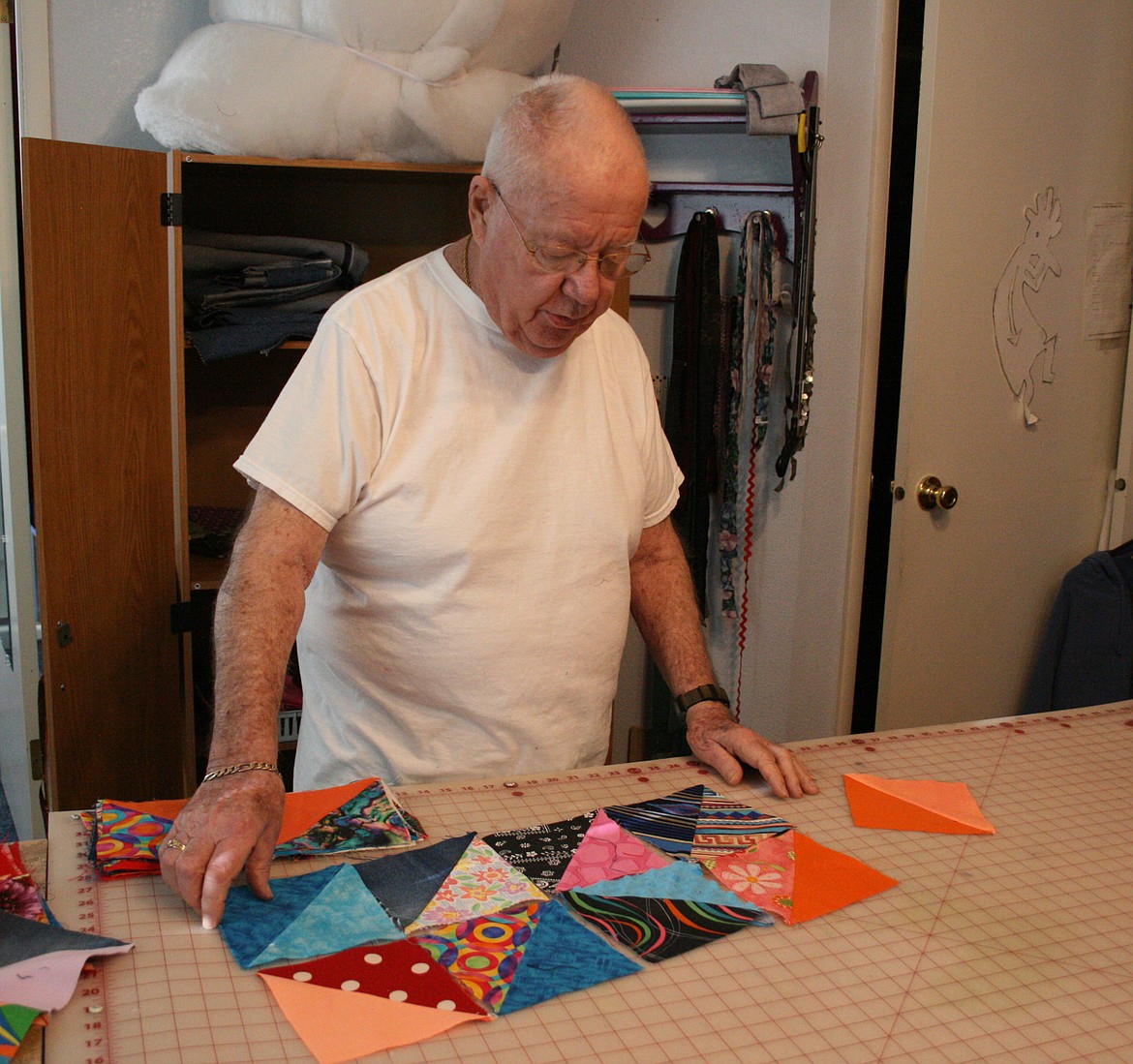 Mel Neal rearranges quilt blocks for the most eye-catching design. Neal and his wife Max have made more than 800 quilts for donation to the Columbia Basin Cancer Foundation.
Cheryl Schweizer/Columbia Basin Herald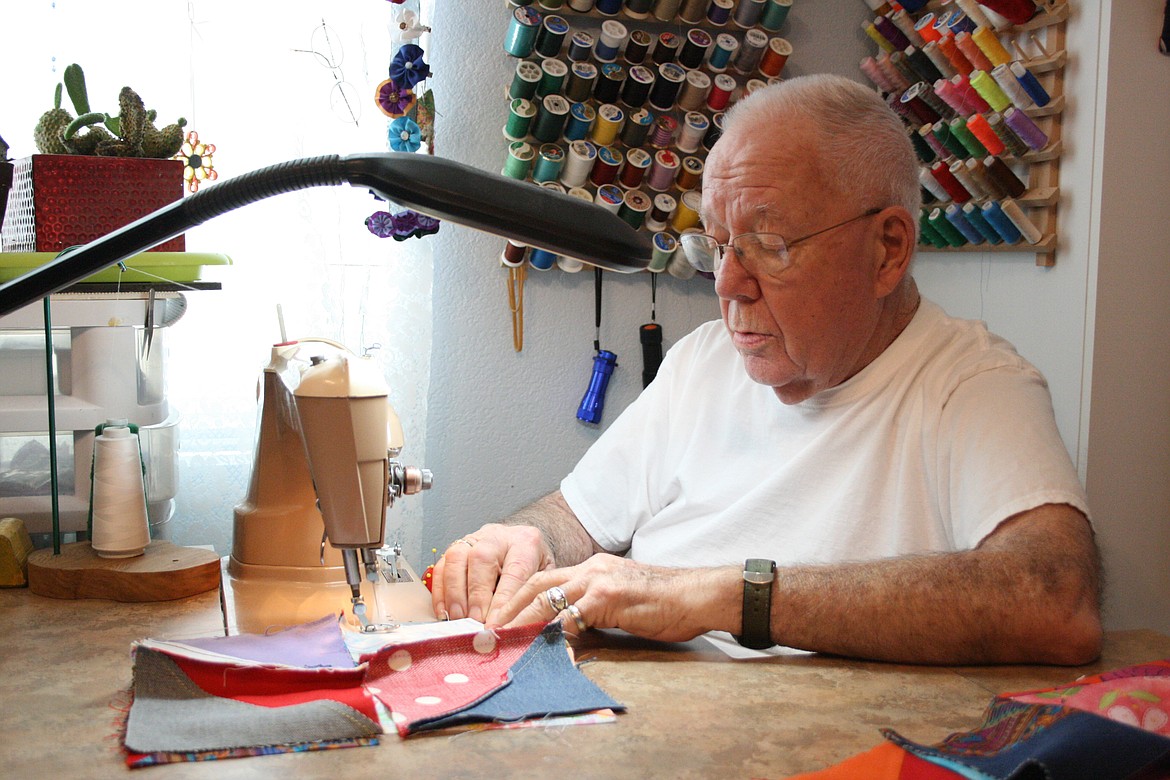 Mel Neal stitches together quilt blocks on his 1950 Singer. The vintage machines – the Neals have three of them – are the only kind they use.
Cheryl Schweizer/Columbia Basin Herald
Previous
Next
by
CHERYL SCHWEIZER
Staff Writer
|
February 25, 2020 11:00 PM
MOSES LAKE — Mel Neal said he was looking for ways to put his considerable skill and experience as a quilter to good use. The Columbia Basin Cancer Foundation came up during a conversation with a friend.
The friend suggested the cancer foundation might benefit from a couple of donated quilts, Neal said. "And well, here we are, going on nine years later, still doing it."
In nine years Neal and his wife, Max, have made a lot of quilts. "Every quilt has a label. Every quilt used to have a number, until we lost track." They lost track somewhere around 800 quilts, he said. "We're working towards 900."
They keep making quilts because it's a good project, he said. "What we're doing now, I like because it's helping somebody out there," he said. "It makes a person feel they're wanted."
"Like somebody cares," Max said.
"We're forever hearing about somebody who's had a quilt, (or) got a quilt," Mel said.
The quilts are 44 inches square. That's big enough to cover a patient's legs but not big enough to get caught in wheelchair wheels, Max said. Each quilt has pockets, salvaged from old pairs of jeans. Max adds surface decoration, in the form of lace, beads and other trim.
"All the blocks are six-inch blocks," Mel said. Max does the cutting. "Probably 90 percent of the six-inch blocks, she has cut."

After 800-plus quilts, the process goes pretty quickly. Once the blocks and batting are cut and the prep work is done, "I can make (a quilt) in a day. Easy. From scratch."
Even though the process is relatively quick, Mel said there are still design principles that go into making a better-looking quilt. A quilt that featured floral fabrics required some solid-color blocks to break up the prints. "Otherwise if you had all flowers in here, it wouldn't look right. It would all run together, make a bad bouquet."
He said he likes working with any and all colors; the only rule is that similar shades of a color should be separated.
"You don't put two oranges together," he said. "You try not to have two of the same thing (color or print) in a row."
Mel and Max make so many quilts that they have two sewing rooms. The sewing machines are vintage Singers, dating from 1950. "We have three of them. That's the only machine that we use."
"They go frontwards and backwards," Max said.
"They've got two speeds, " Mel said. "Well, three speeds. Your speed, frontwards and backwards. Sometimes your speed isn't very fast."
They've made a few special quilts for friends or family, and some quilts for the church they attend, Moses Lake Baptist.
More than 800 quilts add up to a lot of fabric. Mel owned a quilt store in Grand Coulee and had a lot of fabric left when he closed the store. The couple has also received donations from individuals and businesses, and they've bought a lot of material themselves.
The quilt project helps people in need, and gives the Neals a creative outlet – well, wait a second. The quilt top Mel was displaying needed a little surgery. "Always can find a loose thread somewhere," he said.

Cheryl Schweizer can be reached via email at educaiton@columbiabasinherald.com.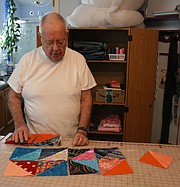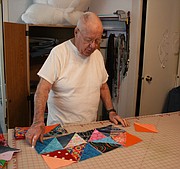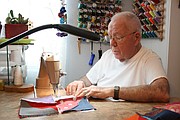 Recent Headlines
---