Prep roundup: MLCA girls capture league championship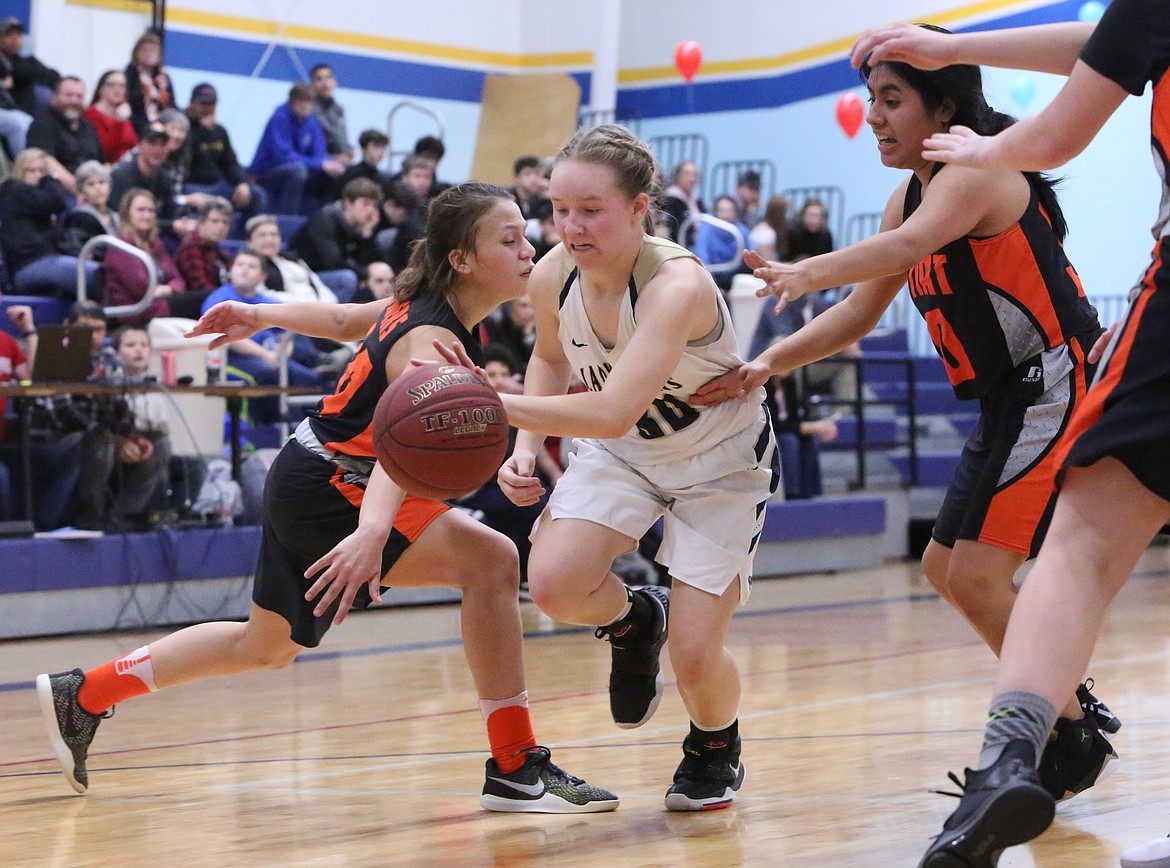 Connor Vanderweyst/Columbia Basin Herald Moses Lake Christian guard Ali Stanley dribbles through the Entiat defense.
by
HERALD SPORTS STAFF
Herald Sports Staff
|
February 13, 2020 11:18 PM
MOSES LAKE — Moses Lake Christian Academy girls basketball secured a Central Washington B league championship and No. 1 district seed after defeating Entiat 53-25.
After allowing 14 points in the first quarter, the Lions held the Tigers to just 11 points the rest of the way — no more than four points in a quarter.
Kali Kast led all scorers with 14 points as the Lions had 10 players enter the scorebook. Mckenne Meise added nine points and Ali Stanley had eight.
The girls have a quick trip to the district championship as the top two seeds advance straight to the title game. The district championship is scheduled for Feb. 20, 8 p.m., at Eastmont Junior High School. A win would clinch a state berth, while a loss would move the team into a loser-out game on Feb. 22.
Lind-Ritzville/Sprague 46, Kettle Falls 42
SPOKANE — Lind-Ritzville/Sprague advanced to the District 7 semifinals after beating Kettle Falls 46-42.
The Broncos outscored the Bulldogs 11-7 in the fourth quarter to break a 35-35 tie after three. Dakota Killian scored 16 points and Janaye Wilkie had 14.
The Broncos meet No. 4 seed Colfax in the semifinals Feb. 18 at West Valley (Spokane) High School.
Zillah 60, Royal 47
ZILLAH — Royal lost to second-seeded Zillah, 60-47, in its first playoff game.
The Knights were able to hang around, only trailing by three points after the first quarter and eight at halftime, but the Leopards steadily built their lead and advanced.
Royal will now play in a loser-out game against Cle Elum/Roslyn Saturday, 6 p.m., at home.
Boys basketball
Zillah 107, Royal 60
ZILLAH — Royal was unable to match Zillah's high-powered offense and lost in the district semifinals 107-60.
The Leopards scored 32 points and led by 18 after one quarter.
Royal drops into the consolation bracket and will play the loser between Kiona-Benton and Cle Elum/Roslyn in a loser-out game Feb. 18, 6 p.m., at Wahluke High School.
---