Congressional Art Competition open for submissions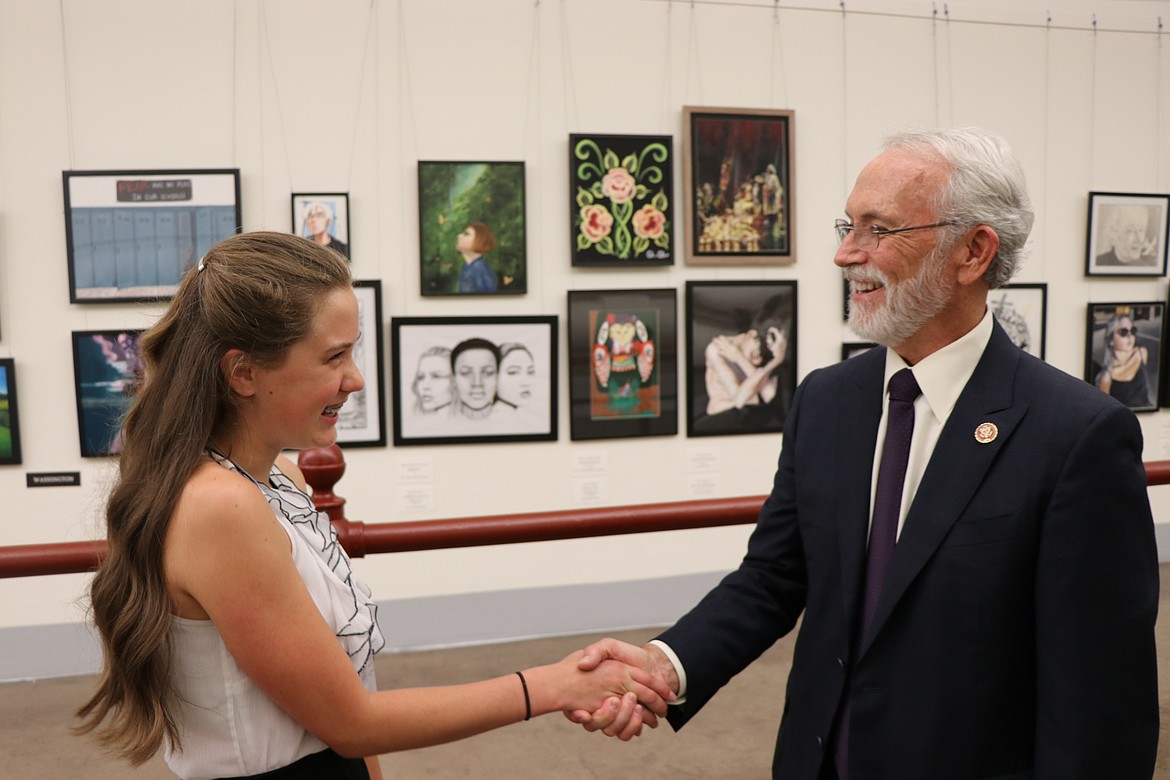 Courtesy photo Regional first-place winner of the 2019 Congressional Art Competition Meredith Sconce of Almira/Coulee-Hartline High School, left, shakes hands with Rep. Dan Newhouse, right, in front of her artwork and the winning art from prior years. Sconce won in 2019 for "A Million Dots of Diversity," a stippling portrait of three young women.
by
EMRY DINMAN
Staff Writer
|
February 13, 2020 11:24 PM
WASHINGTON, D.C. — High school students in Washington's 4th Congressional District, represented by Rep. Dan Newhouse, R-Wash., are invited to submit entries to the sixth annual Congressional Art Competition for Central Washington.
Students can submit a piece of their best visual art to one of Newhouse's district offices, located in Yakima, Omak and Richland, before April 30.
"Year after year, I am impressed by the talent and creativity of these young people, and I look forward to seeing the new submissions," Newhouse said in a statement. "I encourage those who are interested to submit their artwork for the chance to be honored in our nation's capital."
Submissions are accepted in the following media:
• Paintings – including oil, acrylics, and watercolor
• Drawings – including pastels, colored pencil, pencil, charcoal, ink, and markers (it is recommended that charcoal and pastel drawings be fixed)
• Collages – must be two dimensional
• Prints – including lithographs, silkscreen, and block prints
• Mixed media – use of more than two media such as pencil, ink, watercolor, etc.
• Computer-generated art
• Photography
Rules for the competition are as follows:
• Artwork entered in the contest may be up to 26 inches by 26 inches, may be up to 4 inches in depth and not weigh more than 15 pounds. If your artwork is selected as the winning piece, it must arrive framed and may still measure no larger than the above maximum dimensions.
• All entries must be original in concept, design and execution and may not violate any U.S. copyright laws. Any entry that has been copied from an existing photo or image (including a painting, graphic, or advertisement) that was created by someone other than the student is a violation of the competition rules and will not be accepted. Work entered must be in the original medium (i.e., not a scanned reproduction of a painting or drawing).
The Congressional Art Competition is sponsored by the Congressional Institute. The winning entry will be displayed in the U.S. Capitol, and first-place winners will receive two plane tickets to visit Washington, D.C. to see their artwork displayed.
Second- and third-place winners will be invited to have their artwork hang in Rep. Newhouse's Yakima and Richland district offices.
Washington's 4th District includes Grant, Adams, Okanogan, Yakima, Benton, Douglas and Franklin counties, as well as a portion of Walla Walla county.
For additional information, visit https://newhouse.house.gov/services/art-competition or contact Johnny Alavez at Johnny.Alavez@mail.house.gov or by phone at (202) 225-5816.
---