MLHS cheer wins fourth consecutive state title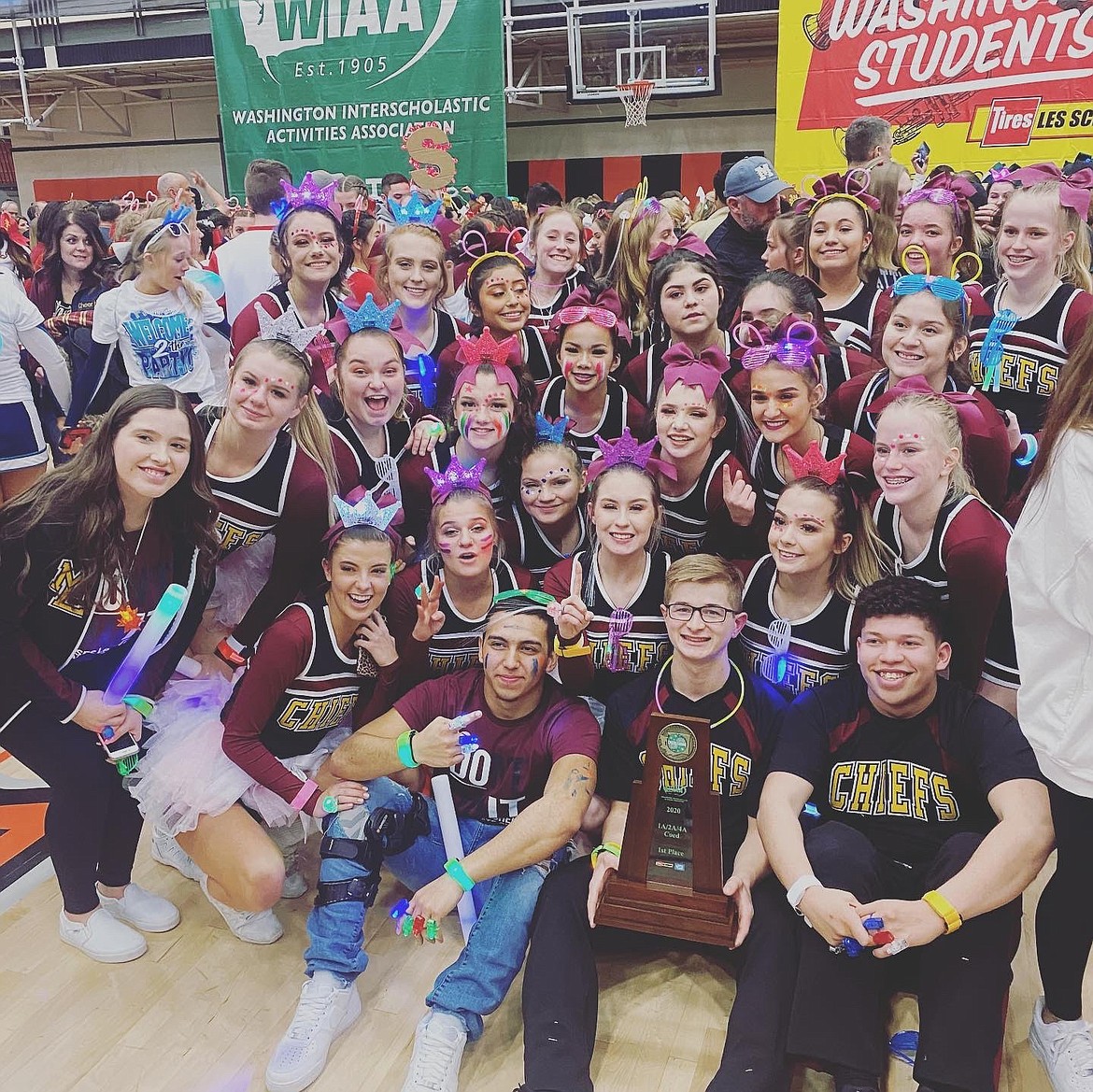 Courtesy photo Moses Lake cheerleaders pose for a picture after winning their fourth consecutive state championship in the 1A/2A/4A Coed division during the WIAA state championships at Battle Ground High School.
by
CONNOR VANDERWEYST
Staff Writer
|
February 12, 2020 11:39 PM
BATTLE GROUND — Whenever her athletes would tire of the endless hours of practice or become anxious about the pressure of performing intricate routines, Moses Lake head cheer coach Mikey Carlile repeated a simple mantra: "You can do anything for two and a half minutes."
Moses Lake cheer did something extraordinary for two and a half minutes at the state cheerleading championships at Battle Ground High School, capturing its fourth consecutive state championship in the 1A/2A/4A Coed division. The Chiefs totaled 84.25 points out of a possible 100 to beat second-place Bellevue Christian by 11 points — a pretty wide margin in the sport.
According to Carlile, Moses Lake had the highest score in the state for that division entering the final competition and delivered when it mattered most.
"Winning state as a senior feels like the beginning of a legacy, being able to go through all four years of high school and being able to maintain our title makes me exited for the future teams to come and I really hope they can keep the legacy going," cheerleader Bethany Bateman said.
The standard routine lasts two and a half minutes with at least 90 seconds of music interspersed. Carlile explained that typically routines start with a musical section, break for a cheer to lead the crowd and then return to the music. More, all routines must consist of tumbling, jumps, dance, stunts, pyramid and cheer.
"Our team this year had a very high skill level, but they were also very clean," Carlile said.
Moses Lake was able to compete in the coed division with its two male cheerleaders, a pair, Carlile said, that helped propel the Chiefs to a state championship. Unlike in years past, the male cheerleaders helped complete complex maneuvers, such as tossing a girl up to shoulder level before pressing her up to one foot in the air.
In addition to the success they had during competition, Carlile commended the attitude and work ethic of her team throughout the season. A sentiment that was shared by Bateman, one of 14 seniors on this year's team.
"We don't really have to get the team to buy into positive energy because usually if the people that keep practice moving and fun are happy then everyone else carries it along," she said. "I'm extremely proud of this team and our coaches for the amount of time they've dedicated to each other getting us to this point of success. It's tough and it takes a lot of teamwork, but we get it done and we always end practice with a positive talk with our coaches and most people leave practice with a smile."
---