Rev. Klockers: In the midst of the signs of the times there comes a calling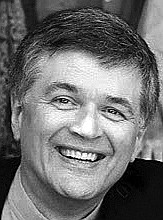 |
December 30, 2020 1:00 AM
Matthew 16:1-3 from the New Revised Standard Version says:
"The Pharisees and Sadducees came, and to test Jesus they asked him to show them a sign from heaven. He answered them, 'When it is evening, you say, "It will be fair weather, for the sky is red." And in the morning, "It will be stormy today, for the sky is red and threatening." You know how to interpret the appearance of the sky, but you cannot interpret the signs of the times.'"
It snowed this morning. I looked at the forecast on my iPhone app last night and there was no prediction for snow. Yet, before my very eyes, small flakes fell to make a light covering of white on everything.
I've often wondered what it would be like to be a weather forecaster. One would think that it was a job that would benefit from new technologies like everything else. As such, there would be a higher degree of accuracy than the recent past. (I guess that depends upon how many years you want to go back).
The truth is that even advances in technology haven't made the weather always predictable.
Actually, however, I do know some things about the "signs of the times" – much more so than predicting the weather.
I haven't a clue when "the end" will occur. What I do know is that throughout history people have repeatedly claimed that they were certainly living in the midst of it.
Our society has a lot of challenges right now. We are living in a time of a new pandemic. Businesses have suffered. Unemployment is high. People may lose their homes or be evicted from their apartments. Some folks do not have enough to eat. Times are indeed very tough.
I also know another thing: in the midst of hard times will come those who reach outside of themselves to help provide for those who are less fortunate. I also know we need more of them.
Speaking of reading the signs -- it is a sign of better days ahead when more of us participate in such activities.
Will you be one?
One idea: Why not give a monthly donation to the local food bank?
Walter is pastor of Immanuel Lutheran Church in Moses Lake and has served as parish pastor for more than 30 years.
---