Columbia Basin wrestlers continue success at club level with season on hold
by
CASEY MCCARTHY
Staff Writer
|
December 18, 2020 1:00 AM
Local high school wrestlers find time on the mat with the season on hold at the club level, making trips to tournaments in Iowa, Arizona and Oklahoma.
Quincy's Shannon Workinger, Moses Lake's Bianca Johnson and Royal City's Emma Villa were among the Washington State wrestlers recruited for Ford Dynasty Wrestling Club's dual team that took first place at the Smash Nationals Tournament in Arizona Dec. 5-6.
The trio, in addition to Othello's Iyazely Barraza and Moses Lake's Ashley Naranjo, have trained with Team Takedown out of Yakima the last few months. The success the girls have found on the mat has a few of them nationally ranked in their weight classes.
Workinger and Johnson have their eyes on the Trinity Award after both took first place at the USAW Brian Keck Memorial Preseason Nationals Tournament in Iowa. Now, the pair look to take the top spot at the Nationals Tournament in Tulsa, Oklahoma, in January, and the Worlds meet in Reno, Nevada.
Workinger said she is ranked seventh nationally in her weight class as she heads into her junior season in Quincy. She said it has been nice to continue to expand her wrestling knowledge while meeting new people with the high school season on hold this year.
She said she has been to about eight or 10 tournaments since COVID-19 came into play in March.
"I definitely think I'm going to be more ready and more prepared this year, and I'm going to be able to have success, not only for myself, but better help my team and lead them too," Workinger said. "Hopefully, we'll do really good as a team at the state level."
While she said she's glad to have had the opportunity to wrestle these last few months, it has been tough watching her teammates who might not have the same opportunity. Especially the seniors.
After wrestling on the big stage against girls from around the nation, Workinger said she is ready to show her community and her team how far she's come since last season.
The Quincy junior said she believes she can be someone younger girls can look up to in town. Workinger said she wants to show them they can succeed at anything they want and can just become "powerful women."
"I'm really excited to see what I can do to help my team at home, and it will be really nice to get that experience and get more mat time," Workinger said. "That's all it's about is more mat time and preparing for college."
It will be apparent who has been working hard during quarantine when the season returns, Workinger said.
Bianca Johnson heads into her second season with Moses Lake High School after a strong showing as a freshman last year. Johnson is nationally ranked in her weight class and said she feels like all the hard work is finally paying off on the mat.
She said it's been a new experience wrestling against older girls at the tournaments where she has been traveling, but added it will benefit her once the high school season returns.
"Honestly, I like the competition," Johnson said. "It makes me better. It helps me see what my competition is going to be like and it helps me see what I need to do to get better and reach my goals."
Johnson said finishing fourth at the Mat Classic last February wasn't her goal, and realized she needed to work harder to achieve what she set out to: a state title.
Johnson said she feels more prepared coming back this season, knowing what to expect at the district, regional and state level. Even as a sophomore, Johnson should act as a leader for the Chiefs this season, a role she believes she can embrace.
"I can help them improve, and help show them the way in wrestling," Johnson said. "Especially at the beginning, it's going to be really hard, but I can be there to help push them through."
Ashley Naranjo will be among those freshman joining the Chiefs program this season. Naranjo said she began wrestling since she was about 4 years old, after watching her older brother compete on the mat.
"I just liked the sport, so I started doing it and eventually got a passion for it," Naranjo said.
Naranjo said Bianca Johnson was her training partner on the mat for a while and praised the Moses Lake sophomore's accomplishments as a wrestler. She said Johnson is someone who has played a big part in her success in wrestling so far.
"She's a great person to look up to, she's very responsible and she's always been there for me since second grade," Naranjo said.
While some early meets were met with some nerves this season, Naranjo said she's gotten more comfortable as she's moved forward. She said her goals at the high school level are simple: become a high school state champion.
"After that, it's just climbing up the national rankings," Naranjo said.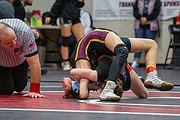 ---