Pets available for adoption in Othello this Christmas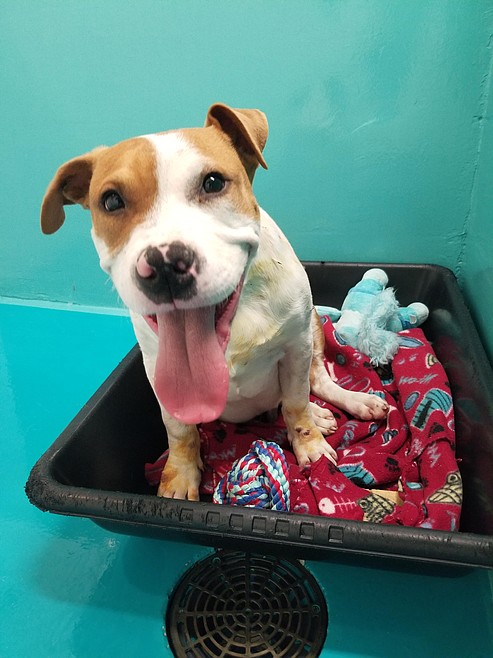 Hopscotch is among the animals available for adoption at Adams County Pet Rescue in Othello during December.
by
Rachel Pinkerton/ For the Columbia Basin Herald
|
December 16, 2020 1:00 AM
OTHELLO — The Adams County Pet Rescue has partnered with Pawsitive Alliance to encourage adoption of animals this Christmas season.
"We are encouraging people to come in," said Anita Plancarte, a supervisor at the Adams County Pet Rescue. "Because of COVID, we're doing it a little different than last year."
Animal shelters and rescues across the state have gone to adoption by appointment this year due to COVID-19. Last year, the adoption event took place on the first Saturday in October, according to Tereza Marks, executive director for Pawsitive Alliance.
"This year, we moved it to December to encourage people to adopt during the holidays instead of purchasing from a breeder," Marks said. "We have 18 shelters and rescues across the state participating in the event. The idea is to encourage people to adopt from their local shelter. We provide some adoption bags for the adopters. It has coupons, toys – things that will help them along the way."
Last year, participating shelters and rescues adopted out more than 400 animals in one day. Because of COVID-19, Pawsitive Alliance decided to extend the adoption event to an entire month.
"We can't have that many people in the shelter at one time," Marks said. "Our hope is to have more adoptions this year because we did an extended duration."
Adams County Pet Rescue also partners with Pawsitive Alliance to adopt out animals that have issues getting adopted for reasons such as age, medical conditions or breed through the campaign, #WhyNotMePets. Animals in the programs get publicity on Seattle-based KIRO TV.
"Some are seen by over 500,000 people," Marks said. "We have people drive all the way from Seattle to Whitman County."
While Adams County Pet Rescue is allowing a few walk-ins, Plancarte said that it is preferable for those interested in adopting to call in advance.
"It is better if they called in advance so we don't have so many people in here at the same time," Plancarte said."
Currently, the pet rescue has between 50 and 60 cats and around 30 dogs. They are open from noon to 5 p.m. Tuesdays, Wednesdays, and Fridays-Sundays. To make an appointment, call (509) 488-5514. The pet rescue is located at 1961 W. Bench Road, in Othello. For more information, visit adamscountypetrescue.com.
Recent Headlines
---